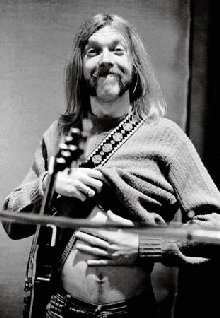 Duane Allman

Born in 1946, Howard "Duane" Allman was to make his move on the music industry in 1960 when he took to playing his brother Gregg's guitar. Duane had received a motorbike as a Christmas present that year, however this was quickly destroyed, and so he turned his attention to brother Gregg's Christmas present instead, a shiny new guitar.

The Duo started out as the Kings, playing under that name or with other bands in the Florida region of the USA. In 1965 they changed their name to the Allman Joys, toured the Southern states of the US and even cut a single, however few were impressed.

Disenchanted, Duane travelled to the West Coast where he joined a band known as the Hour Glass. He started playing with the Second Coming in Jacksonville, but also frequently travelled to Muscle Shoals, Alabama, the home of Rick Hall's Fame Studio's. He would soon be backing such greats as Aretha Franklin, King Curtis and Percy Sledge.

His prowess (and fast growing fame) at being a superlative session guitarist had begun. If you get the chance, take a listen to Wilson Pickett's version of the Lennon McCartney song "Hey Jude", and you will hear Duane's guitarwork in the background.

Duane's big break came in 1969 when he was offered a solo contract by Jerry Wexler, then vice-president of Atlantic Records. He joined with brother Gregg (on keyboard), then enlisted the services of such greats as drummers Jai Johanny Johanson and Butch Trucks, guitarist Dickey Betts and bassist Berry Oakley.

Their first album was sensational, and many believe it launched the genre of "Southern Rock". It was with their second album, Idlewild South, that the band began to be noticed. In March of 1971 the band played at the New York's Fillmore East, where their legendary double live album was recorded. Released in July, the album would quickly climb the charts, but unfortunately Duane would not live long enough to savour its success.

On October 29th, 1971, he was tragically killed while riding a motorbike along Macon Street, when a truck failed to give way. With the band members playing at his funeral, none would have realised the tragic circumstances that would see them play yet another such gig, when Berry Oakley would himself be killed only a short year leter. Oalkley's accident would also be on a motorcycle, and dauntingly it would occur only three blocks from the scene of Duane's fatal accident.