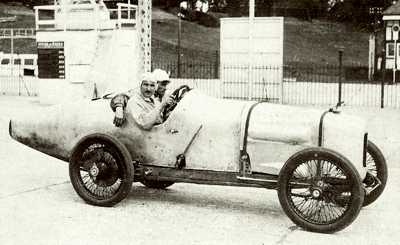 The 1.5 liter four-cylinder Talbot-Darracq of Chassagne at the Brooklands 200 miles race of 1921, in which the team finished in the first three places.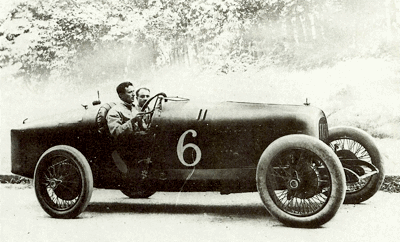 Fiat's 115 bhp 3 liter straight-eight Tipo 802, built for the 1921 GP, had roller-bearing big ends fitted, but was uncompetitive.



Cushman's Brescia Bugatti prior to the 1922 200-mile race at Brooklands. This car was basically a 1914 Type 13 1.4 liter model, and was named the Brescia after its surprising success in the 1921 event of the same name.


Sir Henry Seagrave at the wheel of the 1923 six-cylinder 2 liter Sunbeam Grand Prix racer.


Work in progress on the Alvis team cars, prior to the Brooklands 200 mile race of 1923. The car in the foreground was driven by C. M. Harvey and went on to win the race when the Fiats expired. The Alvis racing cars were based on the production 12/50 model.
Wagner's Alfa Romeo P2 during the 1924 French Grand Prix at Lyons.
The Supercharged 2 liter straight-six engine of the 1925 racing Sunbeam. This particular engine was fitted with the later SU carburetor in place of the original Solex unit.
E. Friedrich in the 2 liter tank-bodied Bugatti on his way to the third place in the 1923 French Grand Prix at Tours. Note the starter-handle at the front.
Kaye Don in the 146 bhp supercharged 2 liter Sunbeam of 1924, pictured at Brooklands in 1928.


Robert Benoist on his way to winning the 1927 British Grand Prix at Brooklands. Delage took the first three places, their chief opposition comng from the Bugatti 35S, such as George Eyston's, being passed here by Benoist.
Sir Malcolm Campbell with his 14 year old riding mechanic, after a win at Brooklands in one of hte 1927 World Champion 1.5 liter Delages.


Rudolf Caracciola - der Regenmeister- on his lap of honour after his first major victory, in a Mercedes GP car at the German Grand Prix, Avus in 1926.
European Racing during 1920 was moribund, so it was at Indianapolis where the action happened. Here in the USA a 3-liter engine capacity limit was enforced, so new straight-eight, twin-cam Ballots had been built, ready for the resumption of Grand Prix road racing; at Indy, they met the straight-eight
Duesenbergs
. The Ballots were fast, with de Palma's car dominating practice. However, in the race, his car caught fire and then ran out of petrol. The race was, however, won by a Monroe, the engine of which was outwardly the same as a 1913 3-liter Peugeot. The Monroe was driven by Gaston Chevrolet and averaged 88.5 mph for the 500 miles; de Palma and the Ballot had to be content with fastest lap, at 99.15 mph.
Thus, for the time being, a four-cylinder engine had triumphed over the new, small multi-cylindered units. Racing resumed its former significance in 1921, with the return of the French Grand Prix, run to the same 3-liter formula as Indianapolis. Firstly, however, America held the traditional Indy 500 and this time the straight-eight motor car was in the ascendant. However, Tommy Milton's Frontenac, yet another copy of a four-cylinder Henry-type engine, won, at 88.16mph, from half-a-dozen eights, three Ballots and three Duesenbergs.
The Straight-Eight Duesenbergs
After this, it was to the Grand Prix, run at Le Mans over a course that was soon a sea of jagged stones, that attention was directed. Inspired by what it had done during the war, the USA decided to go for the road-racing 'blue riband', and sent over their left-hand-drive, three-speed, straight-eight Duesenberg cars, with: hydraulic four-wheel brakes. The state of the course, which used part of the pre-war circuit, was most unfortunate, as much work had been done to prevent dust, and to bind the surface. However, puncture-promoting flying stones did not stop Jimmy Murphy from beating the European runners, his Duesenberg finishing the 322 miles with its driver bruised and dirty and the car's straight-eight engine ready to seize after a piece of rock had holed the radiator.
Nevertheless, Murphy was comfortably ahead of the Ballots of de Palma and Jules Goux. It was a convincing victory, in a race mostly of trouble for the Ballot and STD cars. The winner had averaged 78.10 mph and achieved fastest lap at 84 mph. Of the rest of this first post-war GP field, Guyot, Dubonnet and Joe Boyer made up the four-car Duesenberg team; Mathis drove a tiny Mathis more to demonstrate than race it; Guinness, Rene Thomas, Segrave and Andre Boillot .drove the Anglo-French STD (or Talbot-Darracq) straight-eights and Chassagne and Wagner had the remaining Ballots. Boyer retired with a seized big-end bearing, because, like Murphy, he had had a stone puncture the car's radiator which let out all the cooling water; Chassagne went out when the bolster fuel tank of his hastily prepared TD came loose; Guyot had a slipping clutch and a difficult-to-restart engine; and the STD entries were continually changing wheels due to defective tyres.
Murphy had had the rigours of his great ride made more severe because he was driving with broken ribs. This was an interesting commencement of post-war road racing, even if a devastating one for the European entrants. Fiat had entered but had non-started in this Grand Prix, and any hope of the Duesenbergs being matched against the new Italian cars at Brescia was dispersed by the news that they were returning to America. In this 3-liter contest, the Ballots at last came into their own for, although the Fiats were quicker and Bordino's made fastest lap, it was now the Fiat's turn to be delayed by tyre troubles. So, Goux's Ballot won, at 89.9 mph, from Chassagne's similar car, which was one mile per hour slower; Wagner's Fiat was a poor third.
The French GP at Strasbourg
For 1922, the governing body of the sport brought in a 2-liter engine-capacity limit, which meant that all the carefully conceived designs had to be scrapped and new ones worked out. The French Grand Prix was taken to a fast circuit at Strasbourg in 1922, where the local authorities were so keen to host the race that they contributed Fr350,000 towards the organisational expenses. The new ruling evolved the slowest and dullest racing cars for some time, with only Bugatti and Rolland-Pilain staying with straight-eight units. Sunbeam had the celebrated Ernest Henry design new four-cylinder, sixteen-valve, power units for them, but it was Fiat, with their sixes, who were the successful entrants.
The Death of Count Louis Zborowski
The wealthy Count Louis Zborowski was anxious to get into real motor racing and was sponsoring Aston Martins with twin-cam Henry-pattern engines (it would be fair to say that Henry dominated racing-engine design during this period) but they were 1.5-liter cars, and hence out-classed. Zborowski, however, had realised his ambition, but was to die for it two years later after having survived the Chitty-Chitty-Bang-Bang escapades at Brooklands without injury.
The Grand Prix, over a triangular course, started at 8.15 am, spectators being keen enough to rise early for their sport in those far-away days; they were to see both triumph and tragedy. Triumph, when the veteran driver Felice Nazzaro brought his Fiat home the winner, at 79.2 mph for the 500 miles, after he had been driving for 6 hrs 17mins 17secs, and tragedy because these Fiats had weak back-axle shafts. When one broke and let a wheel detach itself on Felice's nephew's car, the young Biaggio Nazzaro was killed. The third Fiat also suffered this alarming malady but Bordino, who had driven very fast in the opening stages of the race, survived.
Thus, what would have been a Fiat 1-2-3 walkover was a lone and hollow victory for 'old-man' Nazzaro. Behind him, a long way back, two of the Bugattis, driven by de Viscaya and Marco, unexpectedly found themselves in second and third places. Another Bugatti, driven by Maury, finished outside the time limit; every other starter retired, the Sunbeams dropping out with valve-stem faults. So ended a dull Grand Prix that Bordino was apparently intended to win, and which his team-mate Nazzaro had walked away with (at mostly 4100rpm and never exceeding 4500rpm).
The Monza Autodrome
The rapidly built Monza Autodrome was used in 1922 for the 2-liter European Grand Prix and supporting 1.5-liter Italian GP. Because the organisers were able to charge all spectators admission-fees, .and 150,000 of them are said to have attended, it was possible to award prize money amounting to the equivalent of some £6000. A dismally dull race was run off in a drizzle of rain, with the Fiats dominating a miserable field of eight: everyone else was entirely outclassed. Bordino won from Nazzaro, averaging 86.9mph, with the only other car still motoring at the end being de Viscaya's Bugatti which was flagged off. It is, however, interesting that Maserati had started in a Diatto, which he had driven so fiercely that he crashed and wrote it off.
Mercedes returned to racing in the
1922 Targa Florio
. Moreover, their cars were supercharged. Ironically, it was Masetti who was the victor, driving a much revamped 1914 GP Mercedes, of the kind that had proved invincible at Lyons on the eve of war. Behind him, Jules Goux drove a great race to take second place in a 2-liter, twin-cam, four-cylinder Ballot, more a sports car than a racer. The Frenchman had had victory snatched from him because loss of brakes had caused him to crash and he had to complete that last, long Sicilian lap with a bent chassis and very bald tyres. He finished only 1 minute 47 secs behind the Italian in his German 'veteran' Mercedes, however.
The year 1923 was to see the ACI continue the 2-liter engine-capacity limit, in spite of the retrograde happenings of the previous season. However, things improved and the French Grand Prix, held at Tours, was notable for its big and varied entry. Coatalen of Sunbeam had secured the services of the Fiat engineers, and his cars resembled nothing so much as the previous year's highly successful Fiats, but painted British racing green instead of Italian red. They had the same unblown six-cylinder twin-cam layout that had recently carried Bordino and Nazzaro to great success.
Henry Segrave had, by now, become an accepted driver in the STD racing team and it might be thought that he would have easily won the GP at Tours. It was not quite so easy as that but, when the faster supercharged straight-eight Fiats had trouble with stones and dust, making short work of their new-fangled blowers, Segrave did in fact manage to win. He was helped by a clutch that had slipped in the early stages of the race, leaving his engine unstressed, as he could not use maximum revs. The other Sunbeams were having a great deal of trouble: Guinness with his clutch and Divo with a jammed fuel filler-cap that delayed him as he could only continue by putting petrol into a small reserve tank every lap.
The Fiat drivers had a bad time, Salamano thinking, from the behaviour of his engine, that he was out of fuel, whereas the blower had quit. His riding mechanic was dispatched for more fuel, but was told he had to run and not borrow a bicycle as he had done. In the midst of all this drama, Segrave realised he had taken the lead. He went on, with his mechanic Dutoit by his side, to win the first Grand Prix to fall to a British-built car although, as has been said, its design was really Italian. Segrave had averaged 75.31 mph, his race-time being 6hrs 35mins 19.6secs. The luckless Divo, French driver of the other green Sunbeam, did not cross the finishing line until 19 mins 6.2 secs later! Following came Friedrich's Bugatti, with its odd tank-like body, and the Guinness Sunbeam, a sick car that lost a further two minutes on the final lap after its engine had stalled. The only other finisher in this 1923 Grand Prix, a race that had opened with such promise, was Lefebvre, in one of the odd, ultra-streamlined, sleeve-valve Voisins.
was the Italian Grand Prix at Monza. Alfa Romeo had a new PI model, but it was unfortunately withdrawn after one of the drivers, Sivocci, had been killed in practice - the car was never seen again. Germany had been refused an entry for the French race but produced a revolutionary rear-engined tear-drop-shape Benz for the Italian event.
America, in the absence of the victorious Duesenbergs, was represented by Indy-type Millers, but they presented little menace to the European cars, which had better gearboxes and brakes more suited to a road circuit. Fiat had at last got their superchargers functioning properly and fielded a team of three effective cars, to be handled by Bordino, Salamano and the ageing Felice Nazzaro. Bordino broke his arm in a practice crash but insisted on competing, with his riding mechanic doing the gear-changing for him.
The Fiats were the vastly superior cars on the course but, in the race, Bordino had to confess that he could not continue, due to fatigue. Salamano and Nazzaro finished in the first and second positions, the former having averaged over 91 mph and set a new Monza lap-record of 99.8 mph. Third place went to America, with Jimmy Murphy's Miller; he was followed in by two of the unconventional streamlined Benz projectiles. In voiturette racing, the revised supercharged Darracqs (or Talbot-Darracqs) maintained their 'invincible' reputation but so feared the new blown 1.5-liter Fiats that they abstained from running in the Junior Car Club's 200 Mile Race 'at Brooklands in October 1923.
The First GP Win by a Supercharged Car
The irony of this was that soon after both Fiats retired with dramatic mechanical failures. Salamano and Malcolm Campbell had not expected this, and a track-racing 12/50 Alvis, based on the well liked Alvis sports chassis, won instead. This shows how supercharging was now dominating both classes of motor-racing, as the 1923 Italian Grand Prix had been the first International race to be won by a supercharged car. The racing season of 1924 opened with the Targa Florio and was won by a 2-liter 1923-pattern Mercedes improved in detail by Dr Porsche. Alfa Romeo had their effective new P2 racers ready for the Cremona event and their obvious superiority in this race, which Ascari won at a speed of over 98 mph, being timed at 123 mph for ten kilometres, must have made the Milan concern feel very confident about the forthcoming French Grand Prix at Lyons.
Once they arrived there, however, they discovered that the 1923-type
Sunbeams
, which now had supercharged engines, were the faster cars. Rumour has it that this was so obvious that the Alfa Romeo personnel offered to let Sunbeam win, without harassing the new cars from Wolverhampton, if they would, in turn, allow Alfas to come home in second and third places. Whether or not this was true, it seems that Louis Coatalen would have refused and that the great French race was as much an open battle as ever. In fact, Sunbeam chose to change to new German magnetos on the eve of the contest and, as a result, suffered from chronic misfiring. Thus, the newly evolving great P2 straight-eight supercharged Alfa Romeo had the considerable distinction of winning the most important motor race of the year on its first appearance there.
The driver to pull this off was the portly opera singer
Campari
, at an average speed of 71 mph. The V12 Delage cars of Albert Divo and Robert Benoist followed the winning Italian home. Segrave in one of the stuttering Sunbeams had to make do with fastest lap, at 76.7 mph; the Bugatti drivers had lost out with continual tyre trouble and the Fiat pilots with braking maladies. The circus - although it was not called this in 1924 - then moved to Monza for the Italian Grand Prix, which Alfa Romeo absolutely dominated while, in San Sebastian, Sunbeam had, to some extent, atoned for their French Grand Prix disappointment by Segrave's success there.
While Henry Segrave had had a tough time winning in Spain, Zborowski had been killed driving one of the unpredictable straight-eight 2-liter Mercedes cars at Monza, leaving Clive Gallop to bring the Count's body back to England and disband the great stable of racing cars at Higham, much to the detriment of racing at Brooklands. Everywhere, the increasing cost of racing was causing manufacturers to wonder if they could afford to continue to participate and drivers to question whether the low prize money made it worth their while continuing this risky profession.
The Death of Alberto Ascari
One solution seemed to be to concentrate on racing at specialised circuits, where maximum admission money could be extracted from the spectators, which it was not alwayspossible to do at a closed-public-road course where the spectators were scattered about. Thus, the 1925 French Grand Prix was run over the combined track and road circuit at Montlhery, where high attendance figures were expected. It was not a particularly impressive affair, however. It began as an Alfa Rorneo/Delage procession, with Antonio Ascari ahead of his team-mate Campari but, after setting up the best lap speed of 80 mph, the experienced Alfa Romeo driver who was in the lead, somehow misjudged a long fast bend and his car tangled with the wood-paling fencing and overturned in the ditch.
When the news reached the circuit that
Ascari
had died in the ambulance, the other Alfa Romeo cars were withdrawn, as a mark of respect, and Delage, next in the lead with Benoist and Divo, gained a rather hollow victory, at 69.7 mph, with a Sunbeam in third place, followed by a host of Bugattis. Prior to this, Bugatti, with an unsupercharged engine, had won the
Targa Florio
and the European Grand Prix had been run off at the Spa road course in Belgium, resulting in another 1-2 Alfa Romeo P2 success, Ascari winning at 74.56 mph, after the Delage entry had retired.
The Domination of Delage
By now the greatest credit was due to Alfa Romeo, for their success with their beautiful P2 racers, but this made racing rather monotonous. For example, they had very little difficulty in winning the Italian GP at Monza, the No 1 driver in the team on this occasion being Count Brilli-Peri but at the end of this 1925 season, Delage won at San Sebastian only because the P2 Alfa Romeos were absent. In 1926, however, the new 1.5-liter Formula appeared. This marked the beginning of a Delage domination as great of that of Alfa Romeo's in the preceeding season - but not at first, however. Bugatti was by now reaping the benefit of outstanding roadholding and reliability and this enabled Jules Goux to win the French Grand Prix at the dull Marimas oval but, as the only runners were all in Bugattis, this race came to be known as the most ineffectual French Grand Prix of all time.
It was a dull race of 500 kilometres in length, with only Goux as a finisher, the other two Bugattis having retired. He averaged a mere 68 mph, driving alone for the final fifty miles. The Talbots were unprepared for the European Grand Prix at San Sebastian, and, as the new straight-eight Delage cars were still addicted to roasting their drivers, it was Goux and the Bugatti that won again. The Delage cars had been stationary for something like an hour during this race but eventually the Bourlier/Senechal car was able to make up for lost ground and finish second, with Costantini, whose Bugatti developed last-minute trouble, in third place.
This strongly reflected on the wide spacing of GP cars of that time and on the patience of the 1926 spectators. Racing was enlivened, nevertheless, by a 'free-for-all' ruling that prevailed for the Spanish Grand Prix, which enabled Segrave to run with a 4-liter V12 Land Speed Record-type Sunbeam and for 2.9-Iitre Bugattis to mingle with the 1.5-liter and 2-Iitre cars. However, Segrave's front axle caved-in and the Delage entries also struck trouble so a Bugatti won again, with Costantini finishing ahead of Goux, at a speed of 76.8 mph for the 374.5 miles.
The 1927 season was again for 1.5-liter cars in the nature of a triangular battle between Delage, Talbot and Bugatti, with the emphasis on the superb little straight-eight Delages. Indeed, the experienced Robert Benoist, who lost his life in World War 2 working for the French resistance movement, won four of the 1927 grandes epreuves. He was first to receive the finishing flag in the French GP at Montlhery, in the Spanish GP run at San Sebastian, and in the European GP at Monza, while he led the British Grand Prix, which was run at Brooklands Track over a course made into a parody of a road circuit by the use of a few sand-bank chicanes.
Delage had managed to win this race the previous year in spite of their cockpit overheating, but it had required two drivers with Senechal helping out Wagner on that occasion, and, whereas the average speed had been 71.61 mph, Benoist averaged 85.59 mph for the 1927 race. Bugatti decided not to compete in either the French or Italian (European) Grands Prix, and it is typical of Delage superiority that only one of these cars was run in the latter race, with which Benoist made the fastest lap at 94.31 mph, winning easily at just over 90mph for 50 laps of a wet course.
Fiat managed to win just one race, the Milan GP run at Monza, on an identical circuit to the European GP, with their odd twelve-cylinder twin-crankshaft concoction, which was entrusted to Bordino. Racing after 1927 became more complicated. Many new events were instituted and this, together with the free-engine-size formula resulted in a situation whereby sports cars mingling with pure racing machines competed for different honours. Picking out some of the more significant events, there was that notorious occasion in the
1928 Targa Florio
when Junek was ahead of all the male drivers for a time, until her Bugatti finally dropped back, leaving Albert Divo's 2.9-Iitre Bugatti in the lead.
1928 also saw the emergence of Tazio Nuvolari, who is regarded by many authorities as the greatest and most versatile racing driver of all time. That year his Bugatti took first place at Alessandria in a race called the Bordino Prize, after Pietro Bordino. Louis Chiron, the volatile French ace, won the 1928 Rome, Marne and San Sebastian Grands Prix for Bugatti and clinched a fine successful racing season by taking first place in the European Grand Prix at Monza, at a speed of just under 100 mph. Arcangelli, who competed in a revised edition of the 1927 Talbot, was a fast challenger, and he won the Circuit of Cremona race at the high speed of 101.31 mph. He also set fastest lap, at 103.2mph, at Monza while a Talbot driven by Materassi won at Monte-nero.
Rudi Caracciola Conquers the Nurburgring
The German Grand Prix, held at the
Nurburgring
, was nominally a sports-car contest. However, this arduous race was won by Rudi Caracciola in a 7-liter Mercedes-Benz at a speed of 64.6mph, with two similar cars following him home, having vanquished the road-equipped Type 35 Bugattis, which would normally have been expected to out-handle the big and heavy Mercedes cars on this mountainous circuit. Count Brilli-Peri was now Bugatti-mounted, but could only average a speed of 62.2 mph. Altogether, 1928 was very much a Bugatti year, with drivers of the calibre of Chiron, Nuvolari and Caracciola much in evidence.
The trend continued in 1929. The International season commenced with a new, but now very respected street circuit race, at Monaco. It was won by the French-domiciled Englishman, W. Grover-Williams, in a Bugatti, at 50.23 mph, giving the well established professionals a nasty shock, as he made the fastest lap of this winding circuit, where drivers wore their hands to blisters continually changing gear, at 52.7mph. The pending Alfa Romeo/Bugatti duelling was forecast when Achille Varzi, a dour driver who was to become an arch-rival of Nuvolari's, took the Bordino Prize at Alessandria at 68.24mph, lapping a little faster than his average speed for the race.
Divo again won the
Targa Florio
, over the Little Madonie circuit; his Bugatti averaged 46.21 mph for his trip over the Sicilian mountains; driving adjacent to ravines, over stones and around hairpin bends. His car caught fire, until his mechanic used a cushion to quell the flames but he still managed to exceed his earlier speed of 45.65 mph. Minoia in another Bugatti could not get above 47.3 mph when establishing a new lap-record for this unique course. The Rome Grand Prix fell to Varzi's Alfa Romeo but Williams retaliated for Bugatti by winning the French Grand Prix at 82.66 mph.
Phi-Phi Etancelin
The fast Cremona Prize contest went to Brilli-Peri and Alfa Romeo. The pace rose to 114.41 mph, with Maserati in a car of his own making best lap (a record) at 124.4mph. Held at Reims in the Champagne country, Phi-Phi Etancelin won the Marne GP for Bugatti at 8stmph and the gre':i Chiron, waving to the crowd, even managed a Bugatti victory at t,!1~ German Grand Prix, around the
Nurburgring
, averaging 66.79 mph, or 2.19 mph faster than Caracciola's big Mercedes had managed to do in 1928. Louis also set the lap-record for the
Nurburgring
by a rousing 69.97mph.
The-bitter duels between Chiron and Varzi were seen at the 1929 Coppa Ciano race at Montenero in July, when Varzi's Alfa Romeo, this being one of the old 1924 P2 cars, won at 54.17mph leaving the lap-record to Nuvolari's Bugatti, at 55.3 mph; the low averages pointed to the difficulties the drivers had to contend with. Finally, for 1929, the now-important Monza Grand Prix was won by Varzi at a speed of 116.83 mph in a race of three engine-capacity heats and a final. Varzidrove one ofthe aged P2 straight-eight cars and.Materassi, in a fearsome 16-cylinder 4-liter Maserati, set a 'lap-record for the 2.8-mile circuit of 124.2 mph. Nuvolari, in a rather dubious 1927-type Talbot, managed second spot, and a big privately sponsored sports Mercedes-Benz finished third.