Delage

1905 - 1953

Country:
LOUIS DELAGE, founder of one of the greatest firms in the French automobile industry, was born in Cognac in 1874. At the age of fifteen he left school and started studying engineering. Despite having the sight of only one eye since birth, he did well, and acquired a position in a public works engineering department.
After a short time Delage joined the Turgan-Foy company as a draughtsman and, after a few years, he moved to Automobiles Peugeot. Both these firms were situated in Levallois, a western suburb of Paris. Delage soon established himself as manager of the experimental and testing department at Peugeot, but he was very ambitious and wanted to be his own boss.
At considerable risk, he borrowed 35,000 francs from a few backers and in 1905 set up a business of his own to manufacture cars in a small workshop. He had two lathes and three workmen, and had given up a salary of 600 francs a month to work for only one third of that.
The Helbe car
He had, however, brought with him Peugeot's chief designer, Legros, and it was through collaboration with Legros that the fame and fortune of Automobiles Delage was founded. In the beginning, they made parts for the Helbe car, which was assembled at Boulogne-sur-Mer with a De Dion engine.
The first Delages appeared in 1906, and were voiturettes built on sound, conservative lines. There was only one chassis style, which could be powered by either a 4! hp or a 9 hp, single-cylinder
De Dion engine
, as by that stage Delage did not have the facilities to manufacture his own engines.
Delage was forced to practise great economy to be able to prepare two 9 hp racing cars, one with a De Dion and one with an Aster engine, for his first competition, the Coupe des Voiturettes, held at Rambouillet near Paris, in November 1906. A week of regularity trials preceded a race which decided the event and, on the fifth day, in pouring rain, one of the Delage cars ran out of road, hit a tree, and was written off.
1907 Coupe des Voiturettes
Fortunately, in the race itself, Delage's other driver, Menard, who held a Delage agency, finished second, five minutes behind the winning Sizaire- Naudin. The two-cylinder Delages entered in the 1907 Coupe des Voiturettes race were outclassed, and the fame of the firm really started in the following year on the day before the French Grand Prix at Dieppe, when the 1908 Grand Prix des Voiturettes was held over six laps of the 47.74 mile Grand Prix circuit.
The date was Monday, 6 July. Among the 47 starters, Delage fielded a team of three cars, two with two- cylinder, 78 x 130 mm
De Dion engines
, driven by Rene Thomas and Lucas-Bonnard, and one with a single-cylinder, 100 x 160 mm engine, driven by Albert Guyot, the Delage agent at Orleans. This engine was the work of a brilliant, but somewhat eccentric, engineer called Nemorin Causan. It had four plugs and four valves per cylinder, two flywheels and thermo-syphon cooling; it developed 28 bhp at 2800 rpm.
With this car Guyot had an impressive non-stop winning drive at 49.8 mph, finishing ahead of the fastest Sizaire-Naudin, which had to stop to refuel. All the Delages finished, and the team won the regularity prize, Thomas in fifth place driving the first two-cylinder car to finish. Once again, Louis Delage's financial resources had been taxed to the limit, as there was no prize money in those days, and he had to accept what amounted to a bribe from De Dion to say that Guyot's car had a De Dion engine, thus depriving Causan of the credit due to him.
1906 Delage Voiturette.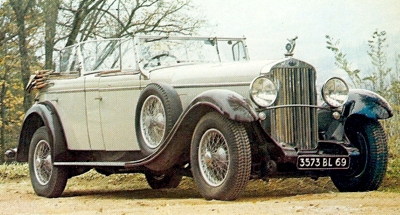 1929 Delage D8, powered by a straight eight 4050cc engine.
Delage D8S Sports, with a top speed of 85 mph.
1935 Delage D6/70, built by Delahaye after the take-over.
Delage DI 50, with coachwork by Letourneur and Marchand, powered by a 2.5 liter six cylinder.
Switching to 4 Cylinder De Dion or Ballot Engines
However, business was picking up rapidly and, in 1908, over 300 cars were sold. In 1909 Delage went over to four cylinders with engines made by De Dion or Ballot but was soon building his own four-cylinder, side-valve engines. In 1910, a move was made to new premises at 138 Boulevard de Verdun, the birthplace of all future Delage products. By 1912, Delage was employing 350 men and turning out well over 1000 cars a year; his range of medium-sized 12 to 15 hp cars had both four and six-cylinder, side-valve engines of his own manufacture.
It has been said that his touring cars were as well made as they were conventional, but Delage's racing cars were far from being conventional, this being particularly true of their valve gear. For the 1911 Coupe de l'Auto voiturette race at Boulogne, he built four 3-liter cars with cylinder dimensions of 80 x 149 mm. The Delage cylinders were cast in pairs, and the 60 mm diameter valves were horizontal on opposite sides of the cylinders and were operated by push rods and bellcrank rockers from two camshafts in the crankcase, the power output being 50 bhp at 3000 rpm.
The pistons were steel, but very light, compression ratio was about 5.2 to 1, connecting rods were tubular and the crankshaft ran on five 90 mm bore ball bearings. The inlet valves were in detachable caps with the valve springs inconveniently in the gas stream. The gearbox was 5-speed, giving 60 mph at 1500 rpm in overdrive top. With a non-stop race in view, the cars were fitted with what must have been record size scuttle tanks, holding 26 gallons of petrol. Another reserve tank held about three gallons of oil.
Paul Bablot Wins the 387-mile Race
The 387-mile race was a triumph for Delage, his driver Paul Bablot, winning at 55.2 mph by 1 min 11 secs from Boillot's Peugeot, with Rene Thomas third in another Delage; Delage won the team prize. The next Delage racers were full Grand Prix cars. Designed by Leon Michelat, they also had horizontal valves; although these were four-per-cylinder instead of the two per cylinder on the 1911 cars, and had five-speed gear-boxes, but the engines were more than double the size of the 1911 racers, being of 6.2 liters with four 105 x 180 mm cylinders. Horizontal valves ensured a lower-profile engine in view of the long strokes employed at that time.
The rear fuel tank held 43 gallons so that a non-stop run could be made in the 569-mile 1913 French GP at Amiens, for which the three cars built were primarily produced, although only two of them ran, driven by Paul Bablot and Albert Guyot. The 118 bhp Delages proved to be the fastest cars at Amiens, and Bablot made fastest lap at 76.6 mph, but, when in the lead, Guyot had a puncture and his mechanic, leaping out before the car had stopped, was run over by the rear wheel. The subsequent delay gave the race to Peugot and the Delages were fourth and fifth.
The GP de France at Le Mans
In the GP de France at Le Mans a few weeks later, the three Delages had to face strong Mercedes opposition, two modified 1908 GP cars and two cars with experimental six-cylinder, ohc, aircraft-type engines. The race was another Delage triumph, with Bablot first, Guyot second and Pilette, driving a 1908 Mercedes, third. The six-cylinder Mercedes of Salzer finished in fourth place while Duray, in the third of the Delage team cars, finished fifth. The following year, two ofthese Delages were driven in the Indianapolis soo-mile race, on an independent basis, by Rene Thomas and Albert Guyot. Thomas won the race with Guyot third behind Duray's 3-liter Peugeot.
For the 1914 French GP, Delage entered three 4½-liter cars for Bablot, Guyot and Duray, their interesting design including twin overhead cams with desmodromic valves (opened and closed by the cam-shaft), twin carburetors, four-wheel brakes and five-speed gearboxes. Though fast in practice, they were not successful, only Duray completing the course and finishing in eighth place. During World War 1, Delage resources were turned over to making shells and other munitions and, after the war, Delage turned to producing large cars rather than the small medium-powered models on which the company's reputation had been based.
The First Post-War Delage
The first big post-war Delage was the CO, which had an 80 x 150 mm, 4½-liter, six-cylinder, side-valve engine with a fixed head. There was a smaller, four-cylinder, 3-liter version called the DO, reputed not to have had front-wheel brakes. In 1921, the CO became the 80 mph C02 with a pushrod-ohv, twin-plug cylinder head and an output of 88 bhp. The DO was dropped in favour of the DE, still with side valves, but with a smaller 72 x 130 mm engine of 2. I liters, and this model was fitted with four-wheel brakes.
From the DE in 1923 sprang the famous 14 hp DI series of Delages with pushrod, ohv, 75 x 120 mm, 2. 1-liter engines. These continued from 1923 in conjunction with the GL (Grand Luxe), which replaced the C02. The GL had a six-cylinder, overhead-camshaft, 95 x 140 mm, 5.9-liter engine, and was a luxury car also known as the 40/50 in the best Rolls-Royce tradition.
The DI was the most sedate of the 14/40 hp series, and had Rolls-Royce-like, RAF hub-locking arrangements, a 10 ft 6 ins wheelbase, a wide ratio gearbox, magneto or coil ignition on the nearside of the engine, a wide radiator and thermo-syphon cooling.
The DIS, of 1924-5, had knock-on Rudge hubs, a 9 ft 9 in wheelbase, a wide-ratio gearbox, magneto ignition on the nearside, a more efficient camshaft and larger valves than the DI, a narrow radiator and thermo-syphon cooling. The DISS of 1925-6 had Rudge hubs, a 9 ft 9 ins wheelbase, a wide-ratio gearbox in 1925 then close ratio in 1926, magneto ignition on the offside necessitating a hole in the block for the high-tension leads to go through, the later camshaft and valves, a narrow radiator and thermo-syphon cooling.
The DIS reappeared in 1927 as the Series 6, the same as before but with coil ignition, a water pump and a close ratio gearbox. The later cars had single-plate clutches, which were also apt to be a weak feature, but the DI series were generally excellent, reliable cars, not very accelerative but with a high 60 mph cruising speed, a 75 mph maximum speed and impeccable handling. All had 5 main-bearing crankshafts giving 3200 rpm, 4-speed gearboxes and Zenith carburetors.
Delage Hill Climb and Sprint Race Cars
The 1920s saw the era of the great Delage racing cars. Initially, the emphasis was on hill-climb and sprint cars, beginning, in 1923, witha car which had virtually a prototype DI chassis with larger wheels and tyres and an 85 x 150 mm bored out CO engine of 5.1 liters with three Zenith carburetors. This was successful at venues such as Mont Ventoux and La Turbie, mainly in the hands of Rene Thomas, but was also driven by Divo and Benoist. In 1923, a big pushrod V 12, 10½-liter, having cylinders with the GL dimensions of 90 x 140 mm, appeared at Gaillon hill-climb driven by Thomas. Here it broke the record, and, in 1924, Thomas took the land speed record with it at Arpajon at 143.24 mph. This car later became famous at Brooklands in the hands of John Cobb.
In 1925, a 5954 cc, six-cylinder car, with a bored-out GL block of 95 x 140 mm but with twin overhead camshafts and four valves per cylinder, made its debut at Mont Ventoux and, driven by Divo, broke the hill record. This car became known at Brooklands as Delage I, but it was burned-out at the Phoenix Park races, Dublin, in 1934. For Grand Prix races, Delage commissioned Planeton to design a 51.3 x 80mm, 1995 cc, V12, 40hc engine developing 110 bhp at 5500 rpm, which was put into a chassis similar to that of Delage II. It retired when driven by Thomas in the 1923 French GP, but, in 115 bhp form, obtained places in most 1924 Grands Prix.
The Supercharged Delage takes the French GP at Montlhery and Spanish GP
In 1925, the Delages, with supercharged engines developing 195 bhp, recorded wins in the French GP at Montlhery and the Spanish GP. The Delages were evidently as fast as their chief GP rivals, the P2 Alfa Romeos, although they seldom came into direct competition. 1926 saw the advent of the famous and successful Lory-designed straight-eight twin ohc, It-liter, five- speed, supercharged Delage, giving 170 bhp at 8000 rpm and 130 mph. The 1½-liter was the last Grand Prix model made by Delage.
The OM series was announced in the summer of 1926, a 3.2-liter with the same cylinder dimensions as the 01, but using six-cylinders. It had the virtues of the 01 together with the refinement and flexibility of a six, and it remains widely regarded as the ultimate development of the vintage Delage to this day. The OMS was the high performance version, which differed in quite a number of respects including a more sporting camshaft, larger inlet tract, double valve springs and different gear and back axle ratios, while even con-rods and certain crankshaft dimensions appear to have been different. There was also a short lived OR model, of 2.2 and 2.5 liters, with a side-valve engine.
The 85 mph 08 Delage
In 1929, the celebrated 85 mph 08 Delage was announced, a pushrod straight-eight, initially with a 77 x 109 mm, 4050 cc engine and a chassis destined to be fitted with very exotic bodywork. There were three chassis lengths, the 'S' or 'C' at 10 ft 10 in, the 'N' at 11 ft 8 in and the 'L' at 11 ft 11 in. The 100 mph Grand Sport was introduced in 1932, originally with a 10 ft 3 in wheelbase, but this went up to 10 ft 10 in 1934.
In 1934-5, a completely new and smaller 08 was introduced, the 08 15 of 70 x 75.5 mm, 2668 cc, with transverse leaf and wishbone independent front suspension, which was also fitted under licence by Studebaker in the USA. This, and some of the 4-liter 08s, had valves divorced from their springs, the link being a rocker mechanism, a design eccentricity with no obvious mechanical advantages. The D6/11 had similar features, and a similar 75 x 75.5 mm, six- cylinder, 2149 cc engine, just as the original 06 of 1932 had been a six-cylinder version of the 08 of that time.
There was also a 1½-liter, 4-cylinder in 1934-6. By 1935, Delage had been taken over by
Delahaye
, and as that firm's last competition success had been a rather insignificant best time in the touring class of the Paris-Amsterdam-Paris race of 1898, the sudden racing successes of
Delahaye
from 1935 onwards must have owed more than a little to Delage know-how.
Louis Delage is Pensioned Off
Louis Delage was promptly pensioned off, and lived thereafter in comparative penury. Delahaye continued the eight-cylinder Delages, which gradually got bigger, with the 79.2 x 90.5 mm 3591 cc 08 85 of 1935, with normal valve springs, the 08 100 with an 80 x 107 mm, 4300 cc engine of 1936, and the 'super sports' 08 120 of 1937, which had a shorter wheelbase of 10 ft 10 ins, but this went up to 11 ft 1 in. in 1938. Finally, in 1939, came the 08 120 with an 84 x 107 mm, 4743 cc engine and a Cotal electro-magnetic gearbox.
The later 08 cars were perhaps not quite worthy of the earlier ones, but the six-cylinder, Delahaye-built Delages commendably carried on the 01 and OM traditions in the developments of the 06/11, which were the 80 x 90.5 mm, 2729 cc 06/70 of 1936, the 2.8-liter 06/75 of 1938 and the postwar D6/3-Iitre 'Olympic' 06/3L. These shared similar independent front suspension with the Delahayes, but had hydraulic instead of the Delahaye's cable brakes, and they also shared the excellent Cotal gearbox.
One VI2 competition car was built intended for Le Mans, similar to the VI2 Delahaye in engine design, but apparently with 06/75 blocks. It never. ran at Le Mans, but caught fire soon after the start of the 1938 International Trophy race at Brooklands with tragic results, and was not heard of again. A sports/racing 06 with a 2988 cc engine won the 1938 TT at Donington Park and was second at Le Mans in 1939, but the last Delage racing successes were in 1949-50 with second places at Le Mans and in the GP de Paris with six-cylinder, 3-liter cars.
Delage was absorbed along with Delahaye by Hotchkiss in 1954, and no more cars were made. Louis Delage, who turned to religion in later life, died in 1947, a poor though evidently not unhappy man whose name we hope, through sites such as Unique Cars and Parts, will live on for many years to come.
Also see:
Lost Marques - Delage (AUS Edition)