Cesare Isotta and Vincenzo Fraschini (later joined by their brothers Stefano Isotta, and Oreste and Antonio Fraschini) got together in 1899 to import single-cylinder Renault voiturettes,
Mors cars
and Aster engines from France.
Soon after the company was established, they brought in the parts to assemble in their Milan premises, and gradually more and more locally made components were incorporated until the product could be called an Isotta Fraschini.
Then in 1902, when the Renault derivative had grown into a 12 hp twin-cylinder car, the brothers forsook the Renault formula with its neat transmission through cardan shaft and live axle, and went in for bigger things with cruder but more versatile chain-drive.
Giustino Cattaneo
The first true Isotta Fraschini was a 24 hp four with separate T-headed pots. By 1904, the range had expanded to three models of 12, 16 and 24 hp. Strong financial backing paid for the erection of a new factory in Milan's via Monterosa, and an able young design engineer named Giustino Cattaneo was engaged; he was to remain with the firm through to 1933.
By 1905 Cattaneo had found time to create a fast racing car, the 120 hp Tipo D, with a 17-liter, four-cylinder engine having its overhead valves operated by an overhead camshaft. In September that year, two of these monsters were entered, with drivers Le Blon and Trucco, for a three-lap road race round a 104-mile circuit embracing Brescia, Cremona and Mantova, but both failed to get very far.
Finances must still have been somewhat tenuous, and in 1907 the French De Dietrich company were able to buy a controlling interest, an alliance that lasted only three or four years. No Milan-made Lorraine-Dietrichs seem to have left the via Monterosa, only a few Isotta Fraschini's wearing the wrong badge on the radiator.
No doubt the Gallic intrusion was prejudiced by a string of Isotta Fraschini competition successes on both sides of the Atlantic during 1907-1908. A four-car team of side-valve Isotta Fraschini's, based on a stock chassis, was entered for the second Targa Florio in Sicily, with drivers Trucco, Minoia, Tamagini and Sorel; Tamagini crossed the line in seventh place, Minoia in tenth.
Then in June 1907, Minoia finished seventh in the German Kaiserpreis over the tricky Taunus circuit, this time in a bigger car with an overhead-camshaft engine within the 8-liter capacity limit prescribed by the regulations. The same driver was outright winner of the Coppa Florio later that year round an abbreviated circuit centred on Brescia, his team-mate Trucco (who, twenty years later, was to win the first Mille Miglia) finishing fourth.
In 1908, Trucco carried off the Targa Florio in Sicily; in the USA, overhead-camshaft, 7.9-liter Isotta Fraschini's had a whole string of successes that established the make commercially in that country, opening the main outlet for future production. The 7.9 somehow qualified as a 'stock' chassis, although this model was not apparently marketed in Europe. Its most notable achievement was Lewis Strang's second placing, behind a Locomobile with more than twice the cylinder capacity, in the Vanderbilt Cup race held in October, over a circuit on Long Island.
Strang also won the Savannah, Briarcliff and Lowell races, Lytle the Long Island Parkway Sweepstakes, and Poole other track events and a major hill-climb. For decades automotive historians have tried to read a Bugatti influence into this period of association with De Dietrich, because Ettore Bugatti had certainly known the Isotta and Fraschini brothers since before the turn of the century through racing against them, and had been employed by De Dietrich during the years 1902-4. They have noted certain similarities between his designs and the intriguing 1208 cc overhead-cam racer entered by Isotta Fraschini for the 1908 voiturette race at Dieppe, comparing this with Bugatti's own petit pur-sang prototype (65 x 110 mm, 1456 cc) which did not appear for some time later.
1902 Isotta Fraschini.
1902 Isotta Fraschini in profile. It was derived from the 12hp Renault.
1903 Isotta Fraschini 12hp.
Isotta Fraschini 8A Landaulette, with coachwork by Cesare Sala.
Isotta Fraschini 8A Sports Saloon, with Castagna coachwork.
1927 Isotta Fraschini 8A sports with body by Cessare-Sala.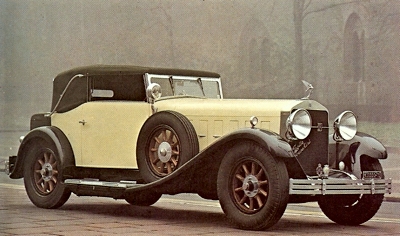 Isotta Fraschini 8A Convertible with bodywork by Figoni & Faleschi.
Isotta Fraschini 8A Tourer.
Isotta Fraschini 8A with body by Farina - and one of only a handful to leave the factory with disc wheels.
As Cattaneo is on record confirming that he designed the little Isotta in conjunction with Stefanino, it seems more probable that Le Patron (Bugatti) might have drawn inspiration from their work than vice versa.
Although the baby Isotta, like other four-cylinder contenders at Dieppe, was defeated by a formula favouring otherwise impractical weirdies with ultra-long-stroke singles and twins, it certainly merits close attention and makes you wonder why the commercial brains in the via Monterosa did not exploit it further, especially as the home market in Italy was too poor to buy their bigger cars in any numbers.
It was put into production as the 10 hp, with the cylinder bore enlarged from 62 to 65 mm (1327 cc), but only for about two years. Its four-speed gearbox had a geared-up, or overdrive, fourth speed for cruising. For 1909, the Isotta Fraschini range comprised five models, including the 10 hp, all the rest having side-valve four-cylinder engines with the blocks cast in pairs. Multi-plate clutches, four-speed transmissions and fixed wooden wheels were common to all, but only the smallest two had shaft drive as standard. Shaft or chains were optional on the 20-30 hp and 30- 40 hp, chains being used on the huge lot-liter 50-65 hp.
Four-Wheel Braking
Late in 1909 Isotta Fraschini introduced four-wheel braking, designed by Oreste Fraschini, but these were not fitted to all models for some year to come. As in the early Austin Sevens, front and rear systems were uncoupled, so that some skill was required to get the best fore-and-aft balance, especially on slippery surfaces.
In retrospect, the general lack of interest in four-wheel braking was probably due to the fact that the early systems were dangerously unpredictable. These days we take steel belted radials, ABS and traction control for granted, but imagine what it must have been like to try slowing or stopping a 2½-ton limousine riding on 3-inch-wide tires. Four-wheel brakes were by no means universal fifteen years after Oreste Fraschini put them on the market.
Overhead-Cam Design
1910 was notable for another overhead-cam design, this time a huge 100 hp car, with enclosed chain drive, front-wheel brakes and, water-cooled transmission brakes for the rear wheels. The Tipo KM engine was a long-stroke four (130 x 200mm, 10.6 liters) said to deliver about 125 bhp at 1800 rpm. The per combustion chamber; the camshatt was dnven by a vertical shaft from the nose of the crank, with skew gears. Most of the KMs had sharply pointed Mercedes-style radiators, giving them an awesome appearance, but some seem to have been less aggressively con- toured.
Already Cattaneo was involved with aero engines, and the cross-breeding between the two elements was clear in the KM. A smaller derivative, the 6.2-liter Tipo TM, differed in having a monobloc cylinder casting. Surprisingly, these were the last Cattaneo cars to have overhead camshafts, and the rest of the story centres round one design that promised great things when introduced shortly after World War 1, but became progressively more stolid by comparison with its competitors.
Its nemesis was the Swiss Marc Birkigt's 32CV Hispano-Suiza, made in Paris and first shown at the 1919 Paris Salon. This had a 6½-liter, overhead-camshaft engine, much more compact and daintier than Cattaneo's eight-cylinder 5.9-liter, in a chassis that combined excellent roadholding with easy steering and matchless brakes assisted by a mechanical servo.
The World's First Production Straight Eight
There was also the threat of two rival Italian super-cars from the Lancia and Fiat factories, both with large V12 engines but, fortunately for Isotta Fraschini, these took a year or two to get off the line, due to labour problems affecting all Italian industry. Even so, it has a strong claim to being the world's first true production straight-eight. The massive engine was a joy to look at and was beautifully constructed, but as a dynamic object it was more noted for long life and reliability than for power or refinement, in the marine rather than the aviation idiom.
The monobloc aluminum cylinder casting was topped by two three-cylinder heads, and the overhead valves were opened by pushrods and rockers. Nine main bearings supported the vibration-damped' crankshaft, which was arranged like two fours in series in the Bugatti manner. This layout was claimed by Cattaneo to provide better mixture distribution, although it was inherently less well-balanced than the 2-4-2 disposition later adopted by Bugatti, in line with US designs.
Cylinder proportions were strictly small bore/long stroke (85 x 130 mm, 5902 cc) and the original output was a modest 75-80 bhp at 2200 rpm. It breathed through two Zenith side-draught carburetors and was fired by a Bosch magneto. Transmission was through a multi-plate clutch and a wide-ratio three-speed gearbox, with centre ball-change, in unit with the engine. With neither the power and manoeuvrability of the Hispano nor anything approaching Rolls-Royce unobtrusiveness, it is difficult to understand how the Tipo 8 was such a success. It was not even a pleasant car to drive.
The answer probably lay in the huge chassis, with its 12 ft-plus wheelbase, which formed a wonderful platform for the specialist coachbuilders of Italy and the USA in particular. Some of their creations behind that noble radiator were amongst the most magnificent ever conceived.
Italian houses, like Sala, Castagna, Stabilimenti, Farina and Touring were then at their peak in both style and execution, and in America, England and France, the Isotta Fraschini became a symbol of aristocratic dignity. Just as the Tipo 8 was coming to fruition, in 1920-1, Oreste Fraschini died, and his brother Vincenzo and Cesare Isotta left when new management, with much-needed capital backing, took over; but the faithful Cattaneo stuck to his post.
Towards the end of 1924, after about 400 Tipo 8s had been sold, he released the 7.4-liter Tipo 8A (93 x 135 mm) which gave 110-120 bhp at 2400 rpm, much of the extra power no doubt being absorbed by heavier coachwork. It had a stouter chassis frame and larger brake drums with vacuum-servo assistance, and rode on larger-section tyres.
The 8A was soon supplemented by Spinto and then Super Spinto versions with higher compression ratios and other tuning devices. These still failed to match Birkigt's new 46CV 8-liter Hispano, although a short-chassis 8ASS with sporting bodywork could allegedly exceed 100 mph (one such car finished sixth in the 1927 Mille Miglia, driven by Count Maggi and Bindo Maserati).
Although the world slump around 1928-30 nearly put paid to Isotta Fraschini, in April 1931 they launched the 8B, a great improvement, on paper at least. A lot of development had gone into its engine, which now gave up to 145-160 bhp at 3000 rpm; the chassis was deeper again and with added cross-bracing; hydraulic dampers replaced the friction Hartfords and a four-speed Wilson pre-selector gearbox was optional. There were very few takers, however, and only about thirty were sold before the close-down in 1935.
Gianni Caproni Takes Control With Backing From The Fascist Regime
That was when aeroplane manufacturer Gianni Caproni took over, with enthusiastic encouragement from the belligerent Fascist government; there was great prosperity then from aviation and marine engines, and from trucks of German design built under licence. After the war, Caproni initiated two parallel projects to get back into the private-car market.
One was to be a small car for the common man, for which Ing. Fessia chose a platform frame with all-independent suspension, the front wheels driven by a 1250 cc ohv flat-four engine. Called the CEMSA-Caproni, it appeared at shows in the late 1940s, but never got off the ground. In 1953 it very nearly became a Belgian Minerva, but nothing came of that either.
Ultimately, Fessia went to Lancia, and the result was seen when in 1960 out popped the Lancia Flavia. The other more ambitious venture was a luxury model called the Isotta Fraschini Monterosa, dreamed up by Ing. Rapi. The only things in common with the 8B were its eight cylinders, arranged in a 90-degree V and placed behind the rear wheels in a platform frame with all-independent suspension employing rubber in compression.
The overhead-camshaft engine progressed through successive shows from 2½ to 3.4 liters, and it appeared in a variety of bodies of varying aesthetic merit before Monterosa was finally closed down in 1950, perhaps because the Brave New World was not yet brave enough for Fessia and Rapi.