Hard Work Pays Off
The story of Nash is very much a rags-to-riches story. The company was founded by Charles W. Nash, who was born in 1864. Orphaned at a very early age, he was bound out to an Illinois farmer when he was six; he hated the life so much that he ran away six years later, when he reckoned he was old enough to fend for himself.
But his adolescence was spent in grinding poverty, wandering from farm to farm as an itinerant labourer; before he was 27 Nash never made more than $300 a year. He eventually found himself a job as a trimmer in the carriage works run by Billy Durant and J. Dallas Dort in 'America's carriage capital', Flint, Michigan.
By sheer hard work, Nash rose to be general manager of the company; meanwhile, Billy Durant had taken over Buick and founded General Motors, and was merrily running up huge debts. Only a year or so after General Motors had been incorporated in September 1908, Durant owed the Durant-Dort carriage company several million dollars for car bodies.
President of General Motors
Charles Nash asked to be allowed to sort things out, and was promptly made president of Buick. Shortly after that, General Motors ran out of cash and credit, was saved by a bankers' syndicate, and was put under new management. Durant, ousted from control, recommended Nash to James J. Storrow, who headed the syndicate, and in 1912 the former farm labourer became president of General Motors.
His technical assistant, Walter Chrysler, took over Buick. However, when Durant leapfrogged back into control of General Motors via his hugely successful new Chevrolet company, Nash resigned. His policies were diametrically opposed to those of the ebullient Billy; even so, Durant offered him an astronomical salary to stay on - '
It was more than any man's worth
,' commented Nash.
In any case, Nash had a long-standing ambition to build a car under his own name, and the easiest way of doing this was to take over an existing company. He acquired the Thomas B. Jeffery Company, of Kenosha, Wisconsin, founded by an English-born bicycle manufacturer - 'the inventor of the clincher tire and railroad velocipede' - who had built his first experimental car in 1897 before going into production with his first Rambler in 1902.
Jeffery died in 1910, and four years later the company changed its product name to 'Jeffery' in his honour; model names of some cars, like the 1915 Chesterfield, were chosen by Ned Jordan, whose purple pen was later to give the advertising world the immortal 'Somewhere West of Laramie' copy which extolled his Jordan Playboy model.
The Jeffery Quad
Jeffery were tending to concentrate on truck production, having entered this field in 1913, and in 1914 had introduced their four-wheel-driven Jeffery Quad, which was bought by the thousand for war use by the British and French governments. In 19I4 the Jeffery Company built 10,417 cars and 3096 trucks; a year later the position was reversed, with truck output up to 7600, car output down to 3100, while in the year of the takeover, passenger car production rose again, to 4608, with trucks down to 2117.
A few weeks after his acquisition of the Jeffery company in July 1916, Charles Nash called the dealers and the 3000 employees together and announced: 'We shall build up to a standard, not down to a price'. During 1917, the Jeffery name was phased out in readiness for the new Nash car which was being prepared for production; meanwhile, truck output was stepped up again, reaching 11,490 in 1918, making Nash Motors, it was claimed, 'the world's largest manufacturer of trucks', a position they would not bother to maintain as peacetime demand for private cars overtook the market for commercials.
The First Ever Nash Automobile
The first Nash car appeared in the autumn of 1917; a 4-liter six-cylinder model, it had the unusual feature for the period of pushrod-operated overhead valves, an obvious legacy from Nash's period with Buick, which had never built anything but ohv engines since its inception in 1903. The model line-up included five and seven-seat touring cars, a 'chummy', a coupe and a sedan. Sales were moderately encouraging at 10,283 for the 1918 season.
The following year, roadster and sport models were added to the range, while sales more than doubled, reaching 27,081. Meanwhile, truck output had fallen to 4090, and would be phased out at the end of the decade, as a result. Expansion was in the air in 1919: 'All companies are increasing production as rapidly as possible and expect more business than they can possibly deliver this year,' exulted Automobile Topics, and Nash were well in the forefront of the industry's expansion plans, opening a new assembly plant at Milwaukee in June 1920.
1918 Nash Tourer.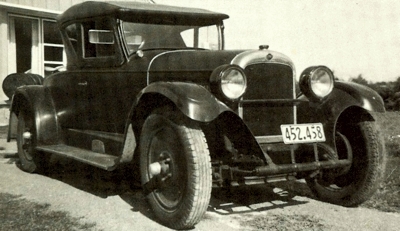 1926 Two-Seater Nash runabout.
1930 Nash Six.
1932 Four-Door Nash Sedan.
1932 Nash convertible - built at a time Nash were expanding - even though it was the middle of the depression.
1941 Nash Ambassador Eight Convertible Coupe.
Nash Ambassador Slipstream Sedan, which could be optioned with either a L6 or V8.
1951 Nash Rambler Country Club.
1950 Nash 2 door convertible, ultimately re-named as the Rambler Custom.
1954 Nash Airflyte.
1952 Nash Golden Airflyte.
1956 Nash Ambassador. This was one of the last, before all AMC products were known as Ramblers.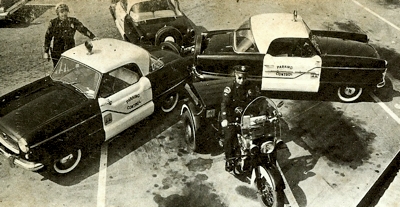 These are Nash Metropolitans, used by the State Police.
1956 Nash Palm Beach, designed by Pininfarina. You probably have already guessed that this was not put into production.
The Kenosha Plant Temporarily Shuts
But already there were rumours of slump in the air, and in the autumn of 1920, the bottom fell out of the worldwide car market. Nash was among the first manufacturers to be hit by the recession, and on 22 November 1920, the Kenosha plant was temporarily closed down, 'to allow an inventory and completion of plans for readjustment of labour conditions.' It was only a brief cessation in the company's affairs: by the end of 1921, Nash was not only back in full production, but had also introduced a new model, an OHV 2½-liter four of similar design to the six.
There were nine distinct body styles in the range, in contrast to the six models in the six-cylinder line-up. The following season saw another innovation, the use of rubber engine mountings to reduce vibration. Nash claimed this as an industry first, but in fact Mors had done it a quarter of a century before. Nash were now well established as manufacturers of cars in the middle-price bracket, their models costing from just over $1000 to just over $2000.
Now they decided to break into the luxury market; again, Charles Nash followed his original tactic of buying an established company. In 1922 he became president of LaFayette Motors of Mars Hill, Indiana, who were building a luxurious V8 designed by D. McCall White, an Englishman who had formerly worked with Napier and who had been responsible for the original V8 Cadiliac engine of 1914. The LaFayette was a well-equipped, beautifully engineered 5.6-liter car, which pioneered such fittings as thermostatically controlled radiator shutters and fitted luggage which could cost anything up to $7500 in standard guise; Nash transferred LaFayette production to Milwaukee in 1924, but the marque failed to flower in new soil, and was soon discontinued by its owners.
The Mitchell Motor Company
Nash were now boasting of their self-sufficiency, claiming: 'To the best of our knowledge, there is no other manufacturer of motor cars who builds so large a proportion of his products as does Nash', a rash boast which must have afforded Henry Ford, who made everything but the tyres for the Model T, some quiet amusement at the time. The company was in expansive mood, anyway, and on the 2nd April 1924, they purchased the Mitchell Motor Company, of Racine, Wisconsin.
Mitchell, a couple of years earlier, had produced a model in which the radiator shell was raked backwards. The public soon were calling it 'The Drunken Mitchell', and the company gently ran out of steam. In any case, Nash had not bought the Racine plant to revive the Mitchell. They needed the extra production capacity for a new line of cars, which would be marketed under the name Ajax. A separate company was formed to market the Ajax, a 3-Iitre side-valve six-cylinder, priced at $925 for the tourer and $995 for the sedan. Standard color was Mallard Green.
The new cars were announced to Nash dealers and distributors at a gala reception in the baseball ground at Racine on the 6th May 1925. Although Nash sales were enjoying a steady upward trend, the Ajax failed to benefit by association and after a year the Ajax name was dropped altogether and the Racine-built model became known as the Light Six. Though the Ajax had proved a failure, in the year of its demise the parent company reached a sales record, with an output of 135,520, the first time that Nash production had exceeded 100,000.
The range now consisted of the Special Six and Advanced Six, available in 24 different models, nine of which were sedans and six were tourers. The following year saw a slight fall in sales, output from Kenosha, Milawaukee and Racine totalling 122,606, made up of 26 different models. The Kenosha plant employed a fair number of expatriate Scandinavians, who subscribed to buy a Nash Ambassador Six which they presented to Prince William of Sweden on 14 October 1927.
The model 328 Nash
In 1928, sales were up again, reaching a record 138,137, a figure that would not be beaten until 1949. This achievement gained 3.67 per cent of the American market. That year, the model 328 Nash, with 'French-type roof panels' and dummy landau irons, sold at $1085, which its makers claimed, qualified it as 'the lowest priced 7-bearing six' on the American market. The 1929 season cars were announced as early as July 1928; heading the line-up was the 400 Series of 'twin-ignition' models, available on 116 inch and 130 inch wheelbases. Rumours of mergers were in the air again, and on the 27th January 1929, the Kenosha News reported that a merger between Nash Motors and Packard was being arranged, though these reports subsequently proved to be unfounded.
Output in that first year of the Depression reached 116,622; truck production, which had been in steady decline since the end of the war, was finally wound up. There was a new model for 1930, the Twin-Ignition Eight, which, like the Six, had twin coil ignition systems; swept volume was 3920 cc. This brought the range of Nash variants up to 32, based on the Single Six and Twin-Ignition Six (both of 3378 cc) and the new Eight. The technical specification was widely admired, with the crankshaft being exceptionally large and stiff and seven wide main bearings being provided. In addition, Nash used aluminum pistons.
The Nash was also one of the few American cars in which oil was forced not only to the main engine bearings, but also through drilled passages up the connecting rods direct to the gudgeon pins and cylinder walls, the fully forced system being calculated to promote long bearing life. Another feature of the Eight was its starter, which was brought into action when the clutch pedal was depressed, which, said the car's makers, removed the danger of 'in-gear' starts.
The Modest Millionaire
In 1930 Charles Nash, the man the media had dubbed 'the modest millionaire', became chairman of the board of Nash Motors; he was succeeded as president by E. H. McCarty. An unassuming man, Nash placed his private life high in his list of priorities, and used to boast that the longest he had ever been separated from his wife was ten days - and that had happened only twice in their long marriage! As the Depression deepened, Nash cut back their model range - only 24 variants were available for 1931, and production fell to 38,616 cars. Nevertheless, the company managed to maintain earnings of $4,808,000, representing a return of more than 20 per cent on investment.
By comparison, the same year Ford sales were down by nearly 50 per cent, representing income of $46 million and a net loss of $37,181,000. For 1932, Nash Motors embarked on an ambitious expansion of their model range in order to boost sales. They announced the 'First Series', available in 25 separate body styles, and the 'Second Series', with 28. Six different wheelbase lengths were listed - 114 in, 116 in, 121 in, 128 in, 133 in and 142 in - and a new Big Six series was announced in mid-season, bringing engine options up to two sixes and two eights. The new cars had fashionably 'Veed' radiator shells and parking lights on the front wings rather than the scuttle cowl; a choice of wood, wire or steel disc wheels was available, and the gearboxes were fitted with synchromesh.
Mrs Carrie Mueller & Anton J. Cermak
To emphasise the wide appeal of the Nash range, the company issued a press release showing a diminutive 78-year-old, Mrs Carrie Mueller of Minneapolis, who had just taken delivery of a new Twin-Ignition Eight. Another 1932 customer was Anton J. Cermak, Mayor of Chicago, who took delivery of a snow-white Model 994 sedan which was to be used as an official guest car for the city. Unfortunately, only a few months later, in Florida, he was assassinated by a lunatic who had mistaken him for the incoming President of the USA, Franklin Delano Roosevelt.
Nash Motors were still showing a profit, one of only two American car manufacturers still registering their accounts in the black; the other was General Motors. Though sales had slumped to only 17,696 cars, sound management policies enabled Nash to register a profit of $1,029,552 compared with GM's $164,979 for the same period. But the fall in sales was too great to be contained by even the most skilled board of directors: in 1933, production reached an all-time low of 14,973, with each car bringing in the company an average of only $600. The total value of sales was $8,983,974, and the company lost $1,188,863.
Nor would the situation immediately rectify itself. The 1934 models featured revised styling, with spatted wings, raked tails and rear-mounted spare wheels, plus a new radiator shell. There was a new, low-priced line, too, which bore the proud old LaFayette name. Built on a standard 113 in wheelbase, the new models retailed from $585 to $745 and had a side-valve six-cylinder engine developing 75 bhp. Sales revived to 28,664, and the company received an average of $687 on each car, making net sales $19,679,777 - but the company still reported a loss, which amounted to $1,625,078.
Aeroform Design
Amid the gloom, Nash Motors still found time for celebration in 1934, the company producing its millionth car, an average of 62,500 a year since the inception of Nash Motors. Sales were up again in 1935: 44,637 Nash and La-Fayette cars were built, bringing in $27,811,719 (an average of $623 per car)., but the company was still operating at a loss, though it was reduced to $610,227. Rationalisation was the theme of the 1935 model range, with the number of options sharply reduced. There were only two six-cylinder body styles and four eight-cylinder styles. With its pontoon wings and streamlined tail, the Advanced Six Victoria echoed then current European fashion as exemplified by contemporary Talbot and Bentley models. Nash christened the new sleek look 'Aeroform design'.
The swept-tail styling was continued for 1936, though customers were still offered the choice of conventionally styled models with a luggage trunk. This carried the extra advantage that the rear seat and trunk area could quickly be converted into a double bed. Nash were now using all-steel unit construction for their bodywork, with the floor integral with the body sides. Another advance was the adoption of overdrive, which enabled a more silent and economical cruising speed to be maintained. The range now consisted of two side-valve sixes, of 3779 cc and 3037 cc, which were fitted in the cheapest model of the range, the 400.
The Nash Ambassador Six and Eight
Next in the range was the Ambassador Six, which had overhead valves and a marginally longer wheelbase; roomy, well appointed and considerably neater in detail finish than the 400, it had the same engine dimensions as the cheaper model. Largest of the 1936 Nashes was the Ambassador Eight, which had a 4231 cc ohv engine, and a wheel- base of 10 ft 5 in, and was 'particularly smooth and easy riding', according to The Motor.
The Nash-Kelvinator Corporation
The LaFayette line was continued under the slogan '
the big car in the low price field
'; it was possible to obtain a three-passenger coupe for as little as $595. A total of 53,038 cars was built during 1936, with a sales value of $30,965,894, to bring the company's operations back into the black with a profit of $1,020,708. But the big news of the year was the announcement of a merger between Nash Motors and the Kelvinator Corporation, which would come into effect on 4 January 1937. Like General Motors, the Nash-Kelvinator Corporation would combine the manufacture of cars and refrigerators, Charles Nash was elected chairman of the board; president was George W. Mason, a gifted engineer and administrator, who had headed production at Chrysler in that company's formative years, and who had subsequently turned Kelvinator into one of the leading suppliers of household appliances.
The combined fortunes of the two companies were on an upward trend, car sales rose to 85,949, contributing to a corporate profit of $3,640,747. Variety was still the keynote of the range, though model availability was austere compared with the early 1930s; there were now eight versions of the LaFayette and twelve of the Nash. In 1938, however, there was a general recession in car sales, and this, combined with the development costs of a new model scheduled for the 1941 season, caused a group loss of $7,655,138; car output fell to 32,017, made up from 18 different Nash and LaFayette models.
The company continued with its policy of building cars that were technically more interesting than their rivals, fitting vacuum-operated gearboxes, actuated by a dashboard lever to all Nash models; this was the first year, too, of the famous 'Weather Eye' conditioned air heating and ventilation system. Sales were up again in 1939, a total of 65,662 cars leaving the company's works, though Nash-Kelvinator still managed to report a loss of $1,573,524. Styling was different, with a tall, narrow radiator slit in the high prow, an arrangement of chrome strips like a boot-scraper across the front and massive triple overriders. The wings were much squarer and the headlamps were faired in to increase the streamline effect, though the 'sweptback or trunk-back' option still applied.
All Nash models were known as Ambassadors, with sixes built on a 121 in wheelbase and eights on a 125 in wheelbase. Styling was, if anything, even more exaggerated the following year, with the tall radiator grille curving inwards at its foot. The flashy lines of the new Nashes seemed made for Hollywood, and, indeed, there was some sort of tie-up with Universal Pictures, who used Ambassadors in several of their movies that year. And when Universal production manager Martin Murphy celebrated 25 years with the company during 1940, his associates presented him with a new Ambassador Eight Coupe, the news photographers being conveniently to hand.
Californian stylist Count Alexis de Sahknovsky
Topping the 1940 model range was the $1195 Model 4088 four-door Ambassador Eight Sedan; and though car production was slightly down at 63,617, the Nash-Kelvinator Corporation could still report annual sales of $73,489,574, representing a $1,505,151 profit. Perhaps the highlight of the season was the production of a limited run of about fifty Nash specials, a sporty convertible variant of a standard Nash model created by the top Californian stylist Count Alexis de Sahknovsky; among its distinguishing features were elbow cutaways in the door and a vee-screen. But the year that Nash really hit the headlines was 1941, when they announced that new model that had so drained their finances three years earlier.
The New Nash 600 - 600 miles on 20 Gallons
'In automotive history, the year 1941 will probably be noted for the introduction of a new kind of automobile body construction
', proclaimed their advanced publicity, and Time magazine stated '
The only completely new car in 1941
'. The new Nash 600, which, with a 2.8-liter six-cylinder engine in a vehicle weighing around 2615 lb., promised a fuel consumption of 30 miles per gallon. The '600' model name was derived from the claim that this car could cover 600 miles on one 20-gallon tank-full of petrol. Suspension was by coil springs all round, independent at the front, beam axle at the back, a combination which promised all the ride comfort of a well-worn double bed.
Like the bigger Nashes, the 600 had steering-column gear-change, twin-tone paintwork, air-conditioning, overdrive, and sweptback or trunk-back body-work as part of its specification. The Ambassador was still available in six or eight-cylinder guise, though the LaFayette had been discontinued in favour of the 600 range. Annual output totalled 80,408 cars, and profits of Nash-Kelvinator during the 1941 financial year reached $4,617,052. There was a shadow of the future in the group's new involvement in the rearmament programme: during 1941 they built 44,628 military cargo trailers in the Racine plant, and took over the old Reo truck factory at Lansing, Michigan, to produce aircraft propellers.
I'm Using One-Third Less Gasoline
It was a happy accident that the 600 had arrived so soon before the introduction of petrol rationing; just before Pearl Harbour, a 600 sedan carrying a placard reading 'I'm using one-third less gasoline' carried out a nation-wide publicity tour. It was, however, a little too late to be of much use to sales. During 1941, the company had started build-up of the 1942 line; but with America's entry into the war, output was halted in January, and the Nash-Kelvinator factories turned entirely to war work.
During the period 1942-46, the group's plants at Detroit, Grand Rapids, Kenosha, Lansing and Milwaukee produced over $600,000,000 worth of aero-engines, propellers, helicopters, bomb fuses, flying-boat sub-assemblies, cargo trailers and binocular cases. And when they resumed car production in late 1945, their president, George W. Mason, told the Press: '
Our car is the forerunner of cars to come
' though cynics might have noticed that the juke-box front-end styling and general specification were just as they had been back in 1942.
The Golden Jubilee of the American Motor Industry
Only six-cylinder models were now available. A total of 6,148 cars were built in 1945, and 98,769 in 1946, despite post-war steel shortages. Preparing for the future, the company built a 204-acre proving ground near Burlington, Wisconsin. Recalling the past, chairman Charles W. Nash was one of the 12 automotive pioneers honoured in the celebrations of the Golden Jubilee of the American motor industry during 1946. Two new factories were acquired in 1946, at El Segundo, California and Toronto, to assist West Coast and Canadian distribution. That some degree of expansion was justified was proved by the 1947 sales figures, which at 113,315 represented the first time Nash output had passed 100,000 since the onset of the depression; and a new Nash assembly plant was opened near Mexico City on 18 June 1947.
Cannon Ball Baker Sets a New Speed Record
The Burlington test track was obviously being well used, Nash building a one-off 12-passenger eight-door Ambassador Limousine to transport engineers between Kenosha and Burlington. Nash were still achieving publicity results: a canary-yellow Ambassador sedan was the official pace car at the Indianapolis 500, driven by George Mason, who managed to persuade screen star Clark Gable to sit in the car for photographers. Then, in 1948, the famous stock-car driver Cannon Ball Baker set up a new speed record for the ascent of Mount Washington at the wheel of a Nash 600.
Production continued to expand: the El Segundo plant got under way in October 1948, and Nash returned to commercial vehicle manufacture with a limited run of trucks built for the export market. Limited, too, was the first postwar batch of Nash convertibles, of which only 1000 or so were built. But the year's increased output - 118,621 cars - represented a success overshadowed by the death on 6 June of Charles W. Nash at the age of 84; he was succeeded as president by George W. Mason.
A completely redesigned Nash range was introduced for 1949, featuring 'Airflyte' styling, with all four wheels enclosed by the bodywork, unitary construction and one-piece wraparound windscreens on all 600s and Ambassadors and a 'uniscope' instrument panel. The company's advertising waxed lyrical about the benefits of the new styling: 'Here is roadability undreamt of in yesterday's cars ... the hushed, rattle-free. quiet ... the solid strength and safety only Airflyte construction makes possible. This Nash Airflyte splits the air with 20.7 per cent less windage than the average car of current design.' And sales reached a new record level at 142,592.
But Nash could no longer guarantee 30 mpg, so for 1950, they changed its name to 'Statesman' ('with the thrill of new Super-Power engines'). The Airflyte carried a new load of superlatives, too. 'You never saw this before! It's a Sky-Lounge in the 1950 Nash Airflyte. Your airliner reclining seat (optional extra in all divided-seat models) has five positions. The seats can become twin beds. Note the wide, curved, undivided wind shield in all models; Note the glove locker that pulls out, instead of spills out. All driving dials are in the Uniscope.' It was, however, a year that justified superlatives.
On 18 April, the two-millionth Nash was produced at Kenosha, while annual production reached an all-time record of 191,865. Making a major contribution to that sales record was an intriguing new model, 'America's first compact car'. Bearing the revived model name of 'Rambler', this compact was a relatively large car by European standards: just under 15ft long, it had a 2.8-liter side-valve engine and scaled 2576lb., a combination which promised 25-30 mpg economy. Initially available as a convertible (with unitary construction), the Rambler was soon being built as a station wagon as well.
The Nash Experimental International
But this was not the sum of Nash's 'small-car' thinking: in January 1950 over a quarter-of-a-million people were invited to 'surviews' held all over the USA to see a prototype of a tiny two-passenger model, the NXI (Nash Experimental International). Then they were asked whether Nash should put the model into production. It would be four years before their verdict bore fruit. Meanwhile, a slightly larger two-seater had made production status: this was the Nash-Healey, with sports bodywork built in Warwick, England, by the Donald Healey Motor Company, and 3.8-liter ohv engine and other mechanicals by Nash.
Built for the American market, this model nevertheless succeeded in taking fourth place at the Le Mans 24-hour race in its first year, 1951. Rambler sales were still making a significant contribution to group profits: of the 161,140 cars produced during 1951, 57,555 were Ramblers. A third Rambler model was introduced during the season in the shape of the Country Club hardtop convertible, announced in July. Success had come early to the Rambler project, for the station wagon already held 22 per cent of the American estate-car market. Also available during the year was the Rambler 'Super Suburban'.
The Golden Anniversary Nash
In 1952 Nash/Rambler celebrated its 50th anniversary with new Ambassador and Statesman models featuring bland new contours designed by Pinirifarina. Among the plus-points of the Golden Anniversary Nash range were 'eye-level vision' (though where else Nash expected vision to come from seems obscure), improved steering, more engine power and what was euphemistically referred to as 'striking new color combinations and interior designs'. Rear seats on Ambassador and Statesman were now 12½ in wider, while tinted Solex glass was an optional extra.
Le Mans Dual Jetfire
Ramblers could be specified with a rear-mounted 'Continental' spare tire . Annual production was 152,141, of which 53,055 were Ramblers and hardly any were Nash-Healeys. This limited production model now had an English chassis, an Italian body (by Farina) and American engine and transmission. It was available from December 1950 to August 1954, output finally totalling just 506. The Toronto plant made a significant contribution to an upswing in sales in 1953, which totalled 153,753; Ramblers acquired new front-end styling and Continental spare-tyre mounting as standard, while the Ambassador became available with a 'Le Mans Dual Jetfire' power unit, producing 140 bhp.
Hudson Merge To Form American Motors Corporation
There were now four different Ramblers, including a new, cheap sedan, five Statesmen and five Ambassadors. Hydra-Matic engine transmission was offered on the Rambler in conjunction with a larger engine - it had been available on other Nashes since 1951. Meanwhile, rumours that another independent car company, Hudson, was heading for a merger after turning in a $10,411,060 loss for 1953 began to look more than idle gossip: on 1 May 1954 Nash-Kelvinator Corporation and the Hudson Motor Car Company were merged to form the American Motors Corporation with George Mason as President and George Romney, whose concept the 'compact' had been, as executive vice-president.
When Mason died after only a few months in control, Romney took over the presidency; born in 1907, he had distinguished himself as managing director of the Automotive Council for War Production and would later become Governor of Michigan. Just before the merger, Nash had unveiled a 'sub-compact' descended from, that little NXI of 1950; built in England by Austin and Fisher Ludlow, the new
Metropolitan
initially was fitted with an OHV 1200 cc engine, later a 1500 cc unit, in a wonderfully styled, typically Nash bodyshell that to some protagonists looked more like a wheeled bathtub.
Ten thousand
Metropolitans
were produced during the first year of the model's currency, and marketed in the USA and Canada by Nash, in England by BMC. As a -result of the formation of American Motors, the old Hudson factory in Detroit was closed down, and Hudson production transferred to Kenosha, where the new Hudsons were discovered to be Nashes with a restyled radiator grille and a host of extras. Nash production for 1954 looked disappointing, having plunged to 67,192; but it was only a temporary set-back. Once production of the Hudson was under way at Kenosha, the figures rose sharply: in 1955, American Motors produced 194,175 cars, of which 57,635 were Nashes, 52,688 were Hudson's and 83,852 were Ramblers, which were now available either as Nash or Hudson Ramblers, the only difference between the two being in the nameplates.
It was around this time, however, that Nash developed an eccentric new personality. The Rambler was showing signs of independence - and would soon become a separate marque - but the Nash Statesman and Ambassador were given an odd-looking grille with inboard headlamps and the option of a weirdly applied two-tone paint scheme. AMC purchased V8 power-plants and Ultramatic transmissions from the ailing Packard company for the lop-line Ambassadors, but it was only a token rejuvenation. Romney, committed to the compact, was concentrating on the Rambler, a policy which brought four lean years in which AMC's losses totalled a staggering $40 million plus before the market really swung his way and the public began buying compacts in ever-increasing numbers.
The day of the Nash was past as far as AMC were concerned, and in 1956 only one Statesman model, the four-door sedan, was available. And production of this and the new Nash Ambassador Special, powered bya Kenosha-built 190 hp V8 engine, totalled a meagre 2435 for the year. In 1957, it had become quite obvious that the Nash and Hudson marques were on the skids, out of a total of 118,990 AMC cars, 114,084 were Ramblers. In mid-season the Statesman was axed, leaving just the Ambassador Eight, and at the end of the model year, it was announced that all the products of the American Motors Corporation would be known as Ramblers. That was the end of Nash and Hudson.