An Aura of Prestige and Excellence
In US automotive history, the name "Packard" once stood for fine engineering, long life, great 12-cylinder luxury cars, early racing success and, in its last years, technical innovation. Clearly identified by their yoke-shaped radiators and fluted hoods, Packards projected an aura of prestige and excellence (especially in the years between the two World Wars) that was unmatched by any other make in North America.
In most of the years from World War 1 until its merger with
Studebaker
in 1954, a span of more than thirty years, Packard was America's only entirely independent auto company dedicated exclusively to the manufacture of the finest possible cars. For this reason, and also for its accomplishments in the design and production of aircraft engines, Packard was the only company in the United States whose work could be compared with that of England's Rolls-Royce organisation.
From 1899, when the first Packard car was completed, until the last one was made in 1958, the company produced 1,610,890 automobiles. Its largest production in one year was 109,518 in 1937, approached, but not equalled, by the best post-World War 2 year in 1948, in which 104,593 Packards were sold. Less famed was Packard's production of trucks, amounting to 43,484 units from 1908 to 1923.
Colonel Jesse G. Vincent
Beginning with its Model 905, a V12 offered to the US Government before the nation entered World War 1, Packard was a designer and maker of aviation engines until the end of World War 2. This work was first directed by Colonel Jesse G. Vincent, who came to Packard in 1910. The Government was not interested in the Model 905, but it made Vincent and Packard important partners in the programme to develop a special aircraft engine that produced the Liberty V12 (which was later to power such record-breaking cars as Babs and the White Triplex).
In 1930 Packard announced its development of the first aircraft diesel engine, and in World War 2 it performed miracles of both precision and volume in converting the famous Rolls-Royce Merlin engine for production by Packard in the United States. However, Packard was a car company first and foremost, upholding - until its last hours - the traditions of excellence that dated from its very founding.
James Ward Packard
The creator of the Packard car was James Ward Packard, whose New York and Ohio Company, in Warren, Ohio, was a maker of electrical equipment at the end of the 19th century. Like many engineers of his time, he was intrigued by the new-fangled motor vehicle and first had bought a French De Dion Bouton tricycle and then, in 1898, one of the first production cars made, in nearby Cleveland, Ohio, by the flamboyant
Alexander Winton
. Driving the fifty miles home to Warren, Packard suffered numerous troubles with his new car. When he sought satisfaction from
Winton
, the rebuff he received was enough to start him working on a car design of his own.
The Packard Model A
With the help of his brother, William Doud Packard, and two top-flight men he hired from
Winton
, he produced his first car in the next fourteen months. It ran for the first time on the streets of Warren on 6 November 1899. This first car, appropriately named the Model A, had the high wire wheels tiller steering and single-cylinder engine, mounted under the seat, that were typical of early American cars such as
Ford
,
Cadillac
and
Oldsmobile
. Unusual was its automatic spark advance, a Packard invention. Packard had no trouble selling this first car (for $1250), and set up an automobile division to start producing Packards.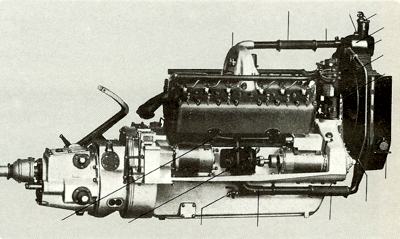 1915 Packard V12 engine.

The Packard V12 that achieved 149.87 miles per hour on Daytona Beach in 1919. The official Land Speed Record at that time was 124 mph. Unfortunately, the 14,830cc Packard's speed was never officially recognised.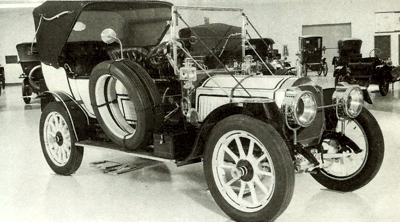 1912 Packard Six.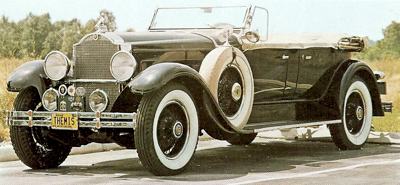 1929 Packard Model 645 Phaeton.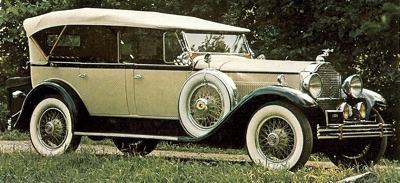 1930 Packard Model 645 Tourer.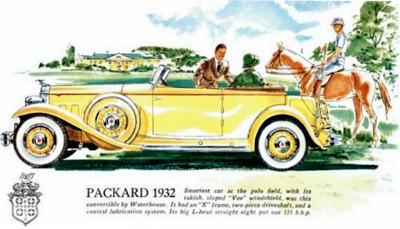 1932 Packard Advertisement.
1934 Packard Coupe Sport.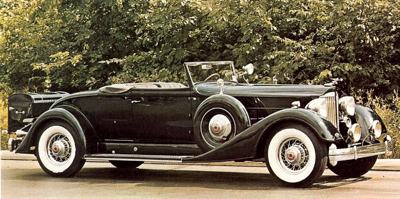 1934 Packard 12 cylinder Coupe Roadster.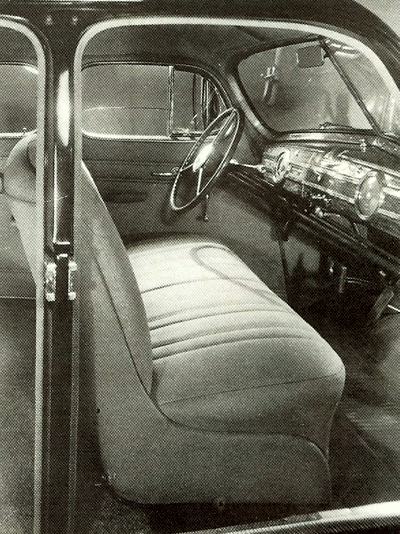 1940 Packard Interior.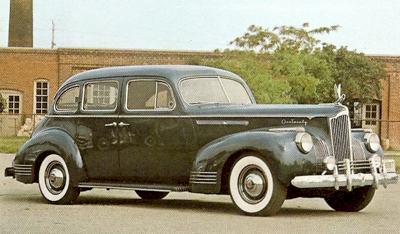 1941 Packard Sedan.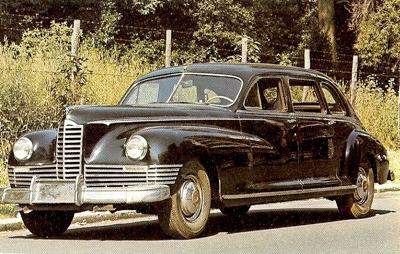 1948 Packard Clipper.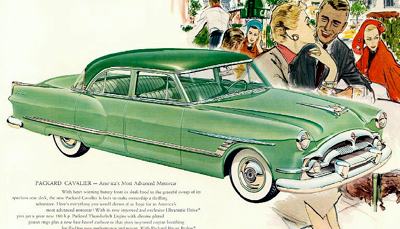 1953 Packard Cavalier.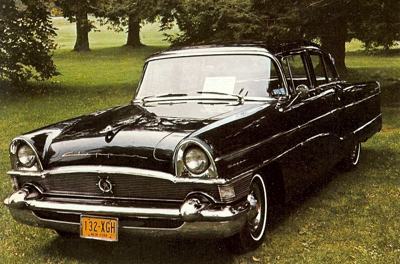 The last real Packard was the 1956 Clipper.
Henry B. Joy
He exhibited three cars at the first New York Show, in 1900, and in 1901 began equipping his cars with steering wheels, among the first in America to do so. From the A, he progressed to the Models B, C and F by 1902, still of the simple single-cylinder design that Packard favoured. He felt that four-cylinder cars just had four times as many things to go wrong. Packard's jump not only to four but soon to twelve cylinders was the inspiration of Henry B. Joy, a wealthy Detroit manufacturer who went to the New York Show in 1901, looking for a producer of horse less carriages to buy.
The Packard Motor Car Company
Stopping at several agencies, Joy, and his brother-in-law, T. H. Newberry, chanced on the Ohio-built Packard and liked it. Joy bought one and, after driving it in Detroit, he negotiated, with Newberry and seven other associates, to buy a controlling interest in The Packard Motor Car Company (as it had been reformed in 1900). Although James Packard remained president of the firm when the Joy group took control, he decided to remain in Warren when the company's plant was moved to Detroit in 1903. He kept that post until 1909, staying as board chairman until 1912. He had kept his electrical equipment firm in existence separately and this ultimately became the Packard Electric Division of General Motors.
Ask The Man Who Owns One
According to Packard legend, James Packard was the man who endowed the young auto company with the advertising slogan that became world-famous: 'Ask the man who owns one'. Henry Joy, an energetic individual who fought hard on behalf of the new auto industry for good roads and freedom from arbitrary restrictions, also put Packard on a new road. Completed in 1904, the new Packard plant in Detroit was the first designed for car production by a young architect, Louis Kahn, who would become famous for his work in this field.
The first four-cylinder Packard appeared in 1903, the Model K, and was the work of a French designer hired by Joy, Charles Schmidt. In the same year, Packard set up the first factory school in auto engineering, with regular classes for employees, and soon expanded it to give a one-month course in car maintenance and repair to Packard owners and chauffeurs. In those early years, Packard also developed a sales policy, unusual in the United States, that would distinguish it in later years. It tended to establish factory-owned distributorships and dealerships in key locations, instead of selling through independent dealers, as most others did.
The Model L Packard
While other companies were paid for a car when it left the factory, Packard often did not collect until much later, a retail sale was made. Larger amounts of capital investment were needed to work this way, and also to make many more parts of the car in Packard's own factory to keep its standards of quality as high as they had been in the past. In 1904 designer Schmidt produced the Model L Packard. This was historic, being the first Packard car to have the characteristic yoke-shaped radiator, with fluted hood corners, that was visible in all but the very last cars to bear the Packard name. It was also the first to show another Packard hallmark, indented hexagonal designs in the centre of each hub cap, later typically painted red.
The Packard Grey Wolf
Becoming more and more prominent as a maker of luxury cars, Joy added a six to the Packard line in 1912. In the meantime, the fours had shown sparkling pace in competition, beginning with the special Grey Wolf built on a Model K chassis in 1904. This clocked 77.8 mph that year to set records at Daytona, and was placed fourth overall in
the first Vanderbilt Cup Race in 1904
. Alvan Macauley, who formed the Packard car in his own image, came to the company as its general manager in 1910 and moved up to its presidency in 1916 when Henry Joy resigned; he was upset because his associates had voted against selling Packard to the men who created the
Nash Motors Company
instead.
Joy, Macauley and engineer Jesse Vincent had been the architects of the car that was to put Packard on the map of motoring for all time, the sensational Twin Six of 1915. While others were debating over four, six and eight cylinders as the proper number for a luxury car, Packard leapfrogged them all with a 12-cylinder engine, introduced in May 1915 for the 1916 model year. Although not the first such engine, the Packard twelve was the first of its type to be built in large numbers for cars. So successful was it that almost half the firm's 1916 output of 18,572 cars was accounted for by twelves. That was double the previous year's production, and the sales and profits (more than $6 million) doubled too with the Twin Six launching.
The Packard V12
Built through the 1922 model year, the twelve kept its original dimensions of 76.2 x 127 mm for 6950cc. Although it had only three main bearings and a slender crankshaft, the L-head engine had roller tappets and could rev smoothly to 3000 rpm, which was its maximum. It drove through a multi-disc clutch to a three-speed gearbox (little needed because it could accelerate smoothly from 3 mph in top gear) and a 4.36: 1 rear axle. Prices ranged from $2600 for a touring car to $4600 for the Imperial Limousine on the long 135 inch wheelbase.
During this first incarnation of its Twin Six, Packard made 35,046 such cars, beautiful big automobiles which were favored by tycoons, by royalty, and even by Presidents. Warren G. Harding was the first US President to be driven in an automobile to his inauguration - in a Twin Six Packard. Just before the US entered World War 1, Packard built two special racing cars, both with V12 engines specially designed for aviation use. Both were driven by
Ralph DePalma
, the smaller one with a 299 cu. in. engine to successes in 1917 and 1918, and then to sixth at Indianapolis in 1919.
Inspiration for Enzo Ferrari
Built strictly as a record-breaker, the larger car used the Model 905 aero engine, ahead of a central seat and tapered tail, to set a flying mile record of 149.9 mph at Daytona in 1919. Even more impressive was an average of 92.71 mph for the standing-start mile, a figure that stood as a US unlimited record for more than thirty years and was not bettered officially by a European car until 1929. These racers, Enzo Ferrari wrote, helped inspire him to make his own twelve-cylindered cars: 'I had always hankered after a 12-cylinder engine, recalling early photographs I had seen of a Packard that had raced at Indianapolis ...' continued Ferrari. 'Just after the war, I had had occasion, too, to see the 12-cylinder engines of the magnificent Packard automobiles of high ranking US officers.' Thus did the Twin Six tradition take firm and fruitful root in Italy.
The Packard Single Eight
Packard's last racing entry was a team of special six-cylinder 2-liter cars for Indianapolis in 1923, which proved to be too new and undeveloped to complete the 500 miles on the Indianapolis Speedway. The Speedway entry of a six was significant because Packard's first new post-war model, the first to issue from an expanded and improved plant in 1921, was a six. This was the Single Six, followed to market in June 1923 by the most important Packard of the 1920s, the Single Eight. This replaced the V12, and brought to volume production the classic in-line eight, a type which
Duesenberg
had pioneered in the US in much smaller numbers.
It had, at first, the same bore and stroke as the six, 85.7 x 127 mm, giving the eight a displacement of 5860cc and an output of 84 bhp, only 6 bhp less than the Twin Six in its final form. It had a cast-iron block with side valves, opened by short rocker levers, mounted on an aluminum crankcase that was fitted with nine main bearings. The otherwise-conventional chassis featured four-wheel brakes with a mechanical linkage, being among the first models from a major American maker to have braked front wheels. A four-speed transmission also came into use on the new Packard eights.
Packard Sixth Series Cars
After the business slump of the first years of the 1920s car sales rose again by the mid-decade, and Packard, now with a new plant behind its spotless reputation, consolidated its position as the number one luxury car in the United States. In 1923, Packard had a slight production lead over
Cadiliac
at the 22,000-car level; in 1926, it built 34,000 cars against Cadiliac's 27,489. By the standards of the day, Packard's in-line eight was smoother running than the V8s that were favored by both Cadillac and Lincoln, and hence kinder to the enclosed bodies that came into use during the '20s. Output kept climbing to the 50,000-car level in 1928, the year when Packard stopped building sixes and placed all its confidence in straight-eights of different bore sizes to suit car weights and price classes.
This policy was inaugurated on 1st August 1928 when Packard chose to launch what it called its Sixth Series cars showing, by this designation system used until after World War 2, its contempt for the conventional model year changes engaged in by other manufacturers, and at the same time making life difficult for those who would unravel the story of Packard cars. In those years, Packard came closest to making a sports car, with the Speedster Eight models of the Sixth and Seventh Series. They had large-bore engines with enlarged manifolds, a higher compression ratio and a high-lift camshaft, delivering a sporting 145 bhp at 3200 rpm in 1929-1930 trim. Only 220 Speedsters in various body types were built, showing that the type's guaranteed 100 mph top speed held little appeal to the traditional Packard buyer.
Special Runabout bodies, built on this chassis by Packard's own custom body shop, were tested for 250 miles at speed by racing driver Tommy Milton at the company's 2.5-mile test track, part of the remarkable proving ground it built on 500 acres north of the city of Detroit during 1927. This proving ground was the womb from which emerged a wider range of Packard cars to meet the challenge of the 1930s. At the top of the range was a completely new 67-degree V12 measuring 87.3 x 101.6 mm for 7292cc, another Jesse Vincent creation. It had four main bearings and a deep-sided iron block with aluminum heads, and delivered 160 bhp at 3200 rpm.
Dietrich, LeBaron, Brunn and Rollston
On this new Twin Six chassis, the finest coach-builders of the day, such as Dietrich, LeBaron, Brunn and Rollston, made some of the handsomest cars of all time, automobiles that served as definitions of the 'classic' era in American motor history. However, not many could afford these cars, priced between $4000 and $6000 in those depression years, and only 5744 were made before Twin Six production ended in 1939 not long before the war. Early in 1932, Packard had introduced another car at the low end of the economic scale, the Light Eight, selling for less than $2000. Although a pretty car, with a unique curved-bottom interpretation of the classic Packard grille, the Light Eight failed to catch on and was merged with the main line, simply as the Eight, in 1933.
George T. Christopher
Packard was still the sales leader by a clear margin among the luxury makes (in a shrinking market) when it decided to protect the heart of its range with a completely new car, moderately priced for Packard and in the medium-price range for the industry at large. George T. Christopher was hired from GM to set up the superb new plant to make the car that was announced, in January 1935, as the Packard 120. It was named for its 120 inch wheelbase, and was sprung independently at the front wheels for the first time according to a design by research engineer Forest MacFarland.
With four-wheel hydraulic brakes, a genuine Packard in-line eight under the proud hood, fresh teardrop-fender styling and a price tag in its cheapest business-coupe form of only $990, the 120 had powerful appeal to the many people who had only dreamed of owning a Packard before. When, two years later, a six was added to the new line, Packard production set the all-time record figure for the year 1937. Between the 120 and the Twin Six, the straight-eight Packard tradition had been kept alive during the 1930s, against tremendous economic odds, by the Senior Series models carrying 160 and 180 designations.
Howard 'Dutch' Darrin's Convertible Victoria
One of the most attractive and memorable bodies built on this chassis was the graceful Convertible Victoria styled by Howard 'Dutch' Darrin for the 1940 and 1941 seasons, best known simply as the Packard Darrin, a worthy contemporary of the first
Lincoln Continental
. The lifetime of the Senior 180 Packard in the West was ended during World War 2, when dies for its body and chassis were sold, at modest cost, to the Soviet Union, which had always shown a liking for Packards. Made to cement wartime relationships, this deal accounted for the post-war appearance of
Russian ZIS models
that looked identical to the pre-war Packard Senior 180 models which had been so successful.
Alvan Macauley made this sale because Packard had introduced a very handsome new body for its Clipper model, unveiled in March 1941, on a 127 inch wheelbase as a competitor to Cadillac in the upper-medium-price class. Its tapering forms were subtle and delicate, flowing back from a high, narrow grille. This was the style with which Packard resumed production after World War 2, with both six and eight-cylinder engines. The car was a good one, and the market was ready, but little Packard could not get as much steel as the bigger firms, not even as much as the politically well connected Kaiser-Frazer firm, and production in 1946 was less than one third of the goal of 100,000 cars.
The Packard Ultramatic
In the basis of the existing body, a new shape with full pontoon fenders was styled and introduced as the 1948 model, which sold well both here in the USA and in export markets. Under new direction at the top, George Christopher in 1948 and Hugh Ferry in 1949, Packard's fine engineering staff produced its own automatic transmission, the Ultramatic, highly efficient with a direct-drive clutch in addition to a torque converter. A completely new body style for 1951 was attractive, but trailed three years behind the industry pacesetter: General Motors. Under a new head, James Nance in 1952, radical changes were made in Packard, the car and the company.
The Packard and Studebaker Merger
In June 1954, a merger took place between Packard and Studebaker, and three months later the 1955 Packard appeared. It was completely reskinned over the lower body, and powered (belatedly) by a new V8 engine offered in two bore sizes to give displacements of 320 and 352 cu in. There was a radical new suspension, too, the invention of William Allison, which used long torsion bars to link the front and rear wheels, together to reduce ride pitch and offered also an automatic levelling system for the rear of the car. These excellent new ideas, with an improved Ultramatic and new series names, topped by the Patrician, gave sales new life in 1955 - a good year for the whole industry - but they sagged again in 1956, which turned out to be the last year in which genuine original Packard cars were made, due to the Studebaker merger.
The Packard name survived two more model years, 1957 and 1958, on facelifted Studebakers, the appearance of which was such that we may be grateful that only 7431 in all were made, including 588 wide-mouthed Packard Hawks in 1958. The last blow fell in 1962 when the Studebaker-Packard Corporation eliminated 'Packard' from its name. Packard, for whom the years between the two great wars were so very successful in every way, never really reached its stride again in the late 1940s and 1950s. Unlike other makers, it had not used the 1930s and the war years to build up its own styling and marketing skills, the qualities which, for better or worse, was the key to survival.