Jules Miesse
It was in 1896 that Jules Miesse, of Brussels, built his first experimental steam car, which followed closely the layout of the contemporary Serpollet; two years later he began production, and by 1902 the three-cylinder single-acting Miesse steamer was being built under licence in Wolverhampton by Thomas Turner and Company.
The Miesse Steam Motor Syndicate
At first trading under the name of the Miesse Steam Motor Syndicate, Turner claimed in 1902 that: 'Every portion of the Miesse Steam Car is constructed of the best English materials, and all the work is carried out at Wolverhampton. The engines and general mechanism are built with the greatest accuracy possible, consequently the cars run noiselessly and free from vibration' ...
... 'the advantages secured by the use of the Miesse System are: Instantaneous Generation of Steam; no boiler, hence no Danger of Explosion; Common Paraffin for fuel; Perfect Combustion, consequently Great Economy; Silent, and neither Smoke, Smell nor Exhaust Steam; Extreme Simplicity of Construction and Working enabling any novice to drive without possibility of injuring any part; Costs less than ONE FARTHING per mile for fuel; Speed up to 50 miles an hour, entirely at driver's discretion.'
The 1902 line-up consisted of 6 hp and 10 hp models; in 1903 a 20 hp was added; like the Serpollet, all had flash boilers. The three-cylinder engines were set transversely in the armoured wood chassis, with the cylinders horizontal. By 1907, Miesse in Belgium had completely abandoned the production of steam cars in favour of a new petrol-engined model; but Turners of Wolverhampton in the United Kingdom continued to build steam cars of the original pattern until 1913.
There was a brief flirtation with internal combustion in 1906, when a 20/25 hp petrol car was built for the London motor agents, Seymours Limited. It was a four-cylinder model of conventional design, with a multi-plate Hele-Shaw clutch and four-speed gearbox; it cost £450 in chassis form, £495 with touring coachwork and £600 as a landaulette. It was in production for only one year, after which Turner once again devoted themselves entirely to steam cars.
The Miesse Petrol Car Syndicate
Their 1908 range was augmented by a 30 hp model, in addition to the existing 10 hp and 16 hp; the new car cost £700 with side-entrance body, while the 10 hp in similar guise was priced at £450. Just to confuse matters, Miesse were now represented in England independently from Turner-Meisse by the Miesse Petrol Car Syndicate, of Pelham Street, South Kensington, who offered a four-cylinder 24 hp model and a mono bloc 35 hp six-cylinder at the 1907 Olympia motor show. New Turner-Miesse models appeared at the 1908 Olympia Show; these were a light 10 hp model and a 12 hp model, both with shaft drive replacing the chains which had characterised earlier designs, though the chain-driven 15 hp and 20 hp were continued.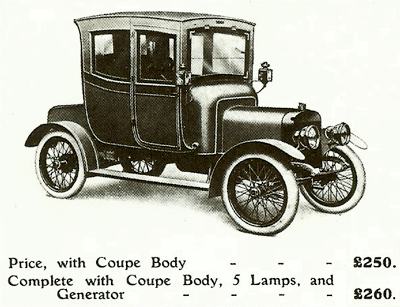 1913 Turner Ten Closed Coupe, one of the few Turner's powered by a petrol engine.
1913 Turner Ten Sporting Tourer, powered by a 1131cc petrol engine developing 10 hp.
1913 Turner 12hp Open Tourer, powered by a 1821cc four cylinder engine. One of the curious features was the use of fixed wire wheels with detachable rims. A spare rim was included in the specification.
The first petrol car to be marketed under the Turner name appeared in 1910; it was a 9 hp Vee-twin cycle car with a curious two-speed gearbox which had a separate friction clutch for each ratio. Final drive was by shaft and worm, and, stated the makers, 'the whole of the axle casing revolves, on the ends of which the wheels are mounted; thus the weight of the car is carried on the axle-sleeves.'
Price of the new car was £110. At the 1911 Motor Show the 8 hp model was uprated to 9 hp (and its price suitably upgraded to £165) and joined by two four-cylinder models, a 10 hp of similar appearance to the Vee-twin, save for its price tag of £197 to £222 (depending on the standard of finish of the bodywork), and a 15 hp, 2121cc, priced at £365 with four-seated touring coachwork.
By now, only the 15 hp steamer was being produced, and this was the last year the Turner-Miesse steam car appeared at Olympia. The 1912 and 1913 Shows saw the Turner stand occupied by 1131cc 10 hp fours and 1821cc 12 hp models. The 10 hp could be specified in sporting form, with a four-speed gearbox instead of three-speed and a pointed radiator and streamlined coachwork, in which guise it retailed at £250 against the £200 of the standard model. A curious feature of the 12 hp was the use of fixed wire wheels with detachable rims; a spare rim was included in the specification.
The Universal
Turner also built these cars for outside companies: there was the JB, a colonial version of the 10 hp marketed by John Birch & Company. There was also the Universal, based on 10 hp and 12 hp chassis. This policy of manufacturing chassis for others to claim as their own was continued after the war, when Turners built the chassis for the Varley-Woods, a light car with a 1795cc ohv Dorman engine; sponsors of this marque were Ernest Vernon Varley Grossmith, (of the Grossmith family of soap-makers and actors), a failed mouth-organ maker and soup-canner, and John Woods, an East African river trader, who was eventually eaten by a lion at Lake Nyasa.
But Varley-Woods failed to pay their bills, and Turner, who had exhibited only Varley-Woods chassis on their 1919 Motor Show Stand, were once again displaying under their own name at the 1921 Show - though the chassis exhibited seemed identical in specification to the Varley-Woods. The 1922 range consisted of the 1795cc 11/24 hp and the 2305cc 14/30 hp; both models had worm final drive and four-speed gearboxes, and were priced in chassis form at £450 and £535 respectively.
Turner's Last Appearance at Olympia
Turner's last appearance at Olympia was in 1923, when only 12/20s were shown, in a down-rated specification with three forward speeds and spiral bevel final drive. A short-lived 2.1 liter Colonial model was introduced as running mate for the 14/30 (and eventually replaced it), but after 1926, only the 12/20 was built, in limited numbers, acquiring front-wheel-brakes as standard in 1928, somewhat behind its contemporaries. Within a couple of years, Turner had abandoned car manufacture altogether, but continued to market components of various sorts in later years.
Do a Google search on Turner cars and you willl likely find another marque, also from Wolverhampton, that built from 1951-1966 by Turner Sports Cars, who were in no way connected with the original Turner company. This latter day Turner featured glass-fibre bodywork on a tubular chassis, powered by a proprietary engine, usually by Ford or Coventry Climax. It was usually sold in kit form in Britain to avoid purchase tax.