Willys

1908 - 1963

Country:
John North Willys
The story of Willys takes many turns, with highs and lows in product lineup, changing financial conditions, sales records and slumps: but for the most part it is also the story of a remarkable man. John North Willys, who almost single-handedly created a great automotive empire.
Willys was born in the picturesque town of Canandaigua, in New York State, in 1873; from his early childhood he proved to be a natural salesman, and always had some little toy or novelty in his pockets to sell to his friends. He was fired with ambition from an early age, and persuaded his parents to put up the money to buy a half-share in a laundry at Senaca Falls, about thirty miles from his home, in conjunction with a friend who worked in the Canandaigua laundry.
Willys was only fifteen years old, but his parents reckoned that a few weeks slaving over a dashboard and roughing it in a boarding house would soon cure their son and send him back to his schoolbooks post-haste. But the industrious duo kept going and, after a year, having put the laundry on a paying basis, sold out for a profit of $100 each.
The New Mail Cycle
Now Willys was determined to complete his education, and enrolled in a law college: he was progressing well when his father died, and he had to abandon his studies. Faced with the need to make a living, Willys decided to invest the $100 he had made on the laundry deal in a bicycle agency, and bought a sample 'New Mail' cycle, and was promptly appointed the local agent.
By the time he was nineteen, Willys was operating a sales company from his own store, which incorporated a repair shop; it was so successful that before long he opened larger premises on the main street of his home town. In fact, success had come too easily, for though Willys could sell any number of cycles, he found it was quite a different thing actually to collect the money for them: and in the currency crisis of 1896, the business was forced to close down.
The Woven Horse and Elmira Arms Company
Willys then took a job as a travelling salesman for the Boston Woven Hose & Rope Company, and worked hard to save up enough money to start up again on his own account. One of his customers had a sports shop in Elmira, New York, which had sent four successive owners into bankruptcy. Willys bought it at a bargain price and installed his own manager. Still the Woven Horse Company went broke, but once Willys took personal charge of the grandly named Elmira Arms Company, he was able to transform it into a phenomenally successful cycle agency.
He was a wholesale distributor with a turnover of $500,000 a year by the time he was only 27 years of age. Around that time he was looking out of the window of a skyscraper in Cleveland, Ohio, when he saw 'a thing on four wheels creeping along the street'. 'No horse was attached to it,' recalled Willys. 'From where I was it looked exactly like a carriage. I immediately said to myself, "That machine has all the bicycles in the country beaten hollow" ... I made up my mind that I would get into this new field at the first possible moment. I investigated and found that what I had seen was a
Winton car
.'
1916 Willys Overland.
1924 Willys-Knight.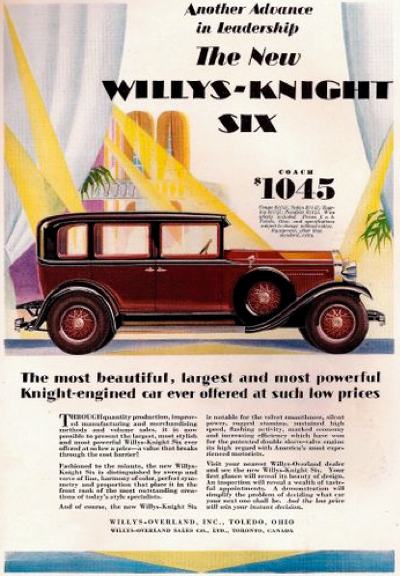 1929 Willys-Knight Six.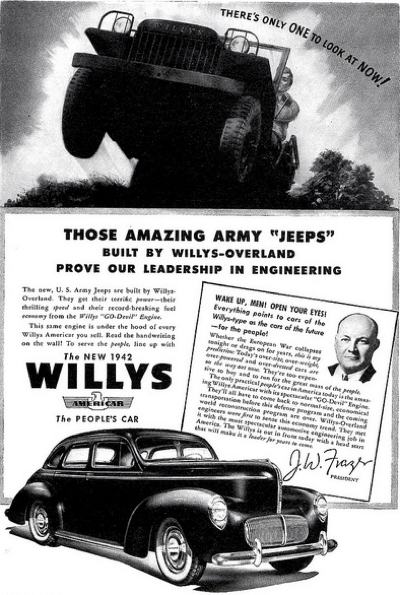 1942 Willys Americar Sedan.
1942 Willys Americar Sedan.
1948 Willys Jeepster. Codenamed "VJ" the Willys Jeepster looked great but was badly publicised and as such, sales were disappointing.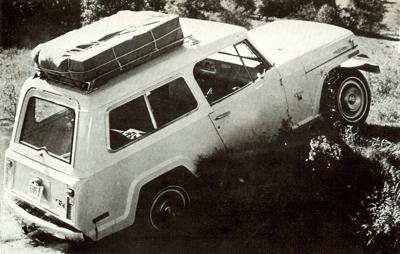 Willys Jeepster Commando.
The American Motor Car Sales Company
After having sold cars for a few years, I made up my mind that the big money was to be made in making cars. But I had neither enough money nor manufacturing experience. Nor was I a mechanic. The best thing I could do, I concluded, was to form a large selling company, as I had done in bicycles, sell the cars at wholesale, and graduate into the manufacturing end.' So, in 1906, Willys formed the American Motor Car Sales Company in Elmira, and contracted to take the entire output of two companies based in Indianapolis. These were the American, which became the American Underslung in 1907 when the frame was slung below the axles to give a low centre of gravity, and the Overland, which started as the Standard Wheel Company in Terre Haute, Indiana, in 1903 before moving to Indianapolis in 1905.
Its products were tiller-steered gas buggies which differed little from their contemporaries except in having the engine in front, under a proper bonnet, instead of under the seat, a fact which helped them to mature more quickly than some of their contemporaries, and by 1906 their products had taken on a similar appearance to the Model N Ford. By October 1907, Willys had taken orders for 500 Overland cars, and was anxious to branch out. He wen down to Indianapolis and signed an agreement to distribute Marion cars, and was returning to New York in the train when he read in his evening paper that the Knickerbocker Trust Company had closed its doors, and that a financial crisis was brewing in the banking world in New York.
Saving Overland from the Brink of Bankruptcy
When Willys contacted the Overland factory to enquire about the progress of that order for 500 cars he was fobbed off with evasive answers. At the beginning of December he decided to go and investigate the 'situation at first hand.' His train arrived in Indianapolis late one Saturday, and the following morning Willys met the manager of Overland, who calmly told him: 'We are going into the hands of a receiver tomorrow morning. We paid some of our workmen by cheques yesterday evening, and we haven't enough money in the bank to meet them tomorrow morning.' 'How much are you short?' asked Willys, and was told, 'Around $350.'
To raise real money at an Indianapolis bank at that stage of the crisis was virtually impossible, as most dealings were being carried out in promissory notes. But Willys determined to find the $350 before the bank opened the following morning. He wrote out a cheque for that amount on a little bank in Wellsborough, Pennsylvania, and asked the hotel receptionist to cash it for him. If the money was not forthcoming from the bank, then the receptionist was to commandeer every coin that was paid into the hotel, even to the extent of emptying the bar till. The plan succeeded: at midnight the hotel proprietor handed Willys 'a mountain of silver dollars, half dollars, quarters, dimes and nickels, topped off with a thick layer of one dollar bills and a sprinkling of twos, fives and tens.'
Early next morning, the money was paid into the Overland account and the company was saved - for the time being. Instructing Overland to stall all its creditors during the week, Willys went to Chicago, where he managed to raise enough money to pay the next week's wages: he repeated this process over the next five weeks, and managed to acquire sufficient raw materials to enable the company to finish enough cars to keep the work-force together. But the Overland company owed $80,000, and had less than $80 in liquid assets. Mindful of that order for 500 cars-and of the substantia1 deposit he had paid on it-Willys managed to pacify the creditors-to such an extent that it took only $3500 cash to payoff those $80,000 debts.
The Willys-Overland Company
In January 1908 the Overland Company was reformed as the Willys-Overland Company (President, John North Willys; Treasurer, John North Willys; General Manager, John North Willys; Sales Manager, John North Willys). Production was concentrated on a single model, a $1200 four-cylinder runabout with a pedal-controlled epicyclic transmission housed in the rear axle, and by the following September, 465 cars had been delivered, making a net profit of $58,000. With this, two new models were developed and put into production, the Overland Six and the 45 hp Willys Six: and during the next year, more than 4000 cars were sold, turnover reached $5,000,000 and profits were a million dollars.
It didn't take long for Willys-Overland to outgrow their factory - a tin shed 300 feet long and 80 feet wide-and in 1910 moved into the old Pope-Toledo works which was situated at Toledo, Ohio. By 1913, Willys-Overland were leaders in the $625-$1500 sector of the market, producing 35,000 cars to take a 29 per cent market share, ahead of Buick, the second biggest, by 9000 vehicles. The following year saw output more than doubled, to 80,000, thanks mainly to the competitively-priced Model 79, a 3949 cc four-cylinder model.
The Women of America have Their Ideal Motor Car
Electric lighting and starting became available in 1914, and Willys advertising waxed lyrical: 'In the electrically started and electrically lighted Overland Coupe the women of America have for the first time their ideal motor car. Touch a small foot pedal and the car glides away as smoothly, softly and silently as an electric. Press an electric button - and the entire interior is flooded with a soft light which comes from a frosted dome sunk in the ceiling. Press another button - and the side, tail and head lights flash on. Lighting, starting, stopping, power and speed all easily controlled by the simple touch of a little electric button or lever. In other words, all the comforts, conveniences and simplicity of a high-priced storage battery electric, yet the cost is approximately one-half. All the smartness and modishness of a high-priced electric, yet the cost of maintenance is considerably less. And in addition you have more power, unlimited mileage and a car that will take you, with comfort, on rough country roads as well as on the smoothest metropolitan macadam. Price $1550 complete with everything fob Toledo.'
The Willys-Knight
Another 1914 innovation was the introduction of the Willys-Knight, a 4529cc four-cylinder sleeve-valve car with a four-speed transmission with direct drive of third and a geared-up, overdrive top. It had been produced since 1912 as the Edwards-Knight, but Willys had acquired the Edwards Motor Company two years later. The Knight engine had hitherto been a feature of high-priced luxury cars, but Willys aimed to mass-produce this type of power unit to bring it 'within the reach of the man of very moderate means'. The measure of his success was shown by the fact that by the end of October 1927, more than 330,000 Willys-Knights had been produced, and the marque survived until 1932-33, when it was killed by the Depression.
John North Willys, always the keen salesman, was motoring in France with his wife and daughter in August 1914 when war broke out; his limousine was immediately commandeered, but he compensated for his loss by booking orders for a few thousand motor trucks for the Allies before he left Europe. In 1915 Willys-Overland sales were second only to those of the Ford Motor Company of Detroit. The war years were a period of vigorous expansion for Willys: in 1917, he launched a holding company, the Willys Corporation, and began acquiring companies at the gallop.
He moved into the car accessory field, and gained control of the Fisk Rubber Company, the Electric Auto-Lite Company, and a number of other concerns; he took over the Moline Plow Company, and re-organised it as a large-scale tractor producer; and he moved into aeronautics with a majority holding in the Curtiss Aeroplane and Motor Corporation. 'I am rounding out our activities,' boasted Willys, 'so. that we will produce on a large scale internal combustion machines for use in the air, on the surface of the ground and in the ground-aeroplanes, automobiles, tractors. We are making great progress, also, towards becoming self-contained: I mean, we have planned to produce more and more of the parts and materials which go into our finished products.'
Willys-Overland-Crossley
There was even a bit of overseas empire-building, with the founding, in 1920, of Willys-Overland-Crossley, of Manchester, an alliance with Crossley Motors which assembled Overlands for the British market. But this was the high point of what, for John North Willys, had been a disastrous year: during the war he had become chief supplier of aircraft to the American Navy and was all set to become the country's largest producer of airships when the peace was signed, and the demand for aeroplanes collapsed overnight. Curtiss Aeroplanes was disposed of in 1920, and the slump later compelled Willys to sell his holdings in Moline and several other companies.
The entire Willys organisation was ripped apart, and the car market collapsed in ruins: in 1920 the company recorded a deficit of $20,000,000, a figure which was to be repeated the following year. At this time the company was producing the classic Overland Four, a low-priced car with distinctive transverse springing which had a shallow-U-shape. The company's situation was so bad that in January 1921 Willys asked for a committee to be formed by his bankers to control the refinancing of the operation; they took ten months to come up with a scheme for reorganisation of the Willys interests - which John North Willys immediately rejected, as it ensured that only the bankers would be repaid, not the stockholders.
Willys, fighting against rumours that his company was on the verge of failure, persuaded the bankers to stay their hands, and managed to obtain an extension of their loans until 1 December, 1923, which gave him the opportunity he needed to streamline the operation and make sure that all its creditors paid up promptly. Willys secured enough orders to keep the factory operating at peak capacity, then took sixty days leave to visit the British plant at Gorton. In his absence, his competitors made substantial cuts in the prices of their cars, and Willys telegraphed his factory to follow suit.
Walter Chrysler Ignores Willys Directive to Cut Prices
But the general manager, Walter Chrysler, appointed by the bankers, felt that it would be foolish to lose all the extra profits tied up in cars that had already been ordered, and ignored the telegram, with the approval of the bankers' committee. When Willys returned to Toledo, he found the factory choked with cancelled orders, and the business practically at a standstill. He took over the factory again, backed by local Toledo businessmen, and began a complete reorganisation of production and personnel. Then he started a strenuous whistle-stop tour of sales territories to build up an efficient dealer force, hurrying from town to town, and sleeping on the train to save time.
By 30 September, 1923, the entire bank indebtedness of $17,357,000 had been paid off, and the profits at the end of the year totalled $13,034,032. Though 1924 saw a minor recession in the American motor industry, the Willys-Overland Company managed to consolidate its position, and prepare for an increased output of 1200 cars a day. At the beginning of April 1925, John North Willys proudly boasted: 'Never before has the outlook for Willys-Overland been better. During March we built 5200 Willys-Knight cars. We have now reached a production of 250 Overland Sixes a day and our output of Overland four-cylinder models has been nearly 600 cars a day, the majority being enclosed cars.'
The Willys Whippet
Three weeks later, the company produced 1193 cars in a day: profits for the year were a record in the company's history. A new low-priced model, the Whippet, appeared in 1926, priced at $625: intended as a rival to Ford and Chevrolet, it got progressively cheaper until it became the cheapest car on the market, at $495; but it never secured the market domination that Willys anticipated. In fact, the company's great days were gone, and from now on it was all downhill.
Early in 1929, just before the Wall Street Crash, Willys unloaded his share of the company for $21 million, and was appointed US Ambassador to Poland. In the slump, Willys-Overland collapsed spectacularly, and went into receivership for the second time. Willys hurried back to take charge once again, but this time he was powerless to revive the company's flagging fortunes. He died in 1933, as the Willys-Overland firm was just beginning to climb out of the trough, but it did not recover until 1936; during the last three years of the receivership, only an ugly 'aerodynamic' model, the 77, was produced.
It was subsequently restyled in more conventional mould, and by the end of civilian production in 1942, was rechristened 'Willys-Americar': by now, however, Willys were deeply involved in Jeep production, and it was the Jeep and variations thereon which was to dominate the company's subsequent history, though conventional cars were briefly produced during the 1950s. The acquisition of Willys by the Kaiser group in 1956 saw car production switched to the Brazilian plant of Kaiser, and the Willys name itself was dropped in 1963 when the group name was changed to Kaiser-Jeep Corporation, and the products became known simply as Jeeps, rather than Willys Jeeps.