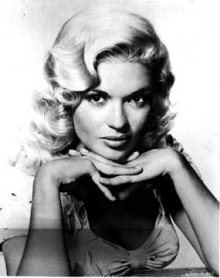 Jayne Mansfield

Hollywood journalists used to joke that Jayne Mansfield became a star just so she could go to the opening of a drugstore or supermarket and be photographed. Her self-promotion antics during the Broadway run of the play " Will Success Spoil Rock Hunter?" are legendary. Show time was 8 p.m. sharp, and like the rest of the cast, Jayne was required to be at the seven-thirty.

Since she was often being photographed with other stars at a movie premiere, Jayne would rush to the theater only seconds before the curtain rose. The absurdity of a stage actress attending movies at the same time she was expected to perform onstage never occured to ]ayne. What mattered to her was getting her picture in the paper.

Jayne Mansfied was born Vera Jane Palmer in Bryn Mawr, Pennsylvania, on April 19th, 1933. She was raised in Phillipsburg, New Jersey, and Dallas, Texas, where she met her first husband, Paul Mansfield. They married when she was 16 years old. After ]ayne graduated from high school, the newly married couple enrolled at Southern Methodist University. Later, they moved to Los Angeles, where Jayne hoped to break into movies.

In 1955 Jayne was Playboy's February Playmate. When she was sent to Florida to promote the Jane Russell movie "Underwater", Jayne managed to attract more attention than the movie's star. Playwright George Axelrod saw a picture of Jayne and immediately cast her in his new play, Will Success Spoil Rock Hunter?

When the play was adapted for the screen in 1957, Jayne reprised her role. She also starred in The Girl Can't Help It, a lively music filled comedy also written by Axelrod. Later, she starred in The Wayward Bus and Kiss Them for Me. Unfortunately, Jayne's talent for acting was not as big as her skill for winning publicity, and she soon found herself demoted to small parts in Hollywood movies, although she continued to star in European productions. Despite her loss in stature, Jayne lived like a star in a huge pink mansion on Sunset Boulevard that once belonged to singer Rudy Valee.

Since pink was her favorite color, she decorated the house in pink and white. She also built a heart-shaped swimming pool. To pay the bills, Jayne developed a live musical-comedy stage act, which she premiered in Las Vegas. Later, she took the act on the road. While she was married to Paul Mansfield, Jayne had her first child, Jaynie Marie, on November 8, 1950. Her marriage to Mansfield ended in 1956, and a year later, she married Mickey Hargitay, a nightclub performer and onetime Mr. Universe. They had three children, Mickey Jr., Zoltan, and Mariska, before divorcing in 1963.

In 1964 Jayne married producer director Matt Cimber, and they had a son, Antonio. In 1966 Jayne divorced Cimber. She then became involved with her divorce attorney, Sam Brody. Their affair prompted Brody's wife to initiate a divorce suit against him. Mrs Brody charged that during their 10 years of marriage her husband had been unfaithful to her with 40 women. But Jayne was the only woman she named.

In late June 1967 Jayne traveled to Biloxi, Mississippi, where she performed her act at a small nightclub. She was accompanied by Brody and her children from her marriage to Hargitay. Following her last performance in Biloxi, on June 29, Jayne and her entourage headed for New Orleans, where she was scheduled make a television appearance. Ronnie Harrison, a 20-year old law student at the University of Mississippi, was driving them in his 1966 Buick.

Just outside New Orleans, a crew was spraying insecticide into the air to kill mosquitos. The driver of a huge truck-trailer rig had difficulty steering his vehicle through the mist, and slowed down. On the same stretch of highway, Harrison's car sped around a the corner and hit the rear of the trailer. The force of the collision ripped the top of the car completely off, instantly killing the three adult passengers in the front seat. Jayne's three children were rushed to a New Orleans hospital, where they survived with minor injuries.