Buick

1949 -

Country:
AT THE DAWN of the last century, Flint, Michigan, was known as 'Vehicle City' - not for automobiles but for its role as the main producer of horse-drawn carriages in the United States. Each year 150,000 carriages rolled out of the factories of Flint, location of the world's largest maker of buggy whip sockets.
Flint was the ideal and obvious location for the convention of blacksmiths that was called to order there in May 1903. On the nineteenth of that month the conferring smiths decided to spend $5000 on setting up a state college to teach the art of shoeing horses.
On that very same day in May, an organization was founded that would have a lot to do with the eventual eclipse of the blacksmith: the Buick Motor Company. In over a century of existence, the Buick firm and its products have come to stand for many things.
The Buick car is one of the best-known American automobiles in the world. It has a special cachet as a car of luxurious appointments and advanced and elegant style that is also priced within the reach of the average buyer. Equipped with overhead valves from the beginning, Buick cars have usually shunned radical design features, but have always been at the forefront of contemporary engineering.
David Dunbar Buick
From Buick have come many gifted men who have made important contributions to the growth of the automobile industry. Buick's biggest contribution of all, however, was its role as the foundation stone on which the General Motors empire was built. To David Dunbar Buick, the creation of the first Buick car was only a short phase in a long life of experimenting and inventing that ended with the Scots-born machinist virtually destitute.
Two years after his birth in 1854, Buick's family went to the New World to settle in Detroit. After his apprenticeship, he became an innovator in the design of plumbing for indoor bathrooms. In Germany a method had been developed for applying an enamel finish to iron bathtubs but, as it was held entirely secret, Buick worked out his own way of doing it, which made a lot of money for his firm, Buick & Sherwood.
He sold his interest in this company, together with some patent rights, in 1901, at the age of 47, for the then-handsome sum of $100,000. This allowed Buick to tinker to his heart's content, helped by his son Tom, in the shop at the rear of his home in Detroit. First Buick made an engine which he sold to car makers, a horizontally opposed twin of L-head design. Then he changed the design to give the engine overhead valves, setting the pattern for all Buick's future power units.
Engineers Waiter Marr and Eugene Richard and the Briscoe Brothers
Engineers Waiter Marr and Eugene Richard helped Buick complete a car in 1903 to carry this engine, and it was on the basis of this simple vehicle that the Buick Motor Company was formed that year with the financial backing of the Briscoe brothers, to whom David Buick also owed money. Before the year was out, however, the firm had been sold to a Flint wagon maker and moved to that city, north-west of Detroit. Waiter Marr became the firm's chief engineer. After building and testing a prototype, Buick and Marr sold the first production Buick automobile in August of 1904.
Called the Model B, it used an opposed-twin engine placed under the seat, developing about 20 horsepower from 2.6 liters. The drive line was a two-speed planetary transmission and a chain to the rear axle. It was a good little car, but it had taken so long (by the standards of those days) to get it ready for production that the investors had run out of time and money. So they appealed for help to one of Flint's millionaire carriage-builders, 43-year-old William Crapo Durant. That November, Durant took over financial control of Buick. During these several changes of ownership David Buick found his share of the company amounting to less and less, and finally he was only a board member and employee.
In 1908 he left the Buick Motor Company, never to return. By then, the Buick car had become nationally famous, with 8800 cars built and sold, twice as many as in 1907. In addition to the two-cylinder model there were four other basic Buick types, powered by three different four-cylinder, in-line engines of 2.7, 4.2 and 5.5 liters. The smallest was used in the Model 10, new in 1908 and the most popular Buick, priced right in line with the new
Model T Ford
at $850.
From that point onward, however, Fords became cheaper and Buicks more expensive. The small four-cylinder car remained an important part of the Buick line until 1924, the last year it was produced. None of the larger fours lasted through World War 1. Buick had grown so rapidly under super-salesman Durant that by 1908 it was one of the 'big four' of the US auto industry that also included Ford, Reo and Maxwell-Briscoe. Durant began thinking about merging his Buick with another firm to build an even larger combine, and, with that end in view, incorporated a new firm which he named 'General Motors' on 16 September 1908.
Durant's General Motors Co took over the assets of Buick, and within a year had bought Oldsmobile, Cad iliac and Oakland, which later be- came Pontiac. Through the troubled years that followed for Durant and the new-born General Motors, Buick's prosperity was a vital lifeline for the survival of the company that became the greatest in the world. In its early years as the foundation of Durant's General Motors, Buick was fortunate to be managed by two men who later left GM to build cars under their own names: Charles Nash, from 1910 to 1912, and Waiter Chrysler, from 1912 to 1920. Remaining chief engineer, Waiter Marr introduced Buick's first six- cylinder car in 1914.
The B55 was the first Buick to weigh more than 3000 pounds and the first with a wheelbase as long as 130 inches. Around 19IO, a young draftsman named Leo Goossen came to the attention of Waiter Marr. During 1917 and 1918 Goossen worked closely with Marr in the design of two prototype engines and cars, an L-head V12 and a V6 version of the twelve. For health reasons, however, the young Goossen had to leave Buick in 1919 and travel west, where he was hired by racing-engine builder Harry Miller on the basis of the strong letter of recommendation Waiter Chrysler had given him.
1915 Buick Type 44 Roadster.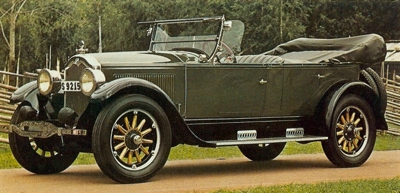 1923 Buick Sport Tourer.
1930 Buick Limousine.
1930 Buick Master 6.
1937 Buick Century.
1940 Buick Phaeton Roadmaster.
1941 Buick Business Coupe.
1950 Buick Roadmaster Estate Wagon.
1953 Buick Skylark Convertible.
1955 Buick featuring Porthole brightwork.
1961 Buick Electra 225.
1963 Buick Riviera.
1971 Buick Custom Electra 225.
1971 Buick Riviera.

1974 Buick Century Regal Landau.
Buick Win 166 Firsts
Goossen became the designer of many great Miller engines and, indeed, of the Drake Offenhauser engine that, in turbo charged form, was for many decades the engine to beat at Indianapolis. Goossen's first exposure to auto racing had come at Buick, where a very successful team had been set up with such star drivers as Bob Burman and the Chevrolet brothers. Durant had, in fact, discovered Burman's talents at Buick, and by 1908 had set up an official Buick Racing Team. The next year a Buick advertisement stated, 'During the season of 1909, Buick cars won 166 firsts - 90 per cent of the events entered. America's most important events won by Buicks'.
The first race on the first day of competition at the new 2½-mile track at Indianapolis was won by a Buick driven by Arthur Chevrolet and Bob Burman, on 19 August 1909. Around 1912, however, Buicks began to fade from the US racing scene as Waiter Chrysler concentrated on increasing production, to an amazing 124,834 cars in 1916.
The One-Millionth Buick
The one-millionth Buick was built in 1923, the first year in which production also exceeded 200,000 cars. From 1919 to 1926, Buick's sales were the highest in the auto industry, in terms of dollar volume. This was helped by the fine reputation the durable and good-looking Buicks had earned early in the export market. In 1907, an association began in Canada that eventually made the McLaughlin-Buick that country's most popular car.
In London, assembly of Bedford-Buicks was under way in 1909 and later spread to other GM plants abroad. The first coast-to-coast crossing of South America by automobile was accomplished by a Buick in 1914. Buick dealers shepherded a single car on a round-the-world tour in 1925.
In most countries overseas, the smaller, handier Buick -
not the Cadillac
- was the most desirable prestige car from America. During the 1920s, the Buick was fitted into its now- traditional upper-medium-pricebracket under Alfred P. Sloan's careful organization of the GM marketing structure.
In 1924 it gained added stature with the addition of four-wheel brakes and the replacement of a rather bland radiator shape with a new one that some people - especially Packard - thought looked quite a lot like a Packard. It evolved from then until 1949 as a clearly recognizable Buick styling characteristic.
The World Famous Buick Straight Eight
From 1925 until 1930, during which a companion marque, the Marquette, was unsuccessfully marketed for two years, Buicks were powered by a bewildering variety of six-cylinder engines from 3.1 to 5.4 liters. Through the I930s and 1940s, Buick gained fame as one of the strongest apostles of the smooth, powerful and quiet straight-eight engine.
The Buick conversion to in-line eights took place in 1931 with engines of 3.6, 4.5 and 5.7 liters. The 5.7 liter was the first production Buick engine producing more than 100 horsepower: 104 at 2800 rpm to be exact. GM men hoped the new model would spark Buick sales, which had been falling steadily due to the depression and also to the conservatism that had sapped the vigour of once-eager Buick.
A 1929 experiment with styling that was a little too rounded (hardly noticeable today) led to the model being called the 'pregnant Buick' and scared the GM division's management away from any further experiments. By 1933, Buick sales had plummeted to only 40,620, and advertising spoke of the past.
The 1934 Buick line brought independent front suspension, new but hardly exciting styling, a lower-priced model, and a new general manager, Harlow H. Curtice. Wrote historian Beverly Rae Kimes, 'No more dynamic nor dominating personality had appeared on the Buick scene since Durant'. Curtice headed Buick until 1948 and kept a watchful eye on its fortunes through another ten years as GM's president.
Design Me A Buick That You Would Like To Own
Curtice enjoyed aspecially close and fruitful friendship with GM's talented styling chief, Harley Earl. It began when Curtice was shown Earl's planned designs for the 1936 Buick. 'Harley,' said Curtice, 'would you want to be seen driving one of these cars?' Responded Earl, 'To be honest with you, no; these cars are designed for the Buick market'. Curtice quickly replied, 'Let's get this straight. There is no "Buick market". It has disappeared. Design me a Buick that you would like to own'.
That's just what Earl did, and went on doing as long as the two men worked together. Curtice went after his engineers also, getting them to adopt aluminum pistons and hydraulic brakes. He hired a new advertising agency, and took the then-controversial step of giving names instead of numbers to each line of cars: Special, Century (for a car that could do 100 miles an hour), Roadmaster and Limited.
Another line, the Super, was added in 1940. Buick's new 1936 models received a good reception, and in the same year a great car enthusiast, Charles A. Chayne, became the division's chief engineer. Sales kept on climbing until they reached 377,428 in 1941, the last full year before the USA entered World War 2.
Bugatti-owner Chayne gave the 1938 Buick torque-tube rear axle control and rear coil springs, and re-shaped the engine's pistons and combustion chambers for more turbulent combustion, allowing higher compression ratios. By 1941 the biggest 5.3-liter Buick eight was developing 165 bhp at 3800rpm - respectable for the time in any company.
A styling break- through came in 1942, with front fenders which flowed back, on some models, to join the rear fenders. This was considered so radical that GM's Fisher Body Division refused to supply the bodies with these fenders bolted to the doors. Buick had to add them to the cars in Flint.
Buick built aircraft engines and Hellcat gun-carriers during World War 2, valued in all at more than a billion dollars. During the war its engineers worked with torque converter transmissions and, in 1948, Buick became the first American maker to offer a torque converter drive as an option, on the Roadmaster series. This was the famed Dynaflow, which became synonymous with both smoothness and 'looseness' of coupling between the engine and the road.
The Dynaflow was used in a 1948 Buick which was the same in style as previous models, even though the big cars of the other GM divisions (which normally shared bodies with Buick) had gone to a new full-fendered style-which Curtice did not especially like and had declined. The new body was used by Buick in one year only, 1949, the first with the famed Ventiports or 'portholes' in the side, an inspiration of stylist Ned Nickles.
Missing from the line in 1949, the lower-priced Special came back in 1950 with a handsome new body and the toothy-looking combined bumper and grille, the first of its kind. Big Buicks featured a new body style that had been introduced in 1949, the so-called hardtop convertible, officially known as the Roadmaster Riviera. This, of course, was the first of the hardtop models that the whole industry was to feature in twenty years to come.
The First Four-Barrel carburetor
Buick built more than half a million cars in 1950 and moved up to third place in US car sales behind Chevrolet and Ford - an astonishing performance for a relatively costly car. Buick came to symbolize success to both car buyers and builders, success that Ford later tried to imitate with its famous failure, the Edsel. In 1952, Buick introduced the first American four-barrel carburetor, invented by one of its own engineers, Adolph Braun.
During 1953, the first Buick V8 engine appeared, an unusual design with pentroof combustion chambers, vertical valves and very over- square dimensions. The 1953 golden anniversary year also saw the first Skylark in production, a cleanly customized Roadmaster convertible that Buick un- fortunately chose to call a 'sports car'.
A much more sporty machine arrived in 1954, with the return of the Century. It had a new 'small' body, with the 'big' 200 bhp engine and a top speed of 107 mph. With the new body came the controversial wrap-round windshield that became another industry trend-setter. Offered with a new Dynaflow, in which the pitch of the torque converter stator blades was changed automatically, the 1955 Buick line was well received in a boom year; 781,296 were built in 1955 - a level Buick has only now been able to reach again.
Not all those 1955 models were very well made, and in the last half of the decade of the 1950s Buicks lost their reputation for high quality and long life. The low point was reached with the hideously ugly 1958 model, followed by the radically low, fin-tailed 1959 Buick, which gave up the traditional model names (to the regret of many Buick buyers) in favour of Invicta, Le Sabre and Electra. Some road testers of the era clamed that the best that could be said of these cars was that they had excellent brakes, with aluminum-finned front drums.
Edward Rollert Saves The Marque
Early in 1959 a skilled production man, Edward Rollert, was put at the controls of Buick, to revive the ailing division whose production had dropped to less than a quarter-million cars a year. Rollert did an outstanding job, literally saving Buick. By 1961 he had revived the Special in the form of a charming compact car of quality, powered by an aluminum 3.5-liter V8 that has since become world-famous. Revised by Buick's Joseph Turlay from a GM Engineering Staff design, the little V8 powered Mickey Thompson's 1962 Indianapolis entry, won races in Bruce McLaren's first sports cars, formed the basis of the engine with which Jack Brabham and Denny Hulme won Grand Prix Championships in 1966 and 1967, and it became one of the better engines in the British Leyland range of cars (Rover).
A companion engine, a 90-degree V6 with a cast iron block, was introduced in the Special in 1962 and offered until 1967, after which it was replaced by an in-line six made for Buick by Chevrolet. The design of the later and smaller cast-iron Buick V8's was based on that of the little aluminum engine that, contrary to many reports - made a great deal of money for the division. Then of 6.6 liters, Buick's big V8 engine was ideally displayed in 1963 in the Riviera, which was GM's long-awaited response to the success of Ford's four-passenger Thunderbird. The Riviera was a handsome car, the crisp inspiration of GM's new director of styling, William L. Mitchell, and it was also very nice to drive.
A new and larger Riviera came along in 1966, extending a line that was further enlivened in 1971 with the introduction of the most controversial Riviera, a new model with a teardrop tail and sweeping fender line and a touch of Saoutchik style. With it, Bill Mitchell successfully broke away from the box-shape in which most cars seem to be captured today. For 1974, the Riviera again reverted to a squared-off tail, and no longer stood out so prominently from the rest of the GM range, looking more like the run-of-the-mill cars than in previous years.
Buick's intermediate-size models, Specials and Skylarks, successfully kept pace with the performance race of the late 1960s, with models like the GS 400. In 1973 Buick again revived the Century name for its intermediates, styled with a flowing front fender line frankly reminiscent of the 1942-48 models. During the sixties, Buick engineers also continued to pioneer automatic transmission design, creating the basic three-speed-plus-torque-converter units which GM used in all its cars. At the top end of the modern Buick range, the Electra 225 was well-established as a sound alternative for those to whom a Cadillac was too pretentious. The least costly big Buick at the time was the Le Sabre. With their magnificent new headquarters in Flint, nicknamed the 'Taj Mahal', Buick was well equipped for a future it views with confidence.
Buick Peaks in 1984
And grow it did, with overall sales peaking in the 1984 model year, when falling oil prices and the prevailing economic recovery buoyed the sales of traditional full-sized automobiles, in combination with the popularity of newer, smaller offerings and performance oriented turbocharged models. Subsequently, sales fell as downsized premium luxury coupe, full-sized and mid-sized models were poorly received by the public in the period between 1985 and 1990. As well, the advent of sport luxury compacts from German manufacturers such as BMW were drawing customers away from traditional luxury brands.
The number of Buick models in the lineup fell over time, with the compact and performance segments being abandoned altogether. By the 2000s, Buick was a traditional luxury brand in the GM group, emphasizing comfort and safety, whereas Cadillac has focused more on cutting edge products that were performance oriented and avante-garde styled. The Buick LaCrosse and Rendezvous are slotted against the Lexus ES and Lexus RX, respectively, while the Cadillac CTS is intended to compete against luxury performance imports from German and Japanese manufacturers.
Buick introduced its first SUV in 2001, the Buick Rendezvous crossover, which provided the much-needed success for the marque, given the decline of its aging customer base, and single handedly brought a large number of younger, wealthier "conquest" buyers into Buick showrooms who otherwise wouldn't have considered purchasing a Buick. Certainly a major contributor to the Rendezvous's success was an aggressive value-pricing strategy that made the Rendezvous US$6,500 less than a comparably equipped Acura MDX and US$8,000 less than the Lexus RX300. The Rendezvous handily exceeded GM's predictions of 30,000 to 40,000 units a year by a large margin, which helped offset the poor sales of the Pontiac Aztek with which it shared its Ramos Arizpe, Mexico, assembly line. Commercials featuring Tiger Woods aired during the Buick Classic golf tournament. The truck-based Buick Rainier was added to the lineup in 2004.