Toyota

1933 - present

Country:
Sakichi Toyoda
Sakichi Toyoda was a world famous inventor and designer of automatic looms, and always conducted his business with a keen eye to the future. Some 40 odd years after the mainstream production of automobiles had begun in the USA and Europe, Toyoda anticipated that the uptake of the automobile would also take hold in Japan. To that end, in September 1933, Toyoda began to make preparations for active participation in car manufacture.
The Toyoda Automatic Loom Works Company
Combining available income from patent licensing fees for his automatic looms with profits from their sale, he added an automobile department to his Toyoda Automatic Loom Works company. Shortly afterwards he handed his business and the motor company to his eldest son,
Kiichiro Toyoda
.
In May 1935 the first prototype test car, designated the Toyota A-1, was completed. One of the first cars to be built in Japan, it was powered by a 3400cc 45 hp unit which the company had designed and produced themselves. A prototype of the Toyota G-1 truck appeared in October 1935 and went into full production shortly afterwards.
Risaburo Toyoda and Kiichiro Toyoda
Derivatives of the A-1 motor car appeared in the pre-war years, mainly the AA four door sedan and the AB Tourer, both of which were powered by a six cylinder in-line overhead valve engine which developed 65 hp at 3000 rpm. In August 1937, Toyota Motor Co, Ltd, was established under the presidency of Risaburo Toyoda, with Kiichiro Toyoda as vice-president.
Production ran smoothly but sales of the unproven product were a tremendous challenge. Salesmen had to deal with an untested market, an unpredictable factor which made sales a more formidable obstacle than production. But that year Kiichiro Toyoda, who later succeeded Risaburo Toyoda to become the second president of Toyota, met Shotaro Kamiya (who would later become president of Toyota Motor Sales Co, Ltd), who at that time was heading the sales department of General Motors, Japan.
Kamiya was soon invited to join Toyota and given control of all the company's sales efforts, a move which was to have dramatic effects on the company's expansion. In November 1938, the company's first independent vehicle factory was built in Koromo City and production began. This facility would become the Toyota Motor Company's Honsha Plant. That year a C version of the AA and AB models was introduced and the following year it was joined by the newly styled AE model.
Production of cars by Toyota in the immediate pre-war years amounted to 1320 units; while truck production had risen from 20 units in 1935 to 11,981 in 1939. This bias was a result of a Japanese government ruling that insisted on priority to truck production. Between 1940 and 1944 Toyota produced only 600 cars, though a number of experimental designs were also developed. At the end of 1945, the Occupation Forces permitted monthly production of 1500 trucks, but enforced a tight ban on the production of passenger cars. While engaging in the production of trucks, however, Toyota engineers continued to work on designs for the future, particularly of small-engined models.
The Toyota Toyopet
The ban was lifted in October 1949 but post war economic conditions in Japan had not improved to a point where full scale production could begin. The company's structure was further rationalised in April 1950 and an independent retail unit, Toyota Motor Sales Co, Ltd, was formed. In the first five years under this new structure Toyota car production rose from 1470 in 1951 to 3572 in 1953 and 7403 in 1955· Toyota had designed and produced their first post-war model as early as 1947, the SA, which was a two door sedan powered by a 27 bhp engine and was the first of the company's models to carry the Toyopet trade mark.
Toyota Publica S, powered by a twin-cylinder 800cc engine.
1963 Toyota Corona T20/T30 Series.

1967 Toyota Century sedan.
Toyota Publica Hardtop.
1967 Toyota 2000GT.
Toyota 1600S 95bhp Coupe.
1965 Toyota Corona.
1968 Toyota Crown Station Wagon.
Toyota Crown Super Deluxe Sedan.
Toyota Corolla Series II.
1971 MS63 Crown Custom Wagon.
1971 MS63 Crown Custom Wagon.
1972 Toyota Corolla 1600.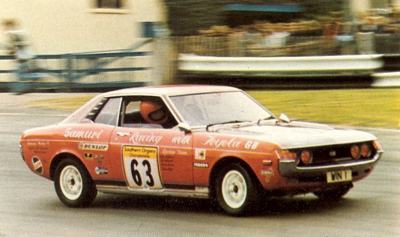 Toyota Celica GT driven by Win Percy at Mallory Park, UK.
1981 Toyota Celica Series 3.
1982 Toyota Corolla.
1992 Toyota Corolla.
The Nippon Driving School
When the model ceased production in May 1952, 215 units had been built and sold. In February 1952, Toyota sold 100 Model FX trucks to Brazil and began their post-war export programme. In 1954 the company took the fairly unusual step of buying a driving school, the Nippon Driving School of Tachikawa City. Their intention was clear: to promote vehicle sales using every method and technique at their disposal. The following year Toyota unveiled the Toyota Crown which, fitted with a 1453cc overhead valve, four cylinder engine, had a three speed synchromesh gearbox, column change, hydraulic brakes and hypo id final drive.
The Toyota Corona and Crown
With annual car production now heading towards the 10,000 mark, Toyota established the Toyota Used Car Sales Co, Ltd. to provide financial aid to used car dealers and conduct research on problems in used car marketing. 1957 saw the introduction of the Toyota Corona, a 1000cc four seater and the establishment of Toyota Motor Sales USA Inc, with a capital of $1 million. The Toyota Crown, which was the only model exported in 1957, made little impact on the market and the Corona, which followed in 1958, was equally little noticed by the American car buying public.
No further export effort was made in the USA by Toyota until 1965, when the New Corona was introduced. Sixty-four hundred were sold in the first six months and 16,000 in a full year's operation. Sales in the USA rose to 33,000 in 1967 and to 67,000 in 1968. In 1969 sales of Toyota cars in America of 180,600 gave them second place to Volkswagen in the importers' league. Toyota's return to the USA in 1965 was a deliberate move to fill a gap in the market which careful research had identified.
Shoji Hattori, head of Toyota's American operation, had instituted a complete study of what the market wanted, including interviews with dealers as well as car customers. Japanese engineers turned the results into the New Corona, a two door hardtop. Meanwhile foreign car manufacturers' export activities in the USA were closely studied as a basis for new sales and service policies. The cars Toyota offered in the USA were compact but with all the comfort and attractive extras which customers had requested. The cars were low cost, selling at a premium of between $200 and $300 above those in Japan, with lively performance, good handling, modern Detroit-style interiors and with accessories fitted such as air conditioning, stereo players and FM radios.
Toyota on the West Coast
Equally Toyota appeared on the West Coast of America at a time when the American car market as a whole was booming. Initial concentration by Toyota was in Los Angeles and the advertising campaigns brought out the fun and versatility of the foreign car, but there was no emphasis on its Japanese origin. The low price and economic motoring were additional themes and they proved successful in channelling the potential demand for second and third cars to Toyota dealers. Toyota's emphasis on after-sales service was, however, to prove the real motivating force for sales in America.
Before beginning to sell their first cars in the Southern California area, the company established 65 dealers and a huge parts depot. Only when sales in this area were firmly established did the operation expand and, even then, sales expanded only in conjunction with the development of a satisfactory parts and service network. As a result, by 1971, Toyota had 1266 dealers in the USA and six computerised parts depots. This was to continue to be their plan of campaign in other export markets.
The One Millionth Toyota
The Motomachi plant, Toyota's first assembly plant exclusively for the manufacture of passenger cars in Japan, began operating in 1959. It was here that the production of Corona and Crown models was initiated. Two years later the company launched their 700 Series called the Publica. Powered by air cooled 700cc engines, the four seaters were the smallest in the Toyota range. By June 1962 Toyota had produced one million vehicles since their inception in 1935. Later that same year the company established the Toyota Motor Thailand Co., Ltd, and began work on a car assembly plant in that country which was completed in February 1964.
Toyota exported the first of their products to Western Europe in 1962, beginning with a shipment to Greece. In the following year shipments were sent to Denmark and Holland. These exports were followed in 1964 by further shipments to Sweden, Finland, Norway and Switzerland. Shipments to the UK, Belgium and France followed in 1966. In April 1965 Toyota's cumulative vehicle production passed the two million mark and the Kamigo plant was inaugurated for the production of engines and transmissions.
In December 1966 the Takaoka Plant was constructed lifting the total production capacity to a monthly rate of 30,000 Corollas. By that year Toyota were producing 316,189 cars and 587,539 commercial vehicles annually pushing their cumulative production figure to over the three million mark. Toyota also established a subsidiary in Peru in 1966 and reached an agreement on an overall business tie-up with Hino Motors Ltd. A similar business tie-up was reached with the Daihatsu Kogyo Co, Ltd, the following year.
Following the launch of the Toyota Century in November 1967, the Corona models were given 1
½
-liter 74 bhp and 1.6-liter 95 bhp engines, while the Crown series of models had six and eight cylinder units. This latter engine, a 115 bhp V8, powered the top of the Toyota range in 1967. That year there were also two sports models available on the Japanese market, powered by twin overhead camshaft engines of either four or six cylinders. Toyota were also marketing the Landcruiser, a four wheel drive vehicle using their 3.9-liter pushrod six cylinder truck engine - it would become legendary.
The Dai-Ichi Toyota Maru Car Carrier
In January 1968 Toyota invested in Australian Motor Industries Ltd., and completed their Miyoshi Plant in Japan which was to produce chassis parts and launched the Corona Mark II. By this time Toyota were producing 659,189 passenger cars a year and 1,097,405 commercial vehicles bringing their cumulative production figure to nearly five million. This was also the year in which the company launched their first car export ship, Dai-Ichi Toyota Maru, which had a gross tonnage of 12,600 and a capacity for 1200 Coronas.
Towards the end of 1969 the company exported their millionth vehicle, and six months later, the millionth Corolla. In December 1970 completion of the Tsutsumi Plant for the production of Celica and Carina models took place. The Celica had a 1588cc 115 bhp four cylinder unit, front disc brakes and a five speed all-synchromesh gearbox, while the Carina was powered by either a 1.4 liter or 1.6 liter four cylinder unit and featured live axle and coil rear suspension. With the completion of the Tsutsumi Plant in Toyota City, the company's annual production capacity reached the two million unit mark.
Passenger car production that year passed the one million mark for the first time with 1,068,321 units - add the commercial vehicle production figure and the actual vehicle production figure was an astonishing 1,609,190 units - Toyota's cumulative production figure was now just under the eight million mark, and it had risen to become the third ranked vehicle manufacturer in the world. In January 1972 Toyota's cumulative vehicle production passed the ten million mark and the company took a share in Canadian Motor Industries Holding Ltd.
That year the Publica was available with a 790cc air-cooled engine and a 1 liter or 1.2 liter water cooled four cylinder engine; Corollas were available with either 1.2, 1.4 or 1.6 liter engines, with a five speed gearbox employed on the high performance SR Coupe; the Carina had 1.4 or 1.6 liter power units while the Carina 1600GT had twin carburetors; the Coronas had 1707cc or 1858cc engines with transmission through four speed boxes while the top of the range models had five speed boxes to transmit the power from their twin cam 2-liter 140 bhp units; the Celicas continued to have twin overhead camshaft 1600 engines while the Crown was only available with 2-liter, 2.3 liter or 2.6 liter versions of six cylinder power units; and the Century's output was increased to 170 bhp.
The Toyota Starlet
In 1972, the cumulative sales of the Toyota Corolla on the Japanese market passed the two million mark, and the one millionth export unit of the same car was produced. It was also the year that Toyota donated $1 million to Harvard University. A year later saw the company introduce two new lines of small cars, the Starlet and a revamped Corona. Conventional in design the Starlet was available at launch in two door coupe and four door sedan models and was based on the power and transmission units of the Publica which had earlier grown to a 1000 and 1200 cc model. The Corona range for that year came with two alternative overhead valve 1.6-liter engines, a single overhead camshaft 1.8-liter four cylinder, a single overhead camshaft electronic fuel injection two liter unit and a twin camshaft 2 liter GT unit.
Five mile-per-hour crash bumpers were introduced that year on the Corona. In January Toyota announced their intention of spending 23 billion Yen on safety and control research though this was reduced by 10 percent in June of the same year. That year Toyota also bought a Wankel licence from
Audi NSU Auto Union AG
and began work on the Shimoyaama Plant which manufactured exhaust emission control devices and related parts and components. Already hard at work on safety and environmental protection systems, Toyota doubled their budget to 52 billion Yen in April 1974. In May of that year the fifteen millionth Toyota passenger vehicle came off the production line and the company made their 1
½
millionth sale in the USA.
In August 1974 an agreement was signed with the Kenya government for work to commence on the local assembly of motor vehicles. A revised version of the Toyota Crown was launched in the October of that year and a month later a German subsidiary began importing and distributing cars in West Germany. That year Toyota manufactured 1,484,737 passenger cars and 2,114,980 commercial vehicles bringing their cumulative vehicle production to 16,409,270 units.
Leading The Way in Safety
Since 1966 Toyota have always increased their budget for research and development into safety measures (this was sixfold over the decade from 1966) and the number of staff involved in safety and research development likewise increased. Research and development work on safety and anti-pollution projects was mainly conducted at Toyota's Higashi-Fuji Technical Centre, a huge 240 million square metre site inaugurated in 1967 at the foot of Mt. Fuji. Within the centre's grounds could be found an automobile performance testing laboratory, a gas purification research laboratory, a skid testing road, a collision test ground and an all-weather test room.
Throughout the 1970s constant changes were made to the Toyota range; the Corolla, for example, was re-bodied in 1975 to become the best selling car in the world that year, 648,965 being sold, and a similar rebodying exercise was carried out on the Celica for 1978. A 1000 Wagon based on the 1000 sedan was introduced in 1976, and a Corolla 1600 Liftback appeared in 1977. At the beginning of 1978 Toyota's model range consisted of nine cars, the Publica/Starlet; Corolla, Sprinter, Carina, Celica, Corona, Chaser, Crown and Cressida, in addition to the Landcruiser and light commercial vehicles such as the Hi-Lux, Toyota strategy being to blanket the whole mass market and encroach gradually on the more expensive sectors with cars such as the Celica 2000 GT.
Good market coverage was facilitated by the policy of commonly offering over thirty versions of each car, and in fact at one time 51 variations of the Corolla were available, ranging from a standard 1300 two-door to the 1600 GT three-door Liftback at double the price. In mid 1978 Toyota finally came out with their entrant in the very crowded sector of the small family hatchback, behind every major high-volume manufacturer in the world. The new Starlet did not feature any engineering innovations, being a very conventional front-engine, rear-wheel drive car in three and five door guise. Only one engine size was available, the 993cc overhead-valve, four cylinder unit used in the Starlet's predecessor, the 1000. The 47 bhp produced was enough to give the Starlet a 0-60 mph time of 8.1 seconds and a good maximum speed of 93 mph, while returning good fuel consumption figures averaging out at around 37 mpg.
The Toyota Experimental Safety Vehicle
With the US market of critical importance to the company, Toyota have made mammoth investments in anti-pollution technology; Toyota were able to meet with ease the most stringent emission regulations. Other safety developments at Toyota were incorporated in their Experimental Safety Vehicle, among the many being four wheel disc brakes fitted with an electronic skid control system, a single-wire multiplex network system which abolished complicated wiring by channelling impulses through a single wire network linked to a mini-computer, an air bag system, and a 10 mph crash-resistant bumper system.
Ten Toyota ESVs were delivered to the Japanese Government in November 1973, one of which was subsequently given to the American Department of Transportation. Today we take the Prius for granted, but few would know that work was being carried out on the development of an electric vehicle suitable for urban transport as long ago as the early 1970's. By 1974 Toyota had developed prototypes able to carry five passengers at a maximum speed of 90 Km/hr - impressive for the time. And likewise, today we take the GPS system for granted, but 40 years ago Toyota were developing the Multi-functional Automobile Communication System (MAC) - designed to simplify driving, promote traffic safety, solve traffic congestion and controlling problems, add to motoring convenience, and give drivers the advantage of a comprehensive communications system. The MAC system was composed of four basic sub-systems: a car phone unit, a computerised intersection information unit, a running information receiver unit and an emergency information unit.
And long before "being green" became a popular mantra, Toyota had initiated a programme to stimulate the production of reusable parts on four fronts: methods of collecting used parts, development of production techniques for reusable parts, establishment of quality standards for reusable parts and economic and other considerations - along with an ambitious programme to design cars where the products and materials could be reused or recycled, which meant designing a car which was safe, easy to disassemble, the parts of which could be easily replaced and the component materials of which were easy to salvage and recycle.
The Toyota Motor Corporation
In 1982, the Toyota Motor Company and Toyota Motor Sales merged into one company, the Toyota Motor Corporation. Two years later, Toyota entered into a joint venture with General Motors called NUMMI, the New United Motor Manufacturing, Inc, operating an automobile-manufacturing plant in Fremont, California. The factory was an old General Motors plant that had been closed for two years. Toyota then started to establish new brands at the end of the 1980s, with the launch of their luxury division Lexus in 1989.
In the 1990s, Toyota began to branch out from producing mostly compact cars by adding many larger and more luxurious vehicles to its lineup, including a full-sized pickup, the T100 (and later the Tundra); several lines of SUVs; a sport version of the Camry, known as the Camry Solara; and the Scion brand, a group of several affordable, yet sporty, automobiles targeted specifically to young adults. Toyota also began production of the world's best-selling hybrid car, the Prius, in 1997.
With a major presence in Europe, due to the success of Toyota Team Europe, the corporation decided to set up TMME, Toyota Motor Europe Marketing & Engineering, to help market vehicles in the continent. Two years later, Toyota set up a base in the United Kingdom, TMUK, as the company's cars had become very popular among British drivers. Bases in Indiana, Virginia and Tianjin were also set up. In 1999, the company decided to list itself on the New York and London Stock Exchanges.
In 2001, Toyota's Toyo Trust and Banking merged with two other banks to form UFJ Bank, which was accused of corruption by the Japan's government for making bad loans to alleged Yakuza crime syndicates with executives accused of blocking Financial Service Agency inspections. The UFJ was listed among Fortune Magazine's largest money-losing corporations in the world, with Toyota's chairman serving as a director. At the time, the UFJ was one of the largest shareholders of Toyota.
Toyota Formula One Works Team
As a result of Japan's banking crisis, UFJ merged with the Bank of Tokyo-Mitsubishi to become the Mitsubishi UFJ Financial Group. In 2002, Toyota managed to enter a Formula One works team and establish joint ventures with French motoring companies Citroën and Peugeot a year after Toyota started producing cars in France. Toyota ranked eighth on Forbes 2000 list of the world's leading companies for the year 2005. The company was number one in global automobile sales for the first quarter of 2008.
In 2007, Toyota released an update of its full size truck, the Tundra, produced in two American factories, one in Texas and one in Indiana. "Motor Trend" named the Tundra "Truck of the Year," and the 2007 Toyota Camry "Car of the Year" for 2007. It also began the construction of two new factories, one to build the RAV4 in Woodstock, Ontario, Canada and the other to build the Toyota Prius in Blue Springs, Mississippi, USA. This plant was originally intended to build the Toyota Highlander, but Toyota decided to use the plant in Princeton, Indiana, USA, instead. The company has also found recent success with its smaller models—the Corolla and Yaris—as gas prices have risen rapidly in the last few years.
Also see:
Toyota Car Reviews
|
The Toyota Australia Story (AUS Edition)