THE STORY OF BRIGGS CUNNINGHAM is that of a great American, who built and raced his own sports cars. Although he failed in his ambition to win the Le Mans 24-hour sports-car race, he certainly left his mark on the racing scene.
With very limited backing from the United States motor industry, Cunningham put his country back on to the motor-racing map in the 1950s, in effect, paving the way for the mighty Ford attack a decade later.
Since the glorious 1920s when the Miller and Duesenberg cars were household names, America had not shone in motor sport. Cunningham changed all that. Born in 1907, Briggs Swift Cunningham was the son of a self-made man who had amassed a fortune from meat packing in Cincinnati.
Briggs' father died in 1914 and, less than a year later, eight-year-old Cunningham persuaded his mother's chauffeur to teach him how to drive the family car, a Pierce-Arrow. The first car he owned, a Dodge, he had at the age of sixteen and two years later he took delivery of a Packard phaeton.
Above all else, Cunningham had a passion for physical activity. He once said, 'Some people like to do things with their minds. Some like to create or build. I like to do physical things, especially with my hands. I enjoy the feeling of power it gives to control things by touch'.
The Bu-Merc
While at Yale University, Briggs met Ralph DePalma, winner of the 1915 Indianapolis 500, who sparked off the initial enthusiasm for the sport. Later, with Charles Chayne, then Buick's chief engineer, Cunningham built a machine called the Bu-Merc (a Buick chassis and a straight-eight engine clothed in a Mercedes-Benz SSK body), with which his friend, Miles Collier, drove in the New York World's Fair race in December 1940.
Collier continued to race the car in the post-war years and the Bu-Merc was also Cunningham's mount for his first motor race in 1948. Later cars included MGs and Ferraris. Cunningham became friendly with a crowd of amateurs who were the nucleus behind road (as opposed to track) racing in the United States after the war.
Two, Phil Waiters and Bill Frick, who specialised in engine-swapping (they installed Cadillac engines in Fords and Studebakers), planted a seed in Cunningham's mind: why not run an American car in the Le Mans 24-hour sports-car race? First plans were to enter a Cadillac-engined Ford Special in the 1950 race.
Le Monstre
After deliberation, it was decided that this device, built by Waiters and Frick, might not be acceptable to the organisers and, as there was insufficient time to construct a new car from scratch, two 5.4-liter Cadiliac Series 50-61 cars were entered. One was an almost standard saloon (with a modified chassis and mildly-tuned engine), while the other featured a striking, all-enveloping open body and a 'hotter' engine with no fewer than five carburetors.
The closed car, driven by Sam and Miles Collier, finished tenth and the open version, which earned the Gallic nickname Le Monstre, was one place behind driven by Cunningham and Waiters. It was an encouraging result, despite the fact that Le Monstre ran for hours with only one of its three gears operative. In the autumn of 1950, the B. S. Cunningham Company was formed, taking over Frick-Tappett Motors (the concern run by Waiters and Frick), with its base at West Palm Beach, Florida.
1955 Cunningham C2, which was powered by a 5426cc Chrysler V8 good for 220 bhp. Three were entered in the 1951 Le Mans, two crashed, while the remaining entry driven by Fitch and Walters finished a disappointing 18th after holding onto 2nd place for six hours.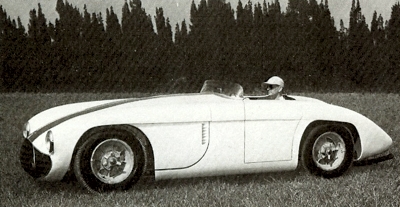 Cunningham C5R, which came in 3rd at the 1953 le Mans, behind two Jaguars. Cunninghams team drivers were John Fitch and Phil Walters.
The great man himself, Briggs Swift Cunningham.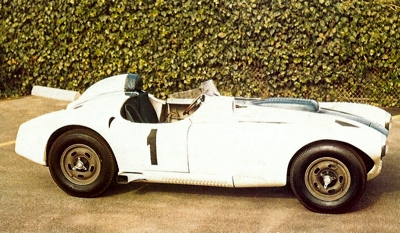 The 1952 Cunningham C4R.
The First Cunningham
The first Cunningham was revealed early in 1951 after months of frenzied activity. Its basis was a robust chassis featuring 3-inch main tubes, while suspension was independent all-round, using a modified Ford coil spring and wishbone arrangement at the front and a de Dion system at the rear. A three-speed Cadiliac gearbox was used, while the brakes were based on Cadiliac units with additional fins, to assist cooling, plus competition linings; they were mounted inboard at the rear. The chassis was clothed in a handsome aluminum body of gentle, pleasing lines - a vivid contrast to the ugly, over-ornamental products from Detroit.
The prototype, known as the Cunningham C1, used a Cadillac engine. Three more cars, destined for the racing team and known as C2s, were powered by the new 5426 cc Chrysler 300 series Firepower V8, which in standard trim produced 180 bhp at 4000 rpm. The fifth car of the first batch was a coupe version of the C1.
Some Support from Chrysler and Firestone
The 1951 Le Mans team cars had engines uprated to 220 bhp by courtesy of a compression ratio raised from 7.5 to 8.6: 1 and four down- draught Zenith carburetors. To European eyes, the cars represented the best in American engineering but, in truth, Cunningham received scant support from his home industry. Chrysler offered a discount on parts as well as giving advice on suspension calculations and offering engine testing facilities, while Firestone sent along tire technicians.
Of the three white-and-blue Cunningham C2s entered, two crashed. The car driven by Briggs Cunningham / George Huntoon suffered steering failure, while the gearbox was at fault on the George RandfFred Wacker machine. Phil Waiters and John Fitch shared the third' entry and covered themselves in glory by climbing to second place as dawn broke, after over twelve hours of racing. However, after six hours of glory, the engine gave trouble by mid-morning and in the closing hours the car fell back to an eventual eighteenth place overall.
The Cunninghams returned to the United States and won important races at Elkhart Lake and Watkins Glen; their engines now developed a healthy 270 bhp at 5500 rpm. For future success, Cunningham realised that he had to produce a machine purely for racing purposes as the European opposition had showed that it was no longer feasible to field a road-cum-track car. He first went ahead to satisfy customers, however, before work commenced on the 1952 Le Mans cars: pure racing machines.
The Cunningham C3
The Cunningham C3 was based on the C2 but a Chrysler live rear axle replaced the somewhat complicated de Dion layout. It was available in two forms, a convertible or a coupe. The coupe, announced in August of 1952, had a striking body designed by Michelotti and built by Vignale and was one of the highlights of the autumn Turin and Paris Motor Shows. The convertible followed in March 1953, being exhibited at the Geneva Motor Show. With the standard 210 bhp engine a top speed of 135 mph was claimed, while 170 mph was estimated for C3s using the special 310 bhp units.
Approximately ten of each type were built and in no time they became collectors' items. We believe most have survived. For the 1952 Le Mans, three new Cunninghams were built; two C4R open cars and a special coupe C4RK. They were smaller than the C2s, 275 lb lighter at 2400lb and with more powerful, 325 bhp Chrysler V8 engines. A rigid chassis frame comprised two pairs of superimposed large tubes linked by vertical sheet steel spacers. The front suspension was derived from the C2, but in place of the proposed de Dion rear-end, a Chrysler live rear axle was employed.
The coupe, driven by Phil Walters/Duane Carter, actually led in the opening minutes, then settled in third place, but later it lost valuable time when Carter went off-course; it eventually retired with valve trouble. The John Fitch/George Rice C4R also succumbed to this problem (brought about, it transpired, by weak brakes and over-stressed gearboxes which, in turn, led to over-revving), but Briggs Cunningham - who drove for 19½ of the 24 hours in the car he shared with Bill Spear was a gallant fourth.
The Cunningham C5R
The Cunninghams returned to the United States and won four minor races. They were also campaigned in 1953, Fitch and Waiters taking one to victory in the
Sebring 12-hours
. For the annual pilgrimage to Le Mans, three cars were listed, a C4R, the C4RK coupe and a new 462 machine, the C5R which featured rigid axles front. and rear. The idea was to allow for bigger brakes to be fitted at the front (giant I7-inch drums were installed inboard front and rear), while a four-speed Siata gearbox was also used.
However, the weight had risen to 2590 lb. The Cunningham C5R, huge and ungainly as it was, put up a brave show. John Fitch/Phil Waiters kept it in third place for most of the latter half of the race and eventually halted a potential Jaguar 1-2-3 result. Briggs Cunningham, who shared the seventh-place C4R with Bill Spear, reckoned victory would have been theirs but for the disc brakes of the Jaguars. 'We competed to the limit of the brakes, but couldn't compete with the Jaguar discs. If we had gone any faster, and thereby used more brakes, we probably wouldn't have finished at all with this car.'
In fact, it was impossible to change the brake shoe linings on the Cunningham's brakes; instruments were embedded in them to measure wear and the speed of the car had to be adjusted to brake wear. To complete a 100% finishing record, rare for any team at Le' Mans, Charles Moran/John Gordon- Bennett brought the coupe home tenth. The team remained in Europe for the Rheims 12-hours and a minor
Silverstone
race in England. At Rheims, John Fitch rolled the C5R, but Briggs Cunningham and Sherwood johnston took a C4R to third place. Back in America, the C5R was rebuilt around a spare chassis, but the design was not exploited. Cuningham wanted disc brakes for it and couldn't get them.
In 1954 Cunningham wanted to build entirely new cars for Le Mans. Early in the year he ran an assortment of cars in the
Sebring 12-hours
- including a 1½-liter Osca driven by Stirling Moss and Bill Spear which had the temerity to win outright-and one, a 4½-liter Ferrari 375 LM, played a big part in the season's plans.
Cunningham, who had close ties with the Italian company, proposed to build new cars using 4½-liter Ferrari V12 engines. However, there was not time to construct them and instead the Ferrari was modified and rebodied, featuring experimental water-cooled brakes. Driven by Walters/Fitch it retired with a broken rocker, but two Cunningham C4Rs soldiered on to third and fifth places in the hands of Spear/Johnston and Cunningham/Gordon-Bennett.
The Cunningham C6R
Although handicapped by excess weight and braking problems, the old Cunningham displayed reliability. Following Le Mans, negotiations with Ferrari broke down and, for 1955, a new car, the Cunningham C6R, appeared with a specially-developed 3-liter version of the four-cylinder Offenhauser used at Indianapolis. It produced 260 bhp at 6000 rpm. The chassis, much lighter than earlier cars at 1900 lb, was small and unable to accept the familiar Chrysler V8. Conventional front suspension was employed, while a de Dion layout was tried at the rear. Lockheed brakes, of 13 in diameter, and a four-speed ZF gearbox were used.
The bodywork was low and sleek, a cross between the C-type and D-type Jaguars. In its first race at
Sebring
, the C6R broke its transmission, but Briggs Cunningham's honour was restored as a Jaguar D-type owned and entered by him won, in the hands .of Mike Hawthorn/Phil Waiters. At Le Mans the car was a failure, proving slower than the C4Rs of the previous year. Driven by Cunningham and Johnston it suffered gearbox ailments before retiring with piston failure-the Offenhauser engine, used to alcohol-based fuel at Indianapolis, couldn't be adapted to run on pump petrol satisfactorily and was prone to overheating.
A Cunningham-entered Jaguar piloted by Waiters/ Spear also succumbed to piston failure. This marked Briggs Cunningham's last attempt at Le Mans with a car of his own marque. Cars were campaigned in the United States for a while, the final important outing for the Cunningham C6R being the
1957 Sebring 12-hours
. Now fitted with a Jaguar D-type engine and gearbox, it was destined to blow-up in practice.
Switching To Jaguar
The Cunningham Company had been closed down at the end of 1955; it was the end of one era and the start of another. Briggs Cunningham had by now become involved with Jaguar, joining his pit chief Alfred Momo to take on the New York area distributorship. He was also distributor for Maserati. As well as taking part ill motor races at club and international level in a variety of cars he focused more attention on another of his great loves, sailing. After successfully campaigning in American races (team leader Wait Hansgen was the Sports Car Club of America's National Champion from 1956 to 1959, twice with a Jaguar D-type and twice with a Lister-Jaguar) Briggs Cunningham decided to have a further crack at Le Mans in 1960, arriving with three 4.6-liter Chevrolet Corvettes and a prototype Jaguar.
One of the Corvettes, driven by John Pitch/Bob Grossman, finished eighth but the Jaguar, handled by Dan Gurney and Wait Hansgen, retired after a multitude of problems. Known as the E2A, the Jaguar was a prototype version' of the E-type which was to be revealed to the public a year later. It was taken back to the United States where it won its only race at Bridgehampton. At Le Mans in 1961, Cunningham entered three Maseratis, two rear-engined V12 3-liter T63s and a 2-liter T60.
One of the supposedly fragile T63S finished fourth driven by Augie Pabst/Dick Thompson, while Briggs Cunningham/Bill Kimberley brought the 2-liter home eighth. An even stronger attack was launched in 1962: two 3.9-liter Maserati coupes plus a Jaguar E-type. Very fast at the start, the Maseratis failed, but the E-type, driven by Cunningham and British driver Roy Salvadori was a gallant fourth. The 1963 Le Mans 24-hour was the tenth and last in which Briggs drove; now 56, he drove one of three specially-prepared lightweight Jaguar E-types into ninth position with Bob Grossman. Gradually Cunningham's racing activities tapered off. He specialised in competing in the
Sebring 12-hours
. In 1964, 1965 and 1966 he raced a 2-liter Porsche 904 GTS, finishing ninth and winning the 2-liter category in 1964, placing twentieth in 1965, but retiring in 1966.
Wanting To Defend The America's Cup
He sold his Jaguar distributorship and turned to his old love of sailing, being unsuccessful in his attempt at the age of 60 to be selected to defend the America's Cup challenge in 1967. In the I 960s another aspect of Briggs Cunningham's life bore fruit, his passion for collecting motor cars. It started soon after World War 2, in fact, when he bought a 1912 Mercer Model 3SC Raceabout.
In 1962 he moved to Newport Beach in California and commenced work on a car museum at Costa Mesa. The qo-car museum, housed in a special building, was opened in 1966. Among the exhibits were, naturally enough, some of the famous cars which bore Cunningham's name: the prototype C1, a C3 coupe, a C4R, the C4RK coupe, the CSR and the C6R. Also present were many of the other cars which played a role in Cunningham's life: the two 1950 Le Mans Cadillacs (including Le Monstre), Ferraris, Jaguars, a Maserati and an Osca. Other famous cars in the collection included a 1913 Peugeot Grand Prix Model, a 1927 It-liter Delage, a Bugatti Royale and several Hispano-Suizas. Briggs and Laura Cunningham compiled a dossier on every exhibit and often exchanged cars with other museums.
Today Briggs Cunningham is widely recognized as one of the great patrons of sports car racing, providing cars for Walters, John Fitch and Bill Spear in the early days, then for Dan Gurney, Roger Penske, Bruce McLaren, Stirling Moss and others later on. Sadly he passed away in 2003, the same year that he was inducted into the International Motorsports Hall of Fame.

Also see: Lost Marques - Cunningham (AUS Edition)