THE HUMBER COMPANY always projected an image of quality and comfort for their products, which led inevitably to excess weight and consequently to lack of performance. Their one foray into the world of high performance was in 1914 when they spent £15,000 on a three-car team for the Tourist Trophy, run at the Isle of Man, and it would be fair to say that their effort was a dismal failure. Yet, ironically enough, designers who came from Humber had a big hand in the Bentley sports/racing cars and, later, the Jaguar concern.
The Humber Forecar
Humber are usually credited with producing their first car in 1900, but the history books show that, in 1974, then owners of the name, Chrysler United Kingdom Ltd, put the date of the first car at 1899. But Unique Cars and Parts will claim the true date of the first model as 1896, when the three-horsepower Forecar was unleashed on a world avid for the newfangled mechanised transport.
The company itself began even earlier, when Mr Thomas Humber opened his pedal-cycle works in Stretton Street, Nottingham, in 1868, to produce a diamond-frame machine which was described at the time as a "curious-looking contraption". In spite of this, Thomas Humber quickly made a name for a quality article and soon outgrew the capacity of his small works so moving to Beeston, near Nottingham, and turning himself into a limited liability company.
The first move, to open the new works, came after only four years, in 1872, and it was five years later that Humber became a limited company (in 1877) with Thomas Humber as general manager. Curiously enough, the rivalry between the Beeston works and the later Coventry factory lived on well into the motor-car era, and fans of the Beeston-Humber swore that the workmanship was better than that of its 'rival' - made by the same concern.
Humbertown
Humber did well in the cycling boom of the 1890's, but a destructive fire hit them in 1897, ten years after they had become a limited-liability company, and they were forced to move to Wolverhampton. This proved to be a temporary halt on the way to the Stoke area of Coventry, where they finally settled down. A signpost one mile outside Coventry on the Dunchurch road pointed the traveller to Humbertown, a self-contained community on twenty-two acres of ground.
Even in the very early days, many people paid £30 for a Beeston-Humber pushbike when the 'common-or-garden bicycle' could be bought for £10. Although Humber carried the quality image on from cycles to cars, they always aimed at the middle-man or middle-classes rather than the very bottom and cheapest segment of the market, or the rich man who wanted the very best. They pitched their aim at a sound quality article with enduring and endearing qualities at a reasonable middle-price.
In spite of this, their first effort, the Forecar, owed much to the bicycle, with its spindly wheels and saddle for the driver, and a chair-type seat up front, ahead of the driver, in tricycle style; in fact, it looked like a tricycle with a fourth wheel added. Power was by way of a modest three-horsepower single-cylinder engine, with pedals provided to help it up hills. This elementary and basic machine appeared at the first London Motor Show, held at the Imperial Institute in 1896.
1901 Humber Forecar, based on a bicycle, the driver sat behind and the passenger in front.
1903 Humberette 5 hp, fitted with 2 gear levers mounted on the steering column...one engaged high and low gears, the other forward and reverse.



1907 Beeston-Humber 30hp, winner of the 1907 Isle of Man Tourist Trophy heavy class. It was driven by S.P. Mills with J. Swift as the mechanic.



1914 Humbrette, fitted with a twin cylinder 1085cc engine.



1914 Humber Tourist Trophy racer, designed by F.T. Burgess who later moved on to join W.O. Bentley. The car was extremely advanced for the time, it had four valves per cylinder operated by twin overhead camshafts and developed nearly 100 bhp at 3200 rpm from its 3295cc engine.



1926 Humber 14/40, one of the most popular Humber models ever produced. It was built for comfort rather than performance.


1927 Humber 9/20hp Tourer.
1931 Humber Snipe Sports Sedan.
A Fleet of Humbers ready to be used by HRH The Prince of Wales during a visit to Yorkshire in 1933.
1936 Humber 12 during testing near Devon, UK.
1941 Humber Military Staff Car, used by Field Marshall Montgomery.
1946 Humber Snipe Sedan.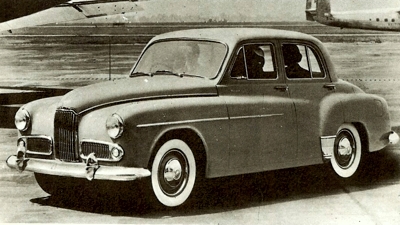 1954 Humber Hawk VI Sedan.
1961 Humber Hawk sedan.
1963 Humber Super Snipe sedan, with 3 liter engine.
At this time, Humber came under the influence of the infamous Mr J. H. Lawson, who formed the British Motor Syndicate in an attempt to gain monopoly control of the struggling British motor industry. Lawson tried to buy up everyone and everything in sight, and one of his tame inventors was E. J. Pennington of Chicago, whose Kane-Pennington engines powered the early Humbers, situated at the rear of course. The curious MD Voiturette shown by Humber at the Stanley Show of 1899 was powered by a 2½-horsepower De Dion-Bouton engine, however, driving the front wheels, the rear wheels being steered.
There was also, about this time, another device over which it is better perhaps to draw a veil, the Humber Phaeton, driven by a mixture of belts and . gears to the rear axle. However, by the turn of the century, Lawson's empire was crumbling and on 27 March 1900 the Humber company became Humber Ltd, with capital of £500,000, and independent of Mr Lawson. Humber then began making the Humberette,. a two-seater four-wheeler with a five horsepower, water-cooled engine, and during the following year (1901) Louis Coatalen, a French designer now numbered among the greats, joined them and produced for the 1902 motor show, a much more ambitious machine, a 12-horsepower four-cylinder mated to a four-speed gearbox and fitted in a tubular frame.
This was a very modern design, with both hot-tube and electric ignition, which was shown with a limousine. body with curved plate-glass windows. By 1903, the Humberette, still in production, had been modernised and was on offer with a choice of 5, 6 or 7.5-horsepower engines having the new four-speed gearbox and the chains replaced by shaft drive. These cars were made both at Beeston and at Coventry and they perpetuated the rivalry between the two factories.
One of their daring innovations was a single-spoke steering wheel, as used-in not exactly the same form-on Citroens in more recent times. It was during this period that Humber entered a Beeston-Humber 24-horsepower model for the 1907 Tourist Trophy in the Isle of Man in the heavy class and won. This was a production model, though, as TT entries were then required to be, rather than a racing machine. Meanwhile, Coatalen's 12 was so popular that the company ran out of space at their Coventry works and, as soon as their chassis had wheels on, they were pushed into the street where the 'assembly line' continued and the major units were fitted.
Their later venture, in the 1914 TT, was with a true racing car designed by F. T. Burgess, who later move on to join W. O. Bentley and help with the successful three-liter Bentley. His Humber racer was astonishingly modern, with four valves per cylinder and twin overhead camshafts, claimed to develop nearly 100 horsepower at 3200 rpm from 3295 cc. The cars went well enough and very fast, but not one of them finished the race, and the war put a stop to any further development of the only Humber sports car.
During World War 1 Humber made aeroplane engines and complete aircraft. They had, in fact, begun this work several years earlier, when they claimed to be the only British firm making complete aeroplanes. At the 19II general meeting of the company, there was some criticism of the credit balance of £II,038, and the chairman, Mr Duncan F. Basden, referred to the setback caused by the placing on the market of a motor car which did a great deal of harm to the company, but unfortunately, did not specify which model.
After the war, in which they had made 25 aeroplane engines a week in addition to field kitchens, shells, bombs and fuse containers, Humber Lid turned back to cars and cycles and in 1926 linked up with the commercial-vehicle industry in the shape of Commer Cars Ltd of Luton. Then, in 1928, Humber bought the Hillman Motor Car Company, whose works were next door' at Stoke. Humbers had shown profits of more than £100,000 yearly, up to 1926, when they fell to £93,000.
It was in the period from the end of World War 1 up to Humber's involvement with the Rootes family in 1928, that they made their most cherished models, apart from later successes like the Snipe and Pullman. Bu t the 8/ I 8 of 1923 and the 14/40 of 1928 are regarded by lovers of vintage cars as the apogee of Humber achievement, with their quiet, refined operation and construction of high-quality materials with a plethora of brass and leather. Performance was never their strong point, but they were smooth and long-lasting and pleasant to drive.
The first post-war model was the 15.9. The pre-war side-valve 10 and 14" horsepower cars were enlarged to 11.4 and 15.9 horsepower respectively from 1920 to 1922. The 8/18 appeared in 1923 with overhead-inlet and side-exhaust valves. The Humber company were always innovators but, having tried something, tended to stick to it even when it had been overtaken by events and become old-fashioned and superseded by later design knowledge or better ideas.
Examples of this were the practice on their 1901 Humberette of using water-tight hinges on the side of the radiator so that it could be swung aside to work on the engine, and insistence that front-wheel brakes were dangerous. As a result of this belief, they retained their ineffective transmission brake up to 1928, without even supplementing it. Humber's multiplicity 'of models is something of a numerologist's nightmare, and 'eventually led Humber into financial trouble. When the Humberettes were being made both at Beeston and Coventry, from 1905 onwards, there were also 8-18 and 16-20 cars in production at Beeston and 10-12, 12-14 and 20-25 models coming out of Coventry.
Differences were slight and, in 1906, they chopped the range down to the Beeston 16-20 and the Coventry 12-14. The Beeston beast used a pressed-steel frame and a four-speed gearbox, and the Coventry one a tubular chassis with a three-speed box, but both had similar four-cylinder engines. Rationalisation did not last long and by 1908 there was a twin-cylinder 8, a 30-horsepower six-cylinder and no less than four four-cylinder versions, the 10/12, 15,20 and 30. Then, in 1909, the re-formed company dropped the 22 and 28 and replaced the IS by a 16 with the new-fangled detachable wheels, which were also used on the 8-horsepower car.
Only two years later, the 10-14 replaced the 8, another 28 appeared and the 12 changed its name to the 12-20, although it did have changes made to it like the addition of rear-wheel 'snubbers' or dampers, a torque tube and a different frame. Another two years, to 1912, brought yet another change, in the birth of the four-cylinder I I-horsepower, which Humber claimed was the first such car with a monobloc cylinder casting instead of the separate cylinders more usual at that time.
A somewhat non-standard version of the 11, with 'streamlining', was driven at Brooklands by W. G. Tuck, who was later one of the three TT drivers in 1914, and took three international class records under the name of 'The Golden Bug'. Matters were further complicated in 1914 when the Humberette of eight years earlier came back, in two different versions. One was a two-seater, with an air-cooled, twin-cylinder engine, which sold for only £125, complete with all equipment like a windscreen, hood, lights and horn - in that era usually extras.
The alternative version had a water-cooled engine, but was still a twin. The air-cooled car was classed as a cycle-car as it weighed less than seven hundredweight, but it was really a scaled-down 'proper' car, <with a three-speed gearbox, propeller shaft, quarter-elliptic springs at the rear and . half-eIIiptics at the front, and rack-and-pinion steering. This mass of differently named, but often similar, models may be the reason that so few Humber designs have been given recognition, and why the 8/18 and 14/40 are the only ones widely known in the vintage movement. 'The only other well known car is one of the three 1914 TT racers which has survived in the hands of a member of the Vintage Sports Car Club, but it is not known if it is the actual car driven by the designer, Burgess, himself.
All these three cars had their engines carried in sub-frames-another Humber trade mark-a transmission brake adjustable from the cockpit, and a separate gearbox. In the race, one car seized a piston and the other two had valve trouble. Apart from the Beeston-Coventry rivalry, the most interesting cars from Humber were the two vintage models already mentioned, the 8/18 and 14/40, and the later Snipe and Super-Snipe, including the famous wartime Western Desert tourer Old Faithful used by Field Marshal Montgomery.
There were many other models, including the 9/20, but they did not make history in quite the same way. Curiously enough, the Snipe was developed from the three-liter six-cylinder 20/55 of 1927, a car of an entirely different character. In the 1920-1930 period, Humber made conservative family cars ,of quality and distinction but, unlike other makers of similar cars (Hillman, Rover and Wolseley, for instance), they did not go in for sporting or even pseudo-sporting versions to run at Brooklands, as was the fashion. It is generally conceded that they did not make any bad models, apart from the un-named villain of the 1911 general meeting, but they did not pretend to be trend-setters or perhaps, more appropriately, pace-makers; they were slow and solid: well made rather than flashy.
The successful 8/18 was typical. It had 985 cc to propel 12 cwt, and coil ignition, which was new in 1923 when most people would still be using magnetos for years on. It had the famous Humber inlet-over-exhaust valves, and was smooth and silent, if costly to make. Although not exciting to drive, it got there, and would cover 35 miles on a gallon of petrol. The production version was a four-seater open tourer which we might nowadays call a 2 plus 2. The way the 8/ I 8 evolved was typical of the decline in the small popular car between 1920 and 1930. In 1925, it changed its name to the 9/20 and was given a slightly larger engine and a much larger body, which killed what performance there was.
In 1927, front brakes were added (at last) but, in 1929, people were tired of being out in the weather, and saloon bodies were the thing, so a saloon it became, hardly able to drag itself about even with a very low top gear of 5.5 : I. In this form, it lasted only one year. The multiplicity of model numbers/names males it hard to follow their fortunes, but the post-war 10 became the 12/25 and the other model already men- tioned, the 15.9, became, in turn, the popular 14/40. At the same time, the Snipe forerunner, the 20/55 appeared, and finally the light six-cylinder 16/50 completed the range in 1929.
Middle-class people bought these middle-class models well until 1930 when the worldwide slump was in full swing, and Humber became part of the Rootes group. From then onwards, a different style of car was made. The vintage-period Humbers had benefitted from the good exhaust-valve cooling of their inlet-over-exhaust system, which gave a poor power output but long life. A Humber expert has calculated that in the vintage years, more than 30,000 cars were made but fewer than 400 have survived, which is a pity.
Lord Rootes and his brother Reginald were salesmen above all, and their first venture with their new company was the 1934 Humber Vogue, a stylish saloon designed to appeal to women drivers, still concentrating on the quality theme. It was still a heavy car with a small engine (12 horsepower) but with more performance than the earlier 60 mph-rnaximum Humbers. In 1931, though, the chairman of Humber Ltd, Lt Col J. A. Cole, told the general meeting of shareholders that they had had the blackest year ever.
Humber, he said, were healthier than Hillman or Corn mer and had increased exports, but there had been exchange difficulties as 'the world had become seriously impoverished'. There was talk of the £1,250,000 Humber-Hillman combine becoming a 'General Motors of Coventry' and taking over two other Coventry firms, but this remained in the realms of pure speculation rather than fact. The 1930 Snipe was a big luxury car with a big side-valve engine, later endowed with an aluminum cylinder head.
Body-styles changed but the mechanical parts soldiered on, and made very good military vehicles in 1939, the aluminum head and light-weight wireless-truck bodies (open with a canvas tilt) endowing them with a rapid acceleration and a good top speed. In many ways it epitomised the Humber philosophy: build them strong, build them simple and build them to last. In the last few years before World War 2, the Rootes Group also took over the ailing Sunbeamf TalbotfDarracq combine, with its then-modern factory in Barlby Road, Bayswater, West London, and combined some products so that there was a so-called Sunbeam Talbot, which was mechanically a Humber Snipe but with an attractive new body style.
There was also a smaller' Sunbeam-Talbot, which was a Hillman Minx in disguise. During those pre-war years, the name Humber was on a few models and, apart from the Vogue, the marque tended to belong to the chauffeur-driven segment of the market, with Snipes widely used as hire and funeral cars. Eventually, the marque became lost in the badge engineering world of Hillman-Humber-Singer-Sunbeam-Talbot, and the Vogue model name came back as a Singer, after this amalgamation had taken place in the first half of the 1900's.
World War 2 saw Rootes, including 'The Humber' in Coventry, back in the aircraft and armament business, although production of Humber cars, including the famous Snipe tourers and 4 x 4 wireless trucks (which had four-wheel' drive and were used as command cars by armoured regiments and gunners) was stepped up to meet the military demands. Hercules, Pegasus and Mercury aero engines came out of the Coventry factories instead of limousines for British embassies in foreign countries.
After the war, the Snipes came back and were joined by the Hawk, a largish saloon with a smallish engine (2267 cc), rather in the old Humber tradition of comfort before performance. The original 1947 Hawk, an upright four-light saloon, gave way to the later version which was really a four-cylinder Humber Snipe but, by this time, the Snipe was a much faster and better-looking car with an overhead-valve six-cylinder engine shared by the Humber Hawk model in four-cylinder form.
Reverting to the 1939/45 period for one moment, perhaps we should record that the Rootes factories made one of every seven British bombers, sixty per cent of armoured cars and thirty per cent of Scout cars, as well as 50,000 aero engines and assembly of 20,000 imported vehicles. How many came from The Humber has not been isolated from the total. Although Humber had lost its separate identity as a company, it maintained its profile as a marque with the distinctive Pullman of 1952, the Imperial of 1964, and the Sceptre of 1967, although these shared components with other Rootes models.
In 1964, Humber became an even smaller cog in an even bigger machine when Chrysler Corporation acquired 46 per cent of the ordinary shares of the Rootes Group and 65 per cent of the non-voting shares. Later, Chrysler, who had. paid £27 ,QOO,OOO. for its initial stake in Rootes, invested a further £20,000,000 and, finally in 1973, Chrysler United Kingdom Ltd became a wholly owned subsidiary of the United States-based Chrysler corporation. The thrusting personal style of the Rootes brothers gave way to multi-national management and the family members have mostly disappeared.
All that remained in 1974 of the Humber tradition was one model, the Sceptre (saloon and estate) which is a badge-variation on Hillmans with 1725 cc ohv engines. It is pertinent to note historically that the 1974 Sceptre offered 100 mph with about- 28 mpg from 1725 cc, whereas the much-loved 15/40 of 1923 produced only 40 horsepower from 2800 cc at 2000 rpm, giving probably not much more than half the speed for a much heavier fuel consumption. Apart from the two classical vintage models, the 8/18 and 14/40, probably more affection has been generated for different reasons by the Snipe and Super-Snipe limousines, leaving out of account the open tourer military Snipes which also have their fans.
Lord Montgomery's Old Faithful was given back to Rootes for their museum in 1954 after a million miles or some such astronomical figure. The Snipes were the traditional embassy cars where something imposing but less costly than a Rolls was required, and there were many shouts of anger when they finally disappeared from the scene. The 14/40, however, must remain the star of the Humber constellation, as the 8/18 was criticised for its lack of performance, although praised for its economy.
To quote from-an appreciation by Mr P. Bucknell in The Guardian of I April 1957, although it was not an April Fool joke: 'The Humber 14/40 of 1928 is perhaps the best car produced by the old Humber Company. It is a typical vintage Humber in its appearance-well built and dignified rather than sporting. It has the German silver radiator with its sloping sides and the complicated adjustable Auster windscreen which identify all cars of this make. 'The interior is roomy and comfortable. The seats are upholstered in the best hide which, after 29 years, is still in perfect condition.
The doors are lined with leather, and close with a .satisfying "clunk". When a door is opened, a brass plate is. revealed stating "Coachwork by the Humber Motor Company, Coven- try". The dashboard is of heavy mahogany and all the instruments are perfect, including the eight-day clock.' The article goes on for several hundred words in the same vein, and is quoted only to illustrate the fanaticism around the ancient Humbers with their quiet, unassuming character.
The Humber company itself does not seem to have produced many notable characters among its people, unless their legends have become lost in the company's history of more than 100 years. Thomas Humber himself apparently disappeared without trace as far as personal legends go in the early days of the company, and did not generate a folk-lore like William Morris or Herbert Austin. The Rootes Brothers were certainly formidable characters, but they were not strictly Humber men, as this was the only one of the marques and companies which they merged into their great car-making empire.
If Humbers had pursued their one venture into competition after the 1914 TT race, the company history would have been a different story. The car's designer, F. T. Burgess, went on to join Walter Owen-Bentley, and the three-liter Bentley emerged with four valves per cylinder, just like the Humber, but used a single overhead camshaft where Burgess had used two. There were said to have been other close differences and, according to one anonymous writer, the three-liter Bentley '
arose out of the ashes of the Humber failure
'. The other link which Humber have with the world of high-performance is that Bill Heynes, who was chief engineer of Jaguar in their hey-day, went to Jaguar from Humber so that, if things and people had moved a little differently, the staid old Humber might have been a Bentley/Jaguar high-performance machine, without any Auster screens at all.