THE ITALA COMPANY was founded in the summer of 1903 by Matteo Ceirano, a member of a family famous in the history of Italian industry. In November of the same year he left the family firm, Filli Ceirano, and set up Matteo Ceirano & Company in Via Guastalla, Turin, with his associates Angelo Moriondo, Leone Fubini, Guido Bigio and Giovanni Carenzi.


Itala Fabbrica Automobili
In the following year Ceirano added the marque name 'Itala' to his company's title, and this one ran until the troubles of 1929, as 'Itala Fabbrica Automobili', then became just 'Itala' from 1929 - 1931, and finally 'Itala Societa Anonima Costruzioni Automobilistiche (SACA)' from 1931 to 1934, when it all came to a sad end.
Itala started off with racing cars, a policy pursued more or less up to World War 1 with some success. They made their debut in the Coppa Florio in 1904, and in the same year Matteo Ceirano ran a 24 hp, four-cylinder, 4.5-liter with shaft drive-something of a novelty then - in the Susa-Mont Cenis race, winning the light-car class. This was the first of a long line of successes.
In the autumn, Giovanni Battista Raggio, the Marquise Raggio of Genoa and a gentleman amateur, finished second in the Circuit of Brescia, and Guido Bigio won the Padua-Bovolenta event. Then came the first reorganisation.
In September 1904, a Genoese financial group, headed by the bankers G. B. Figari, were persuaded to put up some cash and the firm became a limited company under the new name of Itala Fabbrica Automobili, with capital of three million lire, half of which was paid up.
The engineer Guido Bigio, who was also a works racing driver, became Managing Director, and other directors included Matteo Ceirano, who left the following year to found the Ceirano-Ansaldi concern with Michele Ansaldi, 'which eventually became SPA. The lawyer, Grosso Campana, who had been with Matteo at the start, was also a director.
Alberto Balloco Appointed Technical Director
The policy of building only racing cars continued, and in 1905 the engineer Alberto Balloco was appointed Technical Director, a job he held right up until 1919, when he moved to Savigliano. On being promoted, he at once launched the 14-liter, 100 hp racer with which Giovanni Raggio won the Coppa Florio on the Brescia Circuit, beating all the powerful foreign entries. The 100 hp racer also ran in the 1905 Circuit des Ardennes, which was won by Hemery in an 80 hp Darracq.
Also in 1905, the 24hp Itala driven by Raggio again won its class in the Susa - Mont Cenis race. In 1906, Alessandro Cagno won the first Targa Florio, over three laps of the full Madonie Circuit, at an average speed of 29.07 mph for the 277.3 miles. More dramatic was the fact that Itala filled four of the first five places, the other cars being driven by Graziana, Rigal, and de Caters. Sadly they never won again, although they finished third and fifth in the following year's Targa Florio.
Racers Shot At By Brigands
It was also in 1906 that Itala achieved another kind of record, when H. R. Pope made the fastest run in the London-Monte-Carlo race. However, the Targa was a much more interesting affair: the race was promoted by Cavaliere Vincenzo Florio, a wealthy Sicilian vineyard owner, who had sponsored the Coppa Florio on the Brescia circuit, and had decided to organise a major race around his own island. It was said that during the first race round the 93-mile circuit of the mountains, the competitors were shot at by brigands, so the Cavaliere appointed the three most important mafiosi as stewards of the meeting, to stop this happening again.
Itala 25/35 tourer, powered by a 5401cc four-cylinder.
Carlo Biscaretti's poster depicting the sporting activities of Itala.
5401cc Itala engine used on the 20/30 and 25/35hp cars from 1908 onwards.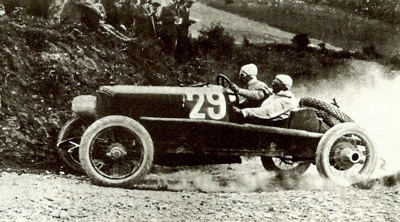 Materassi pushes the Itala to the limit on the Circuito del Mugello.
1926 1.5 Liter Supercharged V12 Itala GP Car.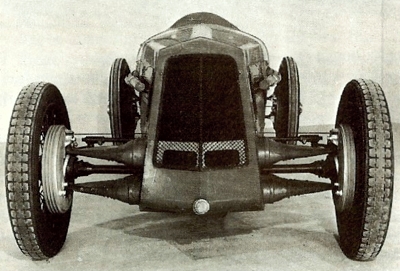 1926 1.5 Liter Supercharged V12 Itala GP Car.
Itala Type 61 Saloon, with coachwork by Garavini.
Itala Type 61 Cabriolet, with coachwork by Lavocat & Mersaud.
Cars entered had to be standard production models, on sale to the public under a fixed price limit. 1907 was in some ways an even more successful year for Itala. The famous Targa victor, Cagno, distinguished himself again by winning the Grand Prix formula race of the Coppa Florio at Brescia, driving the 120 hp, 14-liter racer. He was held up for eight minutes with magneto trouble early on, but ran right through the field in a race which lasted only half an hour, averaging 71I.8mph on one lap of the twisty 38-mile circuit.
The year before, the Italian government had refused to provide troops or police to keep spectators off the course, so the race was not run. In 1907, Cavaliere Florio provided his own marshals and ran two events over a shorter course, the Grand Prix and the Kaiserpreis. The big event of the year for Itala was their victory in the Peking-Paris race, during which Prince Scipione Borghese, with his mechanic, Ettore Guizzardi, and his co-driver, Luigi Bargini, covered the 10,000 miles in his 35/45 hp Ita la between 10 June and 10 August, overcoming the most formidable obstacles in China, Russia and a great deal of Europe.
The Peking-Paris Itala
Prince Borghese arrived in Paris three weeks ahead of his rivals, after being dragged by camels and coolies and runnirig on railway lines part of the way. He said: 'By utilising only the engine of a motor car, it is impossible to go from Peking to Paris without ceasing to be comfortably seated on the cushions of the said motor car'. The Peking-Paris Itala was rediscovered in the 1920s by Carlo Biscaretti, partially restored and placed in the Turin motor museum.
Encouraged by their racing successes, the company went on making competition machines, but seemed to have shot their bolt, although they produced a variety of sporting models before the first closed car appeared in 1920. This was the Type 50 coupe de ville, a four-cylinder, 2.8 liter (Locatti & Torretta had fitted a landaulette body to a 1909 model 20/30). There was also an Alession-bodied tourer on the 50/65 chassis in 1911.
To review their models from the start, 1904 saw the famous 24 hp which did so well in competition. This was a four-cylinder of 4562 cc with shaft drive, which was the Itala hallmark from the very early days. This car was produced up to 1906, and had meanwhile been joined by three other models. They were the four-cylinder 50 hp, the four-cylinder 18 hp, and the formidable 100 hp racer, originally of 14,759 cc and later (1906) bored and stroked to 16,666cc, which had an inlet-over-exhaust layout
Then came the 14/20, still a four, of only 2610cc, virtually a mini-car for those days, but still with shaft drive and costing 10,500 lire. This hit the market in 1907, and at the same time the 35/45 did Peking-Paris, and the 35/40 which seemed to have the same specification at 7433 cc, although the catalogued model could revolve at 1500 rpm against 1250 rpm for the Peking model.
There was also the 60 hp, a six of 11,148 cc with the same dimensions, so presumably a plus-two-cylinder version of the same engine. These models ran on to 1915, and a top speed of 90 kph was claimed for the 35/40 and 100-105 kph for the 60. They cost respectively 18,000 and 28,000 lire in 1908. At the same time, we had the 120 hp racer, with which Roth won the 1909 Mar del Plata race, equipped with a four-cylinder 12,076 cc motor and again inlet-over-exhaust valves.
In 1907, the same car was catalogued with 14,432 cc, but the later engine revved to 1800 rpm instead of only 1200 rpm and was said to give the same power, although it was quoted ambiguously as '100 to 120'. There was also, from 1908 to 1910, a 20/30hp four of 5401 cc, with side-by-side valves, and, just to confuse matters, from 1911 to 1915, there was a 25/35 of the same dimensions (115 mm x 130 mm) and capacity (5401 cc) as the earlier 20/30, with no power output quoted for either.
Just to make sure that no possible combination of numbers was left out, from 1908 to 1915, there was a model called the 50/65; in 1908 it was 150mm x 150 mm, giving 10,604 cc, and then went to 140mm x 150 mm, giving 9236 cc, but remained otherwise the same, except that the price went down a little from 24,000 lire to 21,500.
Parts and service must have been a nightmare for all these similar models with slightly different engine sizes, all made in small numbers. If we fight valiantly on with our statistics, we find that the 120 went on to 1915 unchanged in specification, but was joined from 1908 to the end by a 75hp six of 140mm x 140mm making 12,930 cc and another 'mini', the 16/20 four of only 2799 cc (90 mm x 110 mm). To confuse us even more, 1910 brought the 12/16 (75mm x 110 mm) of only 1944 cc, and from 1911 to 1916 we had the 14/18 (2235 cc) and the 14/20 again, but this time of 2235 cc.
The 'Avalve' Itala's
There was also the 18/24 of 3308cc and then the 18/30 of 3308 cc, which were the last before the so-called 'valveless cars', except for the 50/70 of 8107 cc. The valveless or 'Avalve' machines had rotary or sleeve valves, the first being the 25 hp of 1912-13, with the same 3308 cc engine as the 18/30. They went on in various sizes right up to 1922, with a 25, 35 and 50 hp ranging from just under four liters up to 8.5, and included a racer which ran in the 1913 French GP, and also finished second in the Targa Florio in the hands of Moriondo who covered the 268.5 miles of the medium Madonie circuit over four laps in 8 hours 21.46 minutes.
Curiously enough, he drove not the 8-liter racer, but the so-called 35hp of only 5195cc. Giulio Foresti also won his class in the Targa in 1921 on a Type 51S (2813 cc) and Moriondo finished in seventh position overall. In 1916, confusion became worse when type numbers joined the numerical designations, and we had Tipo 39 (2614cc) and later (1919 to 1926) Tipo 50, 51, and 55. The 50 and 51 had the same dimensions and capacity (2813 cc from 83mmx 130 mm) but the Tipo 51 was called 'Sport' and was faster with a 100 kph maximum.
The 55 was a 'valveless' four-liter. Type 54 was a taxi, and Type 56 the same two-liter size, while Type 61 was almost the same engine size, but a six. Type 65 Sport, the last listed, was a six, again of two liters, but with overhead valves as a variation from side valves, inlet-over-exhaust and sleeve valves. All the Italas had very clean-looking engines, like a Bugatti or a Talbot, with few external pipes, wires or other excrescences. Bodies came from the coachbuilders already mentioned and also from Garavini, Farina, and many others.
Itala's Last Grand Prix Appearance
In the 1913 French Grand Prix, three sleeve-valve cars ran, driven by Felice Nazarro (borrowed from Fiat for the event), Moriondo, and Pope, but they did not finish in the money. This was their last grand prix appearance, which was partly due to the tragic death of managing director Guido Bigio, who had been a great believer in racing to 'improve the roadgoing breed, no matter w.hat the make. After World War I, Itala again took up racing, but with sports versions of production models rather than purpose-built racing cars.
Back in 1906, they had moved to larger premises in Corso Orbassano, Turin, and pressed on with the four and six-cylinder touring models, with the shaft drive which they had adopted. In 1910, they had made 350 cars, and they doubled this in 1911. The factory was now 80,000 square metres in area, employing 1000 people, plus 250 at Caluso where they made bicycles. At that year's Turin Show, Alberto Balocco first presented his sleeve-valve engine, and another novelty - an engine with a variable stroke, which was supposed to be able to run without a gearbox, but does not seem to have worked.
War Production
When the war came, production was switched to personnel carriers, and then in 1915 the factory was completely redesigned to produce V8 Hispano-Suiza aero engines under licence for a consortium of Italian companies including SCAT, which was a leading partner. Tooling was scheduled for the 200 hp Hispano, which was not a great success and was replaced by the 300 hp model, but this cost a year in time switching the tooling, and it was 1915 before units came off the line.
Itala and its partners had tooled up for 3000 units, but the government cut orders by fifty per cent and the group was in financial trouble. It sold off bought-out and semi-finished parts, but also had labour troubles and the workforce fell to ISO by 1920.
It began to make the sleeve-valve cars again and Moriondo's Targa second place in class helped the morale of the Itala concern. The post-war models designed by Baloco and his assistant Alberto Orasi appeared and a Type 51 Sport won an Alpine Cup, while Foresti's Targa class win with this model also helped the factory.
By 1925 the hand-to-mouth existence of Itala became too difficult and a receiver was called in, under a government scheme to help ailing companies. The engineer Giulio Cesare Cappa was appointed technical consultant, a man of experience with Aquila and Fiat. He produced the last-but-one Itala, the Type 61, with overhead valves in place of sleeve valves. He also produced a prototype GP light car (voiturette) with a wooden chassis, front-wheel drive and a supercharged V12 engine of 1100 or 1500 cc, but the model remained experimental.
Itala Amalgamates with OM
In 1929, Itala amalgamated with Officine Metallurgiche e Meccaniche di Tortona (OM), with new headquarters and capital of 35 million lire .. They . hoped to sell to Poland, but this was not a success and the company was liquidated in 1931. The following year the automotive section was reformed as the new firm Itala SACA, which lasted until the end came in 1934, completing 30 years of automotive history.
Also see:
The Great French City to City Races - And The 'Race of Death'