D. Napier & Son
At the start of last century, Napier held the position that was later occupied by Rolls-Royce. David Napier, the founder of D. Napier & Son, was the second son of the blacksmith to the Duke of Argyll at Inveraray, and was born in 1785.
His cousins became shipbuilders but, after engineering training in Scotland, David came south in 1808 to make his career in London, and soon set up a business in general engineering in Lloyds Court, St Giles. By 1824, he had designed and manufactured a printing press with the excruciating name of 'The Nay-peer', and he sold several of these to Hansard, the government printer, and other machines to newspapers.
By 1836, he had moved to a new works in York Road, near what was to be the site of Waterloo Station and on ground later occupied by the Festival Hall. His younger son, James, was born in 1823, and James joined his father in the business in 1837, just before the height of the firm's 19th century prosperity, which came between 1840 and 1860.
By this time, between 200 and 300 men were employed in a well-equipped works which not only turned out printing machines, but many standard machine tools such as lathes and drilling machines, bullet-making machines for Woolwich Arsenal, coin-weighing and printing machinery for the Bank of England, cranes for the railways and even telescopes and a Captain's Registering Compass.
James Napier
In 1867, James succeeded his father as head of the firm and three years later his fourth son, Montague, was born, and it was he who was destined to bring about Napier's connection with motor cars. James Napier was a peculiar character, a very good engineer and a prolific inventor, but was not a business man. Although he travelled abroad in connection with the export side of his business, he was not an easy man to get on with and considered that any form of salesmanship was brash and undignified, which was why he preferred to stick with government contracts, both at home and abroad.
As time went on, it was apparent that he had no interest in the further expansion of his firm so long as it gave him a reasonably comfortable income. In fact in 1877, four years after the death of his father, he considered selling the firm, but his plans fell through and, within a few years, so little business was being done that there were seven workmen where there had been two or three hundred and there was dust and rust on everything.
Montague Napier
In 1895, James Napier died, and his son, the 25 year old Montague, took over. Montague inherited all the traditional Napier engineering talents but, although determined to be the master of his own business, he was not as autocratic as his father and easier to get on with. In appearance, he was bearded and misleadingly ascetic, 'like an apostle' in the words of a contemporary. Once he was in charge, he continued the manufacture of coin-classifying and printing machinery, but he also made machine tools for the cycle industry, and produced some peculiar Ritter roller skates.
These were designed by his foreman of the same name, and the skates had large wheels, being intended for travelling long distances on the open road. To promote sales, these were demonstrated in the streets of Reading by a gentleman named 'Fish' Smart, the ex-Champion Road Skater of England, but they did not make Napier's fortune. Instead it was through a hobby of Montague Napier's that his business was led to prosperity. In the late 'eighties and early 'nineties, he was a racing cyclist and, as a member of the Bath Road Club, he came fourth in a race over a hundred miles of the North Road in 1892. Curiously enough, in later years he did not enjoy driving cars, and hated being driven fast.
Selwyn Francis Edge
One of the members of the Bath Road Club was an ebullient Australian, Selwyn Francis Edge who, in the late 1890s, was manager of the London branch of the Dunlop Tyre Company. Edge was a bombastic character with great energy and a natural sales technique. He soon took an interest in the infant motor-car industry, and in his spare time worked for H. J. Lawson (then trying to monopolise the British motor industry) and also raced motor tricycles.
In 1899, he bought from Lawson the 6 hp Panhard-Levassor car 'Old number 8' in which Merkel had finished second in the Paris-Marseilles-Paris race of 1896. A mutual friend in the Bath Road Club, Waiter Munn, suggested that Montague Napier was the man to carry out some improvements to the car that Edge had in mind, as Edge himself was not an engineer. These improvements consisted of converting the car from tiller to wheel steering and later fitting pneumatic instead of solid tyres; the engine lubrication system was also altered.
This is the car that John Cobb used to set the all-time circuit record at Brooklands. It is the Railton powered by a 505bhp broad-arrow Napier engine.
1914 Napier 30/35hpp limousine.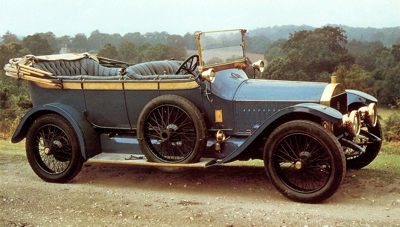 1913 Napier 30/35hp, fitted with a 4.7 liter six cylinder engine.
1914 Napier with 2684cc four-cylinder engine.
1905 Gordon Bennett L48 Napier, which finished 9th.
1911 Napier Landaulette, with coachwork by Baker.
Napier being used on railway tracks, circa 1904.
Miss Ellaine Terris on a 16hp Napier, circa 1902. The car was powered by a 4.9 liter four cylinder engine which featured triple automatic inlet valves.
Dorothy Levitt would take the British Ladies' Record over the flying kilometre at 90.88 mph.
The Motor Power Company
But Napier was still not satisfied with the Panhard engine and asked Edge if he could fit an engine of his own design. Edge was enthusiastic about this as he had visions of an improved version of the Panhard which would sell well on the market. The engine Napier designed in 1899 was an 8 hp vertical twin. From the very first, Napier would have nothing to do with hot-tube ignition, as found on the Panhard, and all his engines had electric ignition. Meanwhile, Edge had persuaded his old boss at the Dunlop Company, Harvey du Cros, to join him in financing a firm called the Motor Power Company, with premises at 14 Regent Street.
Although Edge's new firm held agencies for one or two French and German makes, he undertook to sell all the cars (based on the Panhard) Napier could make. The first agreement was for an order of six cars, three with two-cylinder and three with four-cylinder engines, the latter utilising two twin-cylinder blocks. The aluminum bodies were to be built by Mulliners of Northampton, and the cars were to be delivered, unpainted, by 31 March 1900. Edge was paying Napier about £400 for the 8hp cars and selling them for about £500, a handsome profit.
An 8 hp two-cylinder car was entered by Edge for the 1000 Miles Trial of the Automobile Club in the spring of 1900. This car had been bought by a fox-hunting squire from Market Harborough called Edward Kennard, who agreed to the car competing before he took delivery of it. The car set out in company with 64 others (with Edge at the wheel, fourteen-year-old St John Nixon on the floorboards beside him and Edward Kennard occupying the single passenger seat at the rear) on a circular tour over the roads of England and Scotland, stretching from Newbury in the south to Edinburgh in the north.
Excellent publicity was gained when the Napier won its class and a bronze medal. Very little trouble was encountered, in contrast with the experience of Edward Kennard's wife, a well known novelist, who over-turned her De Dion voiturette whilst trying to avoid another vehicle on the tramlines of Nottingham. Thirty-five cars completed the course, but only twelve, including the Napier, managed to average the required speed of 12 mph in England and 10 mph in Scotland.
The four-cylinder Napier, known as the 16 hp, owed a little less to the Panhard design than did the 8 hp twin, and eight cars had been ordered by June 1900. Edge took one of these chain-driven cars up Porlock hill to win a bet of £50, which brought more useful publicity. In July 1900, Edge entered a 16 hp Napier for the Paris-Toulouse-Paris race with the Hon C. S. Rolls as his mechanic. The side-valve engine had a bore and stroke of 101.6 x 152.4 mm (4.9 liters), with triple automatic inlet valves, coil ignition and chain drive. The lubrication system boasted two hand pumps on the dash for the Hon Charles to cope with, and there was a 42-gallon petrol tank behind the seats for the net racing distance of 837 miles. Unfortunately the car retired from the race due to troubles with the ignition coils and the cooling system.
The Fastest Car in England
St John Nixon stated that when the 16hp Napier first took to the road it was the fastest car in England, but Edge and Rolls found its speed did not match up to that of the continental racing cars. However, it was a very successful touring car and was highly praised by that indomitable novelist, Mrs Edward Kennard. For 1901, Montague Napier went to another extreme and designed a monster racing car to ensure that, whatever faults it may have had, at least lack of speed was not one of them. The engine, which weighed some 6tcwt, was a 165.1 x 190.5mm, 17,157cc, side-valve four-cylinder with the usual triple automatic inlet valves; it produced 103 bhp at 800 rpm.
Several sources give the wheelbase as being 6 ft 9 in, which is the same as that of a 1933 Austin Seven, so the alternative figure of 9 ft 7 in seems more likely. The weight of the car has also been controversial, Edge, in his reminiscences, giving it as 3t tons, which must have been another Edge hyperbole. The Autocar gave the unladen weight as 28t cwt, and W. F. Bradley confirmed a figure of 35* cwt, presumably all up weight, and these/figures are much more credible than Edge's. There was a four-speed gearbox, with final drive by side chains. Known as the 50 hp, the car was actually catalogued at £1500 and, although four cars were announced as being under construction for customers, including Rolls, in October 1900, it appears only two or three were actually completed.
Edge on a 50 hp was entered for the 1901 Gordon Bennett race, run in conjunction with the Paris-Bordeaux race, on 29th May, but the car was not completed until 25th May, and Edge could only test it on the road from Boulogne to Paris after coming off the ferry; Montague Napier had bravely volunteered to be his riding mechanic. Alas, it was found that the performance was too much for the Dunlop tyres and, for the race, Edge decided to fit French tyres, which disqualified the car from the Gordon Bennett part of the contest, for which all parts had to be British.
In the Paris-Bordeaux contest, Edge and Napier got as far as Couhe-Verae, about three-quarter distance, before retiring with clutch trouble and a hole in the petrol tank. This tank held 50 gallons of fuel to cope with the 4 mpg consumption. Edge was a prolific writer to the motor papers, as this was a cheap way of giving free publicity to Napiers, and he had many excuses for the failure of the car. Later, in the following month, he was timed in the 50 hp Napier at 66.93 mph over five miles of road near Chartres and in November, both the Edge car and private owner Mark Mayhew's 50 hp won their classes at the Gaillon hill-climb between Mantes and Rouen, Mayhew running in the touring category. Edge's car was actually the one originally ordered by Rolls, painted red. The engine was later transferred to a motor boat.
The Gordon Bennett Trophy
The 1902 Gordon Bennett Trophy race was part of the Paris-Vienna contest, but the Gordon Bennett competitors were only timed as far as Innsbruck. Only two countries took part in the Gordon Bennett, France was represented by Girardot (CGV), Fournier (Mors) and de Knyff (Panhard) and England had one representative: Edge on a Napier. This year there was a 1000 kg (approximately a ton) weight limit, and the car Montague Napier designed had a four-cylinder, side-valve, 127 x 127 mm (6t-liter) engine, still with automatic inlet valves. Known as the 30 hp, it actually developed 44.5 bhp. The engine was placed in an armoured wood frame, and there was a three-speed gearbox with direct drive on top, all the intermediate gearwheels being out of mesh; shaft drive replaced the former chains. The all-up weight of the car was 933 kg.
After pre-race problems with cylinder heads and gears, Edge, accompanied by his cousin Cecil Edge as mechanic, was the sole finisher and therefore the winner of the Gordon Bennett Trophy, even though he suffered ignition and tire troubles, the latter due to the atrocious roads that had to be traversed. Edge was such a master of the terminological inexactitude, however, that after describing how he and his cousin changed tyres with their bare hands after losing their tool box, he later retracted this statement and said he used the same set of tyres throughout when he wanted to put in a good word for Dunlop.
The Napier, which averaged 31.8mph, was painted green and this was the first great British victory in an international race, and the last until Segrave's win for Sunbeam in the 1923 French GP at Tours some 20 years later. The winning Napier came to the US, where it survived until sometime during the 1920s. The Gordon Bennett win did much towards boosting Napiers' profits from a mere £19 in 1900-1901 to £18,117 in 1904, and in 1903 they built new premises on a little over 3 acres of land at Acton. It is said that at this time the firm's messengers used to travel between the old works at Lambeth and the new ones at Acton Vale on Ritter road skates, which were equipped with brakes.
Acton was also to become the home of the next successful British Grand Prix challenger after Segrave's Sunbeam, the Vanwall of the 1950s. Back in 1901, an American called Charles Jasper Glidden, who had made his fortune out of pioneering telephones with Bell and then from banking, bought a Napier and began a series of world travels with his wife over the next few years, always with Napiers, and partly on railway tracks, for which purpose Napiers made him special flanged wheels. Glidden was responsible for the famous events in America on rally lines known as the Glidden Tours, and it was partly due to his exploits that a factory to build Napiers was set up in Boston.
Napier Become The First To Wear The British International Racing Color
From 1906 to 1909, Napiers were being sold under the name of San Giorgio in Italy, emanating from a factory in Genoa, which had been set up under the eye of Arthur McDonald from the Acton works. Nothing very much came of either of these foreign projects, however. On 16 October 1903, Edge announced that a six-cylinder Napier would be introduced early the following year and, although Napier was not the first firm to produce a car with a six-cylinder engine, it is fair to say that they were the first to make one that was a commercial success. The 18 hp engine, with a four-inch bore and stroke, was remarkably smooth and flexible, and Edge thought it would decrease rear tire wear. The valve arrangement was inlet over exhaust, mechanically operated, and the chassis was chain-driven by a three-speed gearbox.
The success of the six-cylinder Napier was a notable milestone in motoring history. The engine was made up of three blocks of two cylinders, and the amount of air to the carburetor was controlled by the flow of the cooling water, weakening the mixture as the revs increased. Initially, some trouble was experienced with broken crankshafts, but this was later overcome. Because of Edge's win in the 1902 Gordon Bennett race, the 1903 contest had to be held in the UK, and a course in Ireland, south of Dublin, was chosen.
After some eliminating trials, England was represented by three Napiers, all painted green, and thus the Napier team was 'the first to wear the green', which was to become the British international racing colour. Two of the four-cylinder Napiers were 45 hp (7708 cc) and were driven by Charles Jarrott and J. W. Stocks, whilst Edge had a bigger So hp (13,726 cc), known as the Type K5. The cars' engines had aluminum blocks with iron liners. Both Jarrott and Stocks crashed, while Edge was dogged by tire trouble and was eventually disqualified for receiving outside assistance. All these Napiers had honeycomb radiators, shaft drive and automatic inlet valves. A 35 hp Napier, driven by Lt Col Mark Mayhew in the famous Paris-Madrid race of 1903, was also unsuccessful, hitting a tree when its steering broke near Libourne.
Napier employees worked a 50-hour week, 7 am till 12 noon and from 1 pm to 6 pm, with a wage of one penny farthing an hour, with time and a half for overtime! The whole factory was housed in one building and on one floor, with no interior walls or divisions. Every part of each car was fitted by hand and it took several weeks to finish one vehicle. In the case of the four-cylinder 12 hp, which had mechanically operated inlet valves and a Clarkson tubular radiator, the frame was of armoured wood, with a quarter inch steel plate each side of the ash frame. When fixed in position, the plates stood proud of the wooden frame by about one-sixteenth of an inch, and this proud metal was filed down flush with the wood by hand file.
Edge was unsuccessful with the 80 hp KS in the Gordon Bennett in Germany, but an interesting new racer was taken over for trials. This was an inlet-over-exhaust 158.7 x 127 mm six-cylinder of just over 15 liters with shaft drive and a gearbox with only two speeds, known as the L48. It had a honeycomb radiator and artillery wheels, but by September, when it was driven by Arthur McDonald to make the fastest time of the 'Velvet Strand' in speed trials at Portmarnock in Ireland, the former component had been replaced by a streamlined nose with the long copper pipes of an external radiator running along the sides of the bonnet.
In January 1905 Arthur McDonald 'a reserved young Scotsman' from the Acton works, who had been riding mechanic to Stocks in the 1903 Gordon Bennett and to Edge in the 1904 race, took the L48 to Ormonde Beach, Daytona, for the Speed Trials, and broke the mile record. For a short while, he held it at 104.65 mph until it was beaten by Bowden's Mercedes, although the latter's speed of 109.76 mph was subsequently disallowed due to the twin-engined Mercedes' excessive weight. McDonald drove the wire-wheeled L48 in the 1905 Gordon Bennett English eliminating contest in the Isle of Man, and it was raced by the works tester, Clifford Earp, in the 1905 Gordon Bennett in the Auvergne.
Dorothy Levitt
It proved light on tyres and finished 9th, despite the hilly circuit and its gearbox having only two forward speeds. In 1906, Dorothy Levitt, Edge's attractive young secretary, drove the L48 at Blackpool Speed Trials to equal Edge's time in the same car, and set up a British Ladies' Record over the flying kilometre at 90.88 mph. She had also successfully driven the 100 hp development of the 13½-liter KS Gordon Bennett car at both the Blackpool and Brighton Speed Trials in 1905, as well as driving other Napiers at Shelsley Walsh and South Harting.
Also in 1905, Cecil Edge drove a six-cylinder Napier touring car from Brighton to Edinburgh, using top gear only. The opening of the Brooklands track in Ig07 brought more publicity to Napiers, commencing with Edge's celebrated 24-hour run in June in a 60hp 7.7-liter 127 x 127 mm six-cylinder car at an overall average of 65.905 mph; this record stood for 18 years. The Napier engineer H. C. Tryon, driving a 40 hp, won the first race ever held at Brooklands where, in the first two seasons, the L48, nicknamed 'Samson', became famous. With its stroke lengthened to 178 mm, it covered the half mile in 1908 at 119.34 mph, driven by Frank Newton, another Napier engineer.
Victory in the 1908 Tourist Trophy race in the Isle of Man went to a Napier (entered as a Hutton), driven by Liverpool motor dealer Willy Watson. The car was called after the nominal sponsor, J. E. Hutton, a well known foreign-car importer, because the car had a four-cylinder engine, to comply with the regulations and, although Napier sold four-cylinder models, their reputation rested on their six-cylinder image, which Edge wanted to retain, hence the alias.
1908 was the company's last racing year, and in 1912 Edge and Napier parted, with an agreement that Edge would stay out of the motor trade for a seven-year period, which led to him taking up pig farming. After producing a complicated range of cars from 1907 to 1911, only six models were catalogued for 1912. By now, all models had shaft drive, and a great Napier feature was the tall radiator filler. Some of the early six-cylinder Napier models had the radiator placed ahead of the front axle, giving them a rather heavy appearance, but the later cars were better.
The Napier Lion Engine
During World War 1 the Napier company built aeroplane engines, the most famous of which was the twelve-cylinder 'Lion' with three blocks of four cylinders in broad-arrow formation and, after the war, Montague Napier decided the future of the firm was in aero engines, the' manufacture of motor cars being resumed more or less as an interim measure. The last Napier was designed by A. J. Rowledge, who was responsible for the 'Lion' engine, and who went to Rolls-Royce in 1921. The car was the six-cylinder 102 x I27mm 6177cc 40/sohp. It had an alloy engine, with a detachable cylinder head, a single overhead camshaft, a seven-bearing crankshaft, duel magneto/coil-ignition and twelve plugs and a Napier-SU carburetor with an auxiliary carburetor for starting and slow running.
This brilliant engine was put into an Edwardian-type chassis with cantilever rear springs which was hardly worthy of it and, on early cars, brakes on the transmission and rear wheels only; bodywork was normally by the Cunard company, then a Napier subsidiary. An intriguing feature ofthe engine was that the number six cylinder had a lower-compression piston than all the others to overcome rough running which otherwise occurred when pulling at low revs.
By 1924, 187 40/50s had been sold, the end of a line of 4258 private cars built by Napier, and the firm continued with aero-engine production. The Napier 'Lion' engine triumphed in the racing-car world, powering Campbell's earlier Bluebirds, Segrave's Golden Arrow of 1929, John Cobb's Napier-Railton car, which ultimately held the Brooklands lap record, and his twin-engined Railton Mobil Special, land-speed record holder from 1939 to 1964, and capable of over 400 mph. In 1942, D. Napier & Son Ltd became a subsidiary of the English Electric group of companies.