The Hampden Automobile and Launch Co.
The Duryea brothers founded America's first commercial car manufacturing operation in 1895, but a subsequent disagreement in 1898 led to a seperation and James, the more proficient engineer of the two, decided to try and go it alone.
In 1900 he organised a company called the Hampden Automobile and Launch Co, at Springfield, Massachussets, but this proved unsuccessful, and built at best one car (at worst, nothing was manufactured). So in late 1900, Frank Duryea joined the Stevens Arms & Tool Company of Chicopee Falls, Mass, as Vice-President and Chief Engineer: the firm was an old-established company of precision rifle makers, who were planning to move into the quality car market.
They took over the old Overman factory, where previously cycles and steam cars had been made (the factory apparently continued under dual occupation for several months). Their first product was a 6 hp horizontal-engined twin-cylinder buggy, with a tubular chassis, and victoria or buggy coachwork, with a foldaway front seat; there were three forward speeds and reverse, obtained by an 'individual clutch system', while a 'tram-handle' tiller controlled the steering.
As early as 1903, examples of this car were imported into England, where it was marketed (unsuccessfully) by Joseph Baker & Sons Limited, a firm of engineers from Willesden, London. They claimed that the car was 'silent, easy running ... light, easily managed ... a splendid hill climber' . But this early export operation failed to last, even though Mr Baker had attempted to set up sub-agencies.
The original design of Stevens-Duryea survived for several years; but in 1905 it was joined by a four-cylinder model of conventional appearance. It had a 20 hp motor and a honeycomb radiator, a three-speed sliding gear transmission and a live rear axle; the standard color scheme was 'Perfect Blue, glazed-gear, Naples Yellow'. Three separate brake systems - one hand, two foot - were standardised, and the car possessed a pressed steel chassis. Price was $2500 - double that of the Model L buggy - to which a folding cape-cart hood added another $75.
The Stevens-Duryea Big 6
This Model R seated five, in a classy side-entrance roi-des-belges body panelled in aluminum. The choice of coachwork was widened the following a year with a sporting two-seater runabout costing $2400, and a limousine retailing at $3300. The limousine could be had in a choice of colours, while the less expensive models came in Brewster green, and the buggy was painted maroon. There was a new model, too, the Stevens-Duryea Big 6, a monstrous and somewhat clumsy-looking six-cylinder of 9.6 liters swept volume, which pioneered unit power plant construction and three-point engine suspension. With a side-entrance, seven-seated tulip body, it cost a cool $5000 and scaled 2900 lb. Unlike many large cars of the period, it had live axle transmission.
The original 1900 Stevens-Duryea 2 Seater Runabout.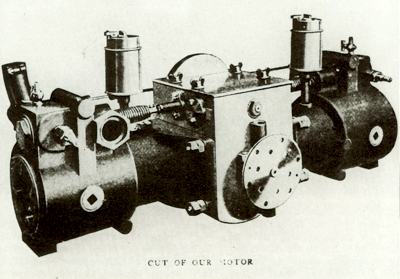 The original Stevens-Duryea engine, this image circa 1903.
The Stevens-Duryea Model L and Model R were discontinued in 1907: and from that point on the company would concentrate on six-cylinder cars. 'Proud of ... the distinctive beauty of his car, the owner of a Stevens-Duryea ... is in the very best position to enjoy his motoring' ran the text of a contemporary advertisement. But the distinctive beauty of a Stevens-Duryea was an almost immutable quality: the marque was conservative almost to a fault, and design changed with glacial sloth. Skilled labour was scarce, and so production was limited, and the cars were always costly, and produced in limited numbers.
The Stevens-Duryea Model D
In the marque's first year of existence, fifty cars had been sold: in its heyday, it is unlikely that Stevens-Duryea ever managed to achieve more than one hundred units a year. In 1915 came the last new Stevens-Duryea design, the Model D, whose 7740cc engine developed only a paltry 80 bhp at 1800 revolutions per minute: that year, with the company at the peak of its success Frank Duryea sold his share in the company. Stevens- Duryea suspended operations until 1920, when the Model D was revived ... as the Model E, with a price tag which could go as high as $9500.
Rauch & Lang
Hardly surprisingly, the marque was soon in trouble, and in 1923 it came under the ownership of Ray M. Owen (of Owen Magnetic fame). He used the Chicopee Falls factory for the production of petrol and electric cars under the Rauch & Lang trademark, having transferred this old-established marque from its Cleveland, Ohio, location, where it had quietly resided since 1853 as coachbuilders, and as electric car makers since 1905. Coach building continued at Chicopee Falls, mainly for
Stanley Steamers
, while a later venture was building touring bodies for Ruxton. Stevens-Duryea output tailed off after 1924, though the marque nominally survived until 1927.
Also see:
Duryea - America's First Automobile (AUS Edition)