During sixty four years of car manufacturing in North America, the Dutch name of Studebaker stood for cars of quality at moderate prices, light and economical engineering design, adventurous styling - and persistent financial trouble. The last-mentioned may not be entirely fair: the Studebaker Corporation did not go out of business in March 1966; it simply stopped making cars then. There had been several years of sales success (it registered more than 200,000 cars in both 1950 and 1951), Studebaker never quite mastered the art of consistently earning money in the making and selling of automobiles.
Henry and Clem Studebaker
In one sense, the Studebaker enterprises scored the ultimate success: they were successful makers of the product that made obsolete the vehicle on which their prosperity had been founded, that is, the horse-drawn wagon. For the Studebakers were wagon-makers in the New World, to which Peter Studebaker came, from Holland, to be the founder of the clan in 1736.
Two of his great-grandsons, Henry and Clem, set up shop in South Bend, Indiana as the Hand C Studebaker firm in 1852 and, in March of that year, built their first wagon for sale. With capital from another brother, John, they expanded their business to equip the Union Army in the Civil War. By 1875, they could claim to be 'the largest vehicle house in the world'.
Frederick S. Fish
Twenty years later, at the dawn of the automobile age, the Studebaker Brothers Manufacturing Company was making 75,000 horse-drawn vehicles a year. At the turn of the century, Studebaker was naturally called on by budding auto tycoons to supply chassis for their vehicles, and this led, eventually, to true Studebaker cars. Instrumental in urging this was young Frederick S. Fish, John Studebaker's son-in-law and the company's legal counsel.
Frederick Fish developed Studebaker's automotive activities in parallel with the profitable wagon-building line, which the company did not discontinue until 1921. In 1902, twenty electric Studebaker runabouts were made, officially the company's first cars. Then, in co-operation with the Garford firm, gasoline-powered Studebaker production began in 1904, first as a single-cylinder and then, in 1905, with the addition of more expensive four-cylinder models.
The Studebaker Corporation
Finding these cars unsuited to its reputation for large volume and low prices, Studebaker looked for more promising autos and found them in 1908 in the range of a new Detroit company that made Wayne and EMF cars, for which Studebaker became the sales agent. A new nameplate, Flanders, appeared on a smaller car in 1910, and the large and costly Garford was dropped after 1911. That was the year that saw the Studebaker Corporation formed, on 14 February, from the combined assets of the Studebaker and EMF companies. Frederick Fish held the presidency of the new company. The other trade names were phased out in favour of the Studebaker name, and engineering was placed under Studebaker direction, although still done in the old EMF facilities in Detroit.
Early Studebaker wagon.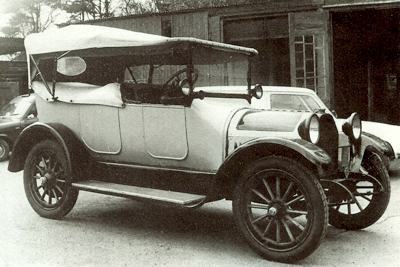 1915 Studebaker four-seater tourer.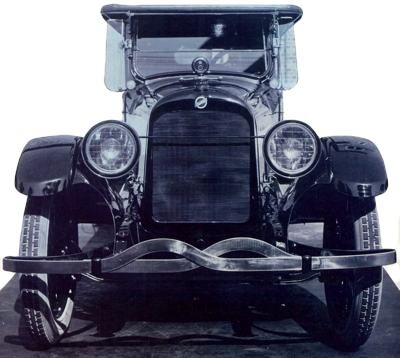 1923 Studebaker sedan.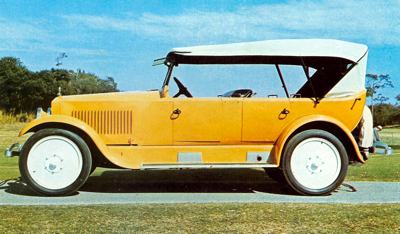 1923 Studebaker Convertible, fitted with disc wheels.
1928 Studebaker sedan.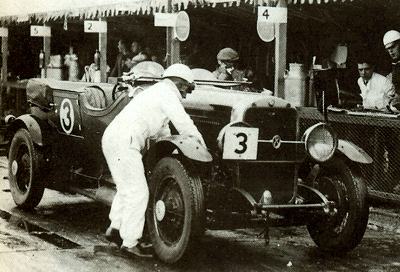 A Straight Eight Studebaker competing in the 1929 Brooklands Double Twelve event.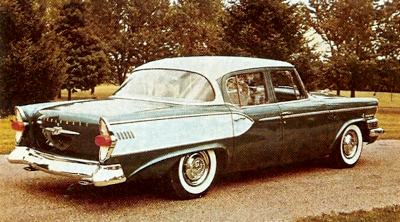 1961 Studebaker four door.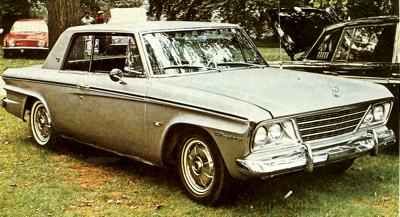 1964 Studebaker Daytona Coupe.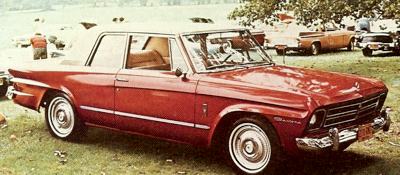 1966 Studebaker Daytona 283 Coupe.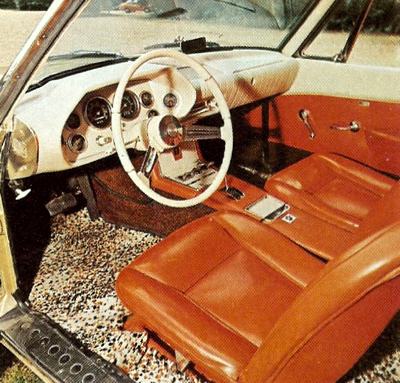 Interior shot of the Studebaker Avanti.
From all this confusion emerged, in 1914, a Studebaker line of just two cars, the Four and the Six, both with cylinder dimensions of 3.5 in x 5 in, giving 192 (3146cc) and 289cu.in (4736cc)-displacements, respectively. On a 108 inch wheelbase, the smaller car cost $1050, while the Six, with its 121 inch wheelbase, was priced at $1575. These cars had pressed-steel front fenders and axle housings, and one-piece cylinder-block castings. They were tough, well tested cars that carried the company to record auto production of 65,885 in 1916.
Fred M. Zeder
Under a brilliant new chief engineer, Fred M. Zeder, and a new president, Albert R. Erskine, the line was completely overhauled for the 1918 model year. In 1920, the four was dropped and replaced by a six, known as the Light Six, of 207 cu in (3392cc). The rest of the range consisted of the 289 cu. in (4736cc) Special Six and the 354 cu in (5801cc) Big Six. These engines developed 45, 55 and 60 bhp, respectively, at a modest 2000 rpm. Zeder left Studebaker in 1920, but the cars he created lived on with little change to sell increasingly well.
Albert Erskine
The high-water mark in registrations came in 1925, when the company put 107,732 cars into service. Its total production that year, including trucks, was 134,664 units. Others, though, had grown much faster: from its third-place industry ranking in 1912, Studebaker had dropped to eighth in order of production volume by 1926. Under the capable Albert Erskine, called by historian Maurice Hendry 'probably the most dynamic leader the company ever had', Studebaker sought to introduce smaller cars that would sell better both in the US and abroad. Their first such entry, the $975 Erskine, was announced for the 1927 model year after tests on the new Studebaker Proving Ground at South Bend, only the second such facility in America, after GM; it lasted only a little more than two years.
The Studebaker Rockne Six
Then, in 1932 and 1933, the Rockne six was offered, from $585 up, named after famous gridiron coach, Knute Rockne. Although it did not survive, its L-head engine did, and it powered some other Studebaker models up until 1950. The South Bend company acquired an aggressive new chief engineer in Delmar G. 'Barney' Roos in 1926. Five years earlier, Roos had held the same post at
Pierce-Arrow
, the Buffalo NY maker of luxury cars, which fell on hard times and was bought by Studebaker in 1928. Although South Bend held control, and there was some engineering co-operation between the two firms, they remained essentially independent, and Pierce-Arrow was sold again by a troubled Studebaker in 1933.
The Studebaker President 8
In the meantime, Roos and Erskine had launched a straight-eight Studebaker, the President 8, in 1928, and renamed the sixes the Dictator and Commander, as pretentious an array of model names as the industry has ever seen. Smaller eights for the Dictator and Commander were introduced in 1929. By 1930, all these eights had crankshafts supported by no less than nine main bearings, Many laurels in record-breaking and long-distance demonstrations were won by Studebakers in the late 1920s, and when the Indianapolis rules were liberalised to let in stock-based cars in 1930, this was an open invitation to the racing enthusiasts in South Bend.
After privateer entries in 1930 and 1931, a factory team of five cars was entered in 1932, using modified President 8 components. They placed an impressive third, sixth and thirteenth, with two not finishing. All five were also entered, less successfully, in 1933 with streamlined bodies. In spite of these efforts, Studebaker registrations plummeted to only 36,242 in the depression year 1932. Unable to meet its debts, Studebaker declared bankruptcy in 1933, and among the court-appointed receivers were Paul G. Hoffman and Hardold S. Vance. The former had been a successful distributor for Studebaker before joining them in 1925, and the latter had worked his way up through the manufacturing ranks.
They sold
Pierce-Arrow
, dropped the big President 8, brought out new sixes with the Rockne engine and, by 1935, had Studebaker on its feet again. Vance as board chairman and Hoffman as president gave Studebaker firmer and more distinctive product and marketing policies. To give them the style they sorely needed, they hired Raymond Loewy as a consultant in 1936. The immediate pre-war models, the 1941 line especially, showed crisp, sheer lines that were more than a match for classics from the same era, such as the Cadillac 60 Special and Lincoln Continental.
The Studebaker Champion
Since 1935, Studebakers offered independent front suspension, with a transverse-leaf spring and optional overdrive. The conspiculously inappropriate 'Dictator' model name was at last dropped in 1938, and in the following model year Studebaker was moved irrevocably into the American small-car market with the introduction of the $700 Champion. Powered by a 164 cu. in (2687cc) six, it weighed only 2330 pounds on a 110 inch wheelbase. Sparked by the spunky Champion, Studebaker car registrations were above the 100,000 mark in both 1940 and 1941.
From this plateau, it would step out again after World War 2, in which Studebaker built trucks, aeroplane engines and the Weasel personnel carrier, which it also designed. Its war contracts totalled $1.2 billion in value, putting the company in an excellent position to finance a new post-war model. This was the first launched by a major manufacturer. The 1947 Studebaker was a landmark car in the history of auto styling, the first large-volume production car to blend its front fenders completely into the body and combine that with a true straight horizontal grille. Interiors were handsome, pull-out door handles were novel and practical and the Starlight coupe, with its four-piece wraparound rear window, was as adventurous as anything the auto industry has done since.
Virgil M. Exner
Playing a key role in its design, which was publicly credited to Raymond Loewy, was Virgil M. Exner. These new cars were powered by L-head sixes, including the Champion, Commander and the new Land Cruiser on a 123 inch wheelbase. They sold well with little change through 1949, when registration of 199,460 cars gave Studebaker 4.1 per cent of the market, its highest modern penetration. The same share was held in 1950 with a new coil-spring front suspension, an automatic transmission with direct drive in high gear and a new aeroplane-style pointed nose from the Loewy studios. Registrations that year reached the all-time high of 268,229 cars; total sales were 335,000 units and earnings were nearly half a billion dollars.
This was the legacy of the able Paul Hoffman, who had left Studebaker in 1948 to become the administrator of the Marshall Plan. A short stroke, high-compression overhead-valve V8 engine was introduced in 1951, the last year of the 'spinner' nose. That year, Bob Bourke at the Loewy office in South Bend was working on a new design he hoped could be built as a one-off special, a sleek, low coupe. Its low nose and clean lines won the favour of Studebaker management, headed by president Harold Nance, and the coupe was scheduled for limited production in 1953. Its lines were also adapted to four-door and two-door sedan models for 1953 and a station wagon for 1954 (the previous body series had no wagon, but did have a convertible, which the new range lacked).
The Studebaker Starliner
Known as the Starliner, the new coupe was a winner, recognised the world over as one of the most beautiful cars ever made. Studebaker featured it in its brochures and advertising, and buyers flocked to get it - only to find that various problems caused a three-month delay in production. Studebaker's share of market fell instead of rising, dropping under the two per cent level in 1954. Exciting future plans, such as the unit-body car with all-independent suspension and 1200 V6 engine that Porsche had designed for Studebaker, were out of the question.
The Packard Merger
Deeply in the red, Studebaker merged with Packard late in 1954. This began four turbulent years, the first two under James Nance, struggling to become a 'big' car maker as Studebaker had once before, with Pierce-Arrow under Erskine, and the second two years under a management agreement with Curtiss-Wright. New life was given the Starliner coupe in 1956 with restyling as the Hawk, in four varieties. In 1957, a supercharger was optional on the Golden Hawk, an exceptionally capable car for its day. More vital to Studebaker's health was the new Lark of 1959, created by new president Harold Churchill by slicing the nose and tail off a normal sedan to devise the first of the compact cars with a miniscule investment.
Registrations more than doubled, to 133,382 cars, and Studebaker-Packard earned $29 million in 1959; this was its last good year. Nerve and ingenuity kept Studebaker alive through the early 1960s. Another president, Sherwood Egbert, sought salvation in sporty models. For 1962, Brooks Stevens created the GT Hawk at his request, while Loewy stylists were designing the much more radical
Avanti
. Problems in crafting its glassfibre body delayed production of the
Avanti
, which had been introduced in mid 1962, and the sliding roof of the 1963 Wagonaire station wagon developed embarrassing leaks.
Egbert had tried but failed to ignore the lead time normally demanded by the auto industry. In the meantime, he had at least diversified the company so that half its sales (and all its earnings) came from non-automotive business. It fell to Byers Burlingame, named president in November 1963, to wean Studebaker away from cars. In December, he announced that the South Bend plant would be closed and production continued only at an assembly factory in Hamilton, Ontario, Canada, with Chevrolet engines from the 1964 models onward.
Some very tasteful restyling was managed, first for the 1964 cars and then again in 1966. Disc brakes were a Studebaker innovation in the US on 1964 models, standard on the front wheels of the
Avanti
and optional on the others. Only 26,073 of these 1964 Studebakers were registered in the US, and the number dropped to half that the following year. When the announcement came in March 1966 that Studebaker would stop making cars altogether, there was, as planned, minimal resistance from its 450 remaining dealers in the US.
The shovel-nosed Avanti coupe, the most spectacular car ever made by Studebaker, survived the collapse. It was rescued in 1965 by a South Bend dealer, Nathan Altman, who formed a new company to produce it, only slightly changed, as the Avanti II. Otherwise, only memories remain, of Big Sixes, EMF, Starlights and Starliners, of the glory days of Studebaker automobiles.