It would be fair to say that Austria was never a major player in motorsport, primarily because the country lacked a world class venue - despite creating two world class motorsport heroes, Jochen Rindt and Niki Lauda. During the 1950's and 1960's Austrla made do with military bases as temporary circuits - and these were never going to cut it for Formula One.
Zeltweg
Probably the best known of these makeshift tracks was Zeltweg - a 1.99 mile circuit located north of Graz and Klagenfurt. The circuit did not have much going for it, although there were some old aircraft hangers which could be used to house the raceing cars and their teams. In 1957 the circuit was inaugurated with a 28.89 mile sports car race which was won by local driver Ernst Vogel in a Porsche 550RS.
The following year a 35 lap 69.59 mile sports car race saw a close tussle between top Porsche RSK drivers who finished in the order Wolfgang Von Trips, Jean Behra, and Edgar Barth. A more ambition race was planned for 1959, a 50 lap 99.42 mile formula 2 race which was won by British driver Tony Marsh in his Cooper T45 Climax. David Piper's Lotus 16 Climax was second and Vogel third in a Porsche.
Stirling Moss, at the wheel of Rob Walker's Porsche, won the 59-lap event in 1960, conquering the Porsches of Germans Hans Herrmann and Edgar Barth. It should have been a 60-lapper, but had to be halted prematurely when the over-enthusiastic crowd broke down the barriers and ran on to the track.
A full-scale Formula One race was organised in 1961, an 80-lap, 159.07-mile race which attracted entries from the Porsche, Lotus and Cooper works teams plus top private teams such as Yeoman Credit, Camoradi and Scuderia Centro-Sud. Innes Ireland and Jim Clark seemed set to give Lotus a 1-2 result until after half-distance when Clark's car developed a steering fault, dropping him to an eventual fourth.
The first Austrian Grand Prix
There was no race in 1962, but the following year the first Austrian Grand Prix was held, with the intention of including it in the list of qualifying rounds for the 1964 World Championship.
Jack Brabham
in the Brabham B7T-Climax, won by five laps from Tony Settember's Scirocco-BRM. Rindt was back in 1964 in a competitive car, Rob Walker's Brabham BT11-BRM, for the most ambitious race yet staged in Austria, a World Championship Grand Prix. The 1.99-mile circuit had to be lapped no fewer than 105 times!
The bumpy track caused chassis and suspension problems and it was
Lorenzo Bandini
(Ferrari 156) who came through to win after a brave drive; it proved to be the Italian's only championship race win. Second was Richie Ginther's BRM P261 and third Bob Anderson's privately entered Brabham BT11-Climax. Such was the outcry that Zeltweg lost championship status.
The 1965 Austrian Grand Prix was a 100-lap event for sports cars. The crowds were delirious when
Jochen Rindt's
3.3-liter Ferrari 250LM conquered the 4-4-liter Ferrari 36SP2 driven by Mike Parkes. From 1966 to 1968 the Austrian Grand Prix was a 500-km sports-car race. Germans Gerhard Mitter / Hans Herrmann shared a Porsche 906 to victory in 1966, while the following year the tough Australian Paul Hawkins drove a calculated race to win in his Ford GT 40.
Building the Osterreichring
In 1968 the Austrian Grand Prix was a round of the International Championship of Makes, but only qualified for half-points.
Jo Siffert
(Porsche 908/02 Spyder) won this last full-scale race. Early in 1966 plans were revealed for a new circuit within earshot of the old Zeltweg airfield up in the hills. Originally planned as a 4-mile track, it emerged in 1969 as a 3.672-mile affair and was called the Osterreichring. Wide, fast, it adopted the then latest safety features and offered excellent viewing facilities. It also was a demanding circuit and over the years attracted huge crowds.
Winners of the first GP to be held there were
Jo Siffert
/ Paul Hawkins in a 4
½
-liter Porsche 917. After 1970 the Osterreichring at Zeltweg hosted both a World Championship Formula One Grand Prix plus a championship 1000-km sports-car race. Other important fixtures for Formula Two, sports, GT and touring cars were also held. The 1970 GP, much to the disappointment of the crowd, was won by Ickx's Ferrari and not by Austrian Jochen Rindt's Lotus.
Jo Siffert
led the 1971 Austrian Grand Prix from start to finish in his powerful Yardley BRM P160, a magnificent performance by the fine Swiss driver. At the back of the grid few noticed the Formula One debut of a toothy young Austrian, one Niki Lauda.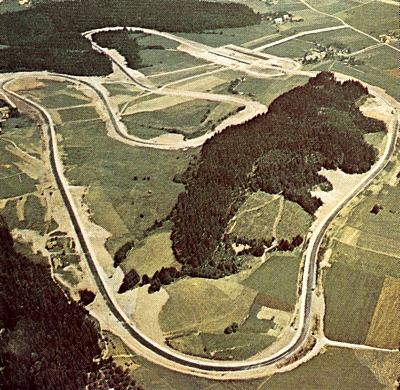 Aerial shot of the Osterreichring circuit circa 1970.
Jackie Stewart had a day.of mixed emotions: his Tyrrell 003-Ford lost a wheel, but skated to a halt without damage, and when he stepped from the car he learned that he was the new world champion! Emerson Fittipaldi had to work hard for victory in the 1972 Austrian Grand Prix, his JPS/Lotus 72-Ford fending off attacks from Denny Hulme (Yardley McLaren MI9C-Ford). Hulme challenged at every swerve, yet had insufficient speed to pounce along the straights. Fittipaldi tried to make it a double in 1973, but with six of the 54 laps to run his JPS/Lotus 72-Ford spluttered to a halt when a fuel line became disconnected. Team-mate Ronnie Peters took the glory.
In 1974
Carlos Reutemann
went straight into the lead in his Brabham BT 44 and stayed put. After Lauda (Ferrari), Regazzoni (Ferrari), Pace (Brabham), and Peterson (Lotus) all retired when in second place, Denny Hulme's McLaren inherited the place. The 1975 Grand Prix was spoilt by a pre-race practice accident to American Mark Donohue and by torrential rain. His Penske March 75I-Ford crashed with fatal results to himself and a marshal. The chequered flag eventually went to Italian Vittorio Brambilla.
A Win for Team Penske
The Austrian GP of 1976 was where John Watson scored his, and the Penske team's, first GP win, It was a similar tale the next year when the Osterreichring proved a popular place with the Australian driver
Alan Jones
. His win in the Shadow DN8, was like Watson's the year before, a first for both car and driver in Grands Prix. In line with the growing trend of safety consciousness in 1976, the track was given a chicane to limit speeds. Some of the drivers, like Mario Andretti, thought it strange that the chicane went into the apex of the Hella-Licht Kurve, a fast but safe right-hander. Insertion of the chicane lengthened the track from 3.672 to 3.692 miles.
Rain was the main feature of the Osterreichring in I978; a cloudburst after seven laps of drizzle caused havoc among the cars running on slicks. After a spectacular lap of spinning cars, the race was stopped, and re-started later. Ronnie Peterson eventually won, providing a clear demonstration of his great skill and the superiority of the Lotus 79. Peterson's team mate
Mario Andretti
was a victim of a strange over-exuberance on the first lap when he attempted an impossible overtaking manoeuvre, badly damaging his Lotus against the crash barriers.
World Champion Alain Prost often said that all tracks can be changed but that the Osterreichring should remain unchanged, just adding run-off areas would be fine, which eventually did happen up until the original track's final year in 1995. The track was known for having many crashes at the start of races (especially 6-foot-wide / 1.8 meter Formula One cars at the Austrian Grand Prix) because the start finish was very narrow (about 30 feet / 9.1 meters wide, most start finish straights on other tracks were 60 to 80 feet wide) and it did not provide enough space for cars attempting to pass others, especially cars that stalled or broke at the start.
The Osterreichring's safety concerns reached a head in 1987 when that year's race needed two restarts following crashes on the starting grid. As a result, the track was abandoned by Formula One for nearly a decade. In 1995 and 1996, it was totally rebuilt, at the same site, by Hermann Tilke. Its length was shortened from 5.942 km (3.692 miles) to 4.326 km (2.688 miles), and the fast sweeping corners were replaced by three tight right-handers, in order to create overtaking opportunities. Its three long straights, as well as a twisty infield section, asked for a setup compromise. As much of the construction work was paid for by the cellphone provider A1, the track was renamed the A1-Ring. It proceeded to host seven Formula One Austrian Grands Prix between 1997 and 2003, as well as several DTM races and Austrian motorcycle races in 1996 and 1997.